Hey everyone!
If you have no idea who I am and have just tuned in - I'm Gillian - Gecko's Digital Marketing Apprentice. I am writing monthly updates on what I've been working on/what I've learned each month - why? I thought it would be fun to share my progress with you and so I can look back on much I have (hopefully!) achieved in the coming months.
For those of you who read my first monthly update, I hope you enjoyed it! In my first month at Gecko, I learned how to:
Write and schedule social media content

Create blog posts

- Last month, I created and published a blog post on the Top Daily Hashtags for Twitter and Instagram. This was something that was relevant to Gecko as we have been trying to personalise our content and these hashtags have helped greatly in doing so! We used #RiteTag (by RiteKit) to determine which daily hashtags were the most popular and beneficial in gaining the most reach.

Manage client's phone calls

Use Google Adwords to set up campaigns and find keywords

Use Google Analytics to measure performance
So, I did definitely learn a fair share in my first month. I am feeling a lot more comfortable in my capabilities and tasks - yay!
So, let's get onto this month! In September, I have learned how to:
Create monthly client reports…
Gecko have created a client reporting system using Umbraco (Sprout 365) and I've used this to create monthly reports for our marketing clients. These reports contain a monthly summary of our clients' performance, including how many people have visited their site ("sessions"), traffic sources (organic, direct, social), goals (contact form submissions, phone calls), geographical location, conversion rates (which traffic sources were the most effective) and position tracking (what keywords performed the best).
We use these reports to give our clients an insight into the work we're doing - you can see a screenshot of the reports below: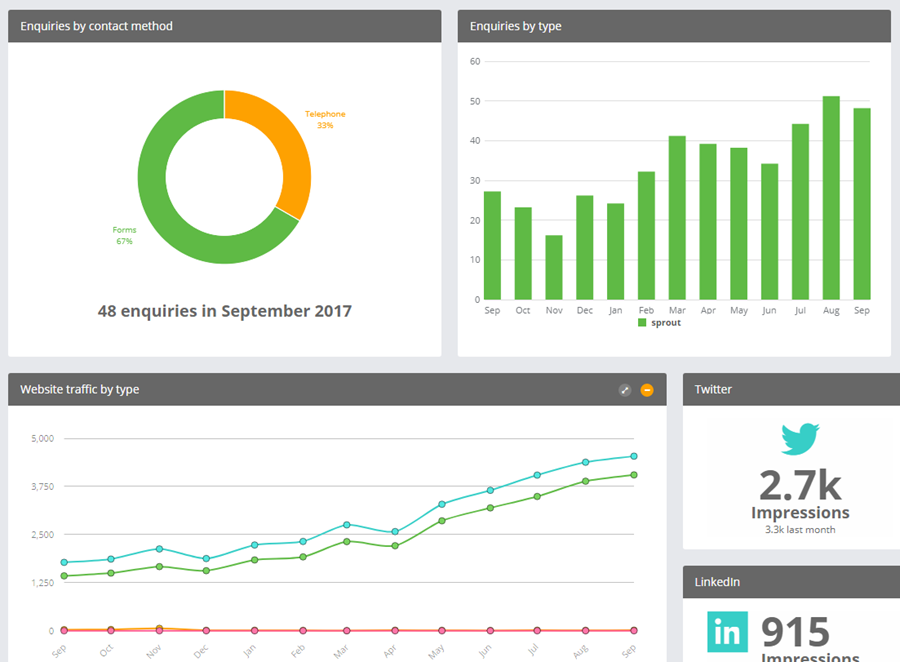 I'm more familiar with Google Analytics…
Through creating monthly reports, I have become more familiar with Google Analytics and use the data to create a monthly summary for our clients. This is where I collate data on how many sessions they've had, which traffic source was the most effective, goals, location and so on.
However, to see which keywords performed the best, SEMRush is the tool to use...
In my first month at Gecko, I got to grips with using Google Adwords but recently I've been using SEMRush to add and track keywords to monitor our SEO performance..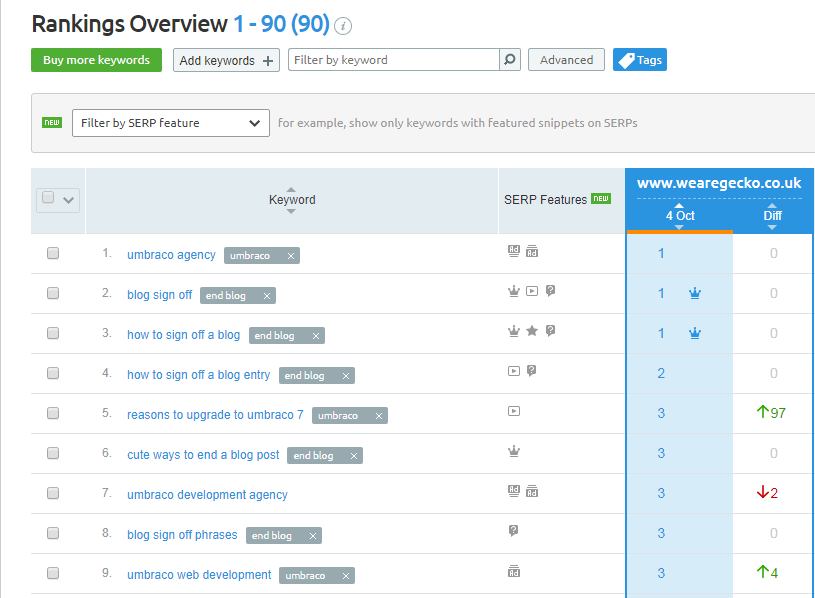 We can see that "reasons to upgrade to umbraco 7" (this new blog post) hit the 3rd spot from 100th, and recently, "blog sign off" and "how to sign off a blog" (this post) hit the top spot. So, when we search these keywords in Google, "reasons to upgrade to umbraco 7" will be 3rd place, and "blog sign off" and "how to sign off a blog" will be number 1 on google - woohoo! However, these positions can change like "umbraco development agency" has gone down two places. 
Google (and other search engines) continually update search results, so there's always some fluctuation in rankings, but by measuring month on month growth, we can see how each site is performing.
I can find industry like people to follow on Twitter...
This is something which is pretty straight forward for most people but I have found Twitter's Advanced Search really effective in finding other industry like people to follow. You can filter specific keywords, hashtags, mentions, location and date range.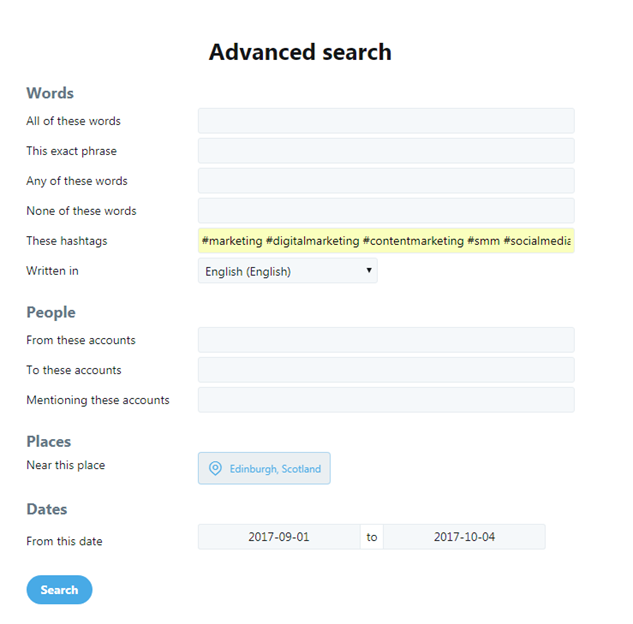 I have widened my marketing knowledge…
I had my first training course with YouTrain last week - and it was a success! I was joined by a few other digital marketing apprentices, and a few who work in sales/marketing who attended the course to brush up their current marketing knowledge. Marketing specialist and Google Certified Lecturer, David Sime took care of us where he gave us a real insight into the marketing industry.
We covered digital marketing as a whole, legal, regulatory and ethical requirements in marketing, market segmentation and opportunities, and marketing strategy and evaluation. David organised a variety of tasks and activities so we could mix with one another which made the course much more enjoyable than sitting copying notes from a PowerPoint all day!
As someone who's never studied or worked in marketing before now, I found the course really beneficial - I learned a lot of valuable information that will help me in my workplace and the future!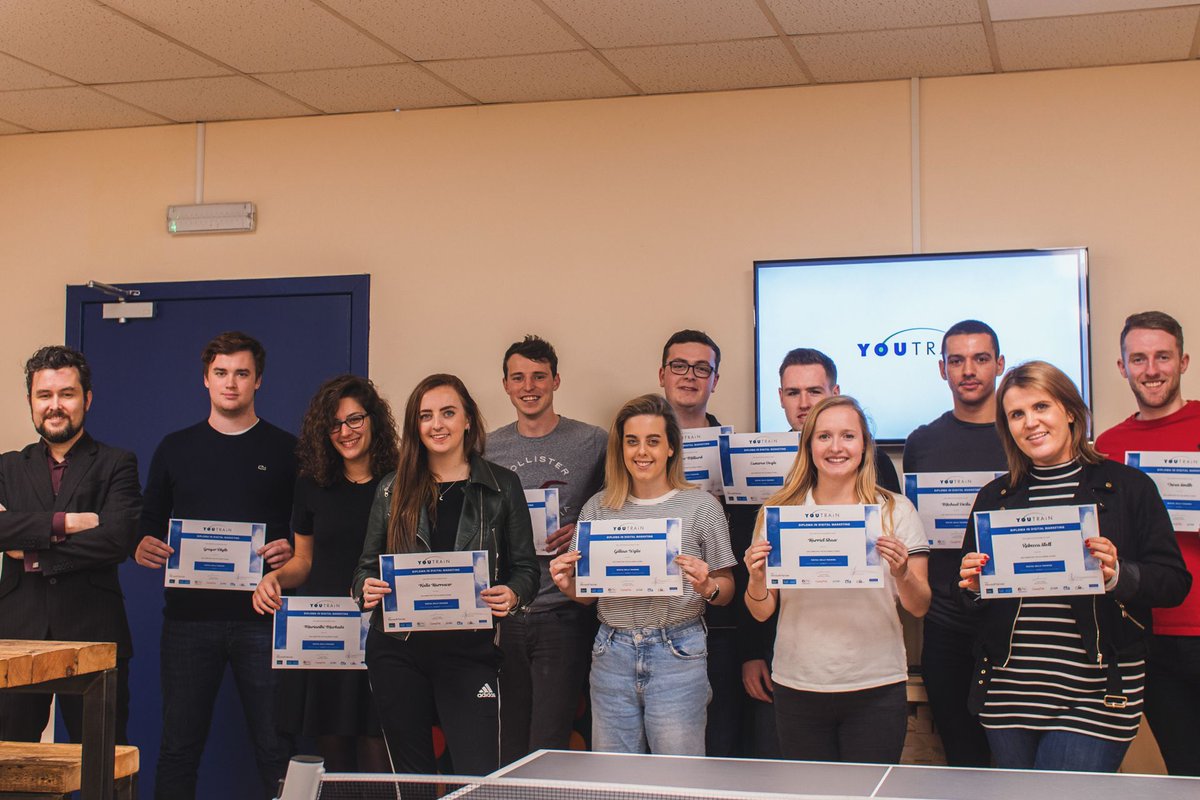 So, to round it up (again), in September, I learned how to:
Create monthly client reports
Become more familiar with Google Analytics
Use SEMRush to aid SEO
Follow industry like people on Twitter
Gained an overview of the marketing industry
Be sure to keep an eye on what I've been up to next month to find out what more exciting things I've been up to!
Stay tuned to @wearegecko for all the info!
- Gillian