During the course of any given week, I read dozens of blog posts on all sorts of subjects. Some of these posts leave me wanting more, while others leave a bitter taste in my mouth like those pickle thingies in a cheese burger.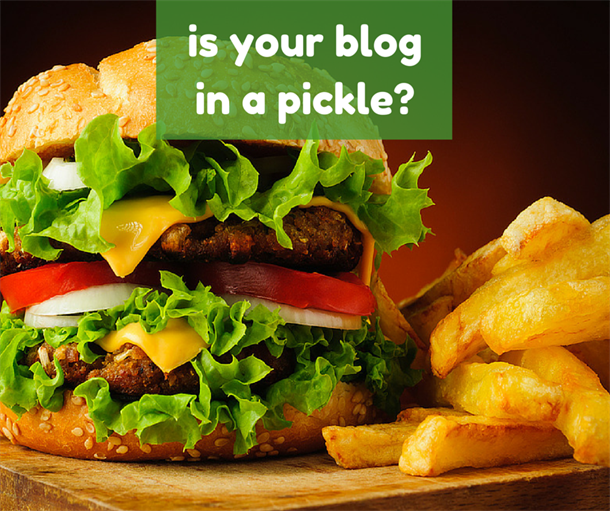 I'm not going to preach to you about how to write a blog post as plenty of people have done that already. Instead I want to focus on one specific part of your blog posts – the end.
Do your articles go out with a bang or fade away quietly like a whistle in the wind? Without further ado, here are 11 great ways to finish off your blog posts:
Link to a related article
Do you tend to just leave your blog readers hanging? Imagine you've written a great post on IT consultancy for example. Unless it's your very first blog article, it's likely you'll have some content on a similar topic, so why not link to that and keep visitors on your site for longer?
Think of your blog like a bookshelf – don't just put one book out on its own, surround it with lots of others too and keep people interested.
Ask a question
Even the simplest question such as "What are your views on XYZ?" is better than just finishing your blog post abruptly. There's no big secret here, you need to do something to either make people think or keep them engaged.
It should go without saying that the question will work best when it's well thought out. The idea is to spark something in the reader's mind and preferably something positive. If you end with a Yes/No question and the likely answer is going to be 'No', that only serves to leave your visitors with a negative thought to finish rather than a positive one.
Shape the reader's journey
A lot of people think it's best just to add an obligatory link to their contact page at the end of an article. However, smarter bloggers think about the user journey.
Visitors may come directly to your blog posts from social media or organic search. After reading your (hopefully) interesting article, do you really think they're in 'buy mode'? It's wise to put yourself in their shoes and think about what you might want to read next rather than going in for the kill.
Make a request to share your content
Assuming (never assume they say!) you have social media sharing buttons on your blog, there's no harm in alerting people to the fact you'd like them to share your content with their online community.
Who knows what could come of a seemingly innocuous retweet? When someone does share your article, make sure you say thanks and return the favour when appropriate.
End with a bang
When you want people to remember your blog posts, it's a good idea to go out with a BANG! Rather than just writing a weak summary because you can't think of anything else interesting to say.
Hook your readers in with something powerful at the start then build up to it slowly, whip them into a frenzy, make them desperate for it, have them skimming the page while they salivate in anticipation then BAM! Hit them with the good stuff right at the end (Sorry, I got a bit carried away there!)
Leave people wanting more
If you've got an idea for a lengthy blog post, you might want to consider condensing it into smaller parts and making it a series.
For example you could write about six benefits of something and go into the first three in great detail. Your ending to the post could be something such as "we've only told you half the story, come back on Thursday next week for three benefits even better than these..."
Repeat the key points
As I said at the start of this post, I read a lot of blog articles and many just end. If you're stuck for something to say to finish off your post, summarising the key points is a safe option.
People skim-read online, so having a bulleted list of 'takeaway' points to round things up is an easy way to reinforce what you've been trying to say.
Encourage a discussion
Blog readers may not be leaving as many comments as they used to, but there's no reason why you shouldn't encourage a discussion elsewhere online such as Twitter.
A simple question with a hashtag and your Twitter handle may prompt people into joining the debate and it could gain you relevant new followers too.
The element of surprise
We all love films and TV shows with a twist at the end. So many blog posts end in a similar way, don't be afraid to mix things up and do something different.
One of the most memorable blog posts I read was one that told a brilliant story and really drew me in. Then right at the end, the writer revealed the story was completely fictional which took me by surprise as it had been so convincing.
Tell people what motivated you to write the article
This is something I very rarely see in blog posts. Rather than just writing your article and then moving onto the next one, take a few sentences to tell people why you wrote it and how you think it can be of benefit.
There's nothing wrong with giving your blog a more human touch at the end, in fact, people will likely appreciate it more than a 'bog standard' finish.
Use an image
Not many articles end with a nice image. Why not? There are no rules when you're writing a blog post. An eye-catching or thought provoking image can be just as powerful (or in many cases, more so) than just having a few words to finish on.
The image doesn't have to be a photo of something; it could even be a nice branded graphic with a question or links to your social media platforms.
Now comes the tricky part. Which of these 11 options do I choose to end my blog post on blog post endings?