Last year, we wrote a blog piece talking about the release of Google Analytics 4, breaking down some of the main differences when compared to Google's previous iteration, Universal Analytics. Whilst we thought it would be a while until businesses made the full time switch across to the new analytics profile, we did recommend setting up your Google Analytics 4 profile to start harnessing the benefits and run both versions simultaneously.
However, Google earlier this year announced that as of the 1st of July 2023, it would be stopping Universal Analytics tracking completely and completing the permanent switch to GA4. After that, you'll be able to access your previously processed data in Universal Analytics for at least six months.
With a firm end date in sight for the previous version of analytics that so many businesses and marketers have become accustomed to, we thought we should revisit this topic and explain why it's important to get GA4 set up now and how you should go about doing this.
Why has Google introduced a new analytics platform?
As we highlighted in our blog last year, when Google Universal Analytics was introduced, the digital landscape and how people/businesses interacted online was very different to what people experience today.
Historically, a customer journey has been measured by a single device, and as a consequence, the older analytics platforms were designed around these metrics and focused on measuring site traffic. Today, people may use a wide variety of devices to make a purchasing decision, often switching between laptops, tablets, and mobile devices. It has become increasingly difficult to map out the entire user journey from start to finish.
It was because of this difficulty of connecting cross-device/platform usage on Universal Analytics that Google Analytics 4 was designed around an event-based model, allowing every user interaction to be tracked and processed as a standalone event. 
One of the other big reasons for the change was that Universal Analytics was built around 3rd party data, which Google is set to prevent on their platform, opting for a data-driven attribution model that allows you to track the entire customer journey. This change to leverage machine learning to do predictive modelling instead of using third-party cookies was done according to Google "because as the technology landscape continues to evolve, the new Analytics is designed to adapt to a future with or without cookies or identifiers".
'Why can't I wait until nearer the time to make the switch?'
The cut off for Universal Analytics is the 1st of July 2023, so we have had clients ask us why they should be worrying about it now when it's over a year away. However, it is important that you start tracking using GA4 now, alongside your Universal Analytics tracking, to make sure you have at least a year's worth of historical data recorded for when the final switch takes place.
How to make the change
As we've already stated, we don't recommend replacing your Universal Analytics tracking, but you should set up a new GA4 property to run in tandem. Google has some useful guides on setting up your Analytics 4 property, including this one, which takes you through all the steps from creating an initial property to migrating events from Universal Analytics.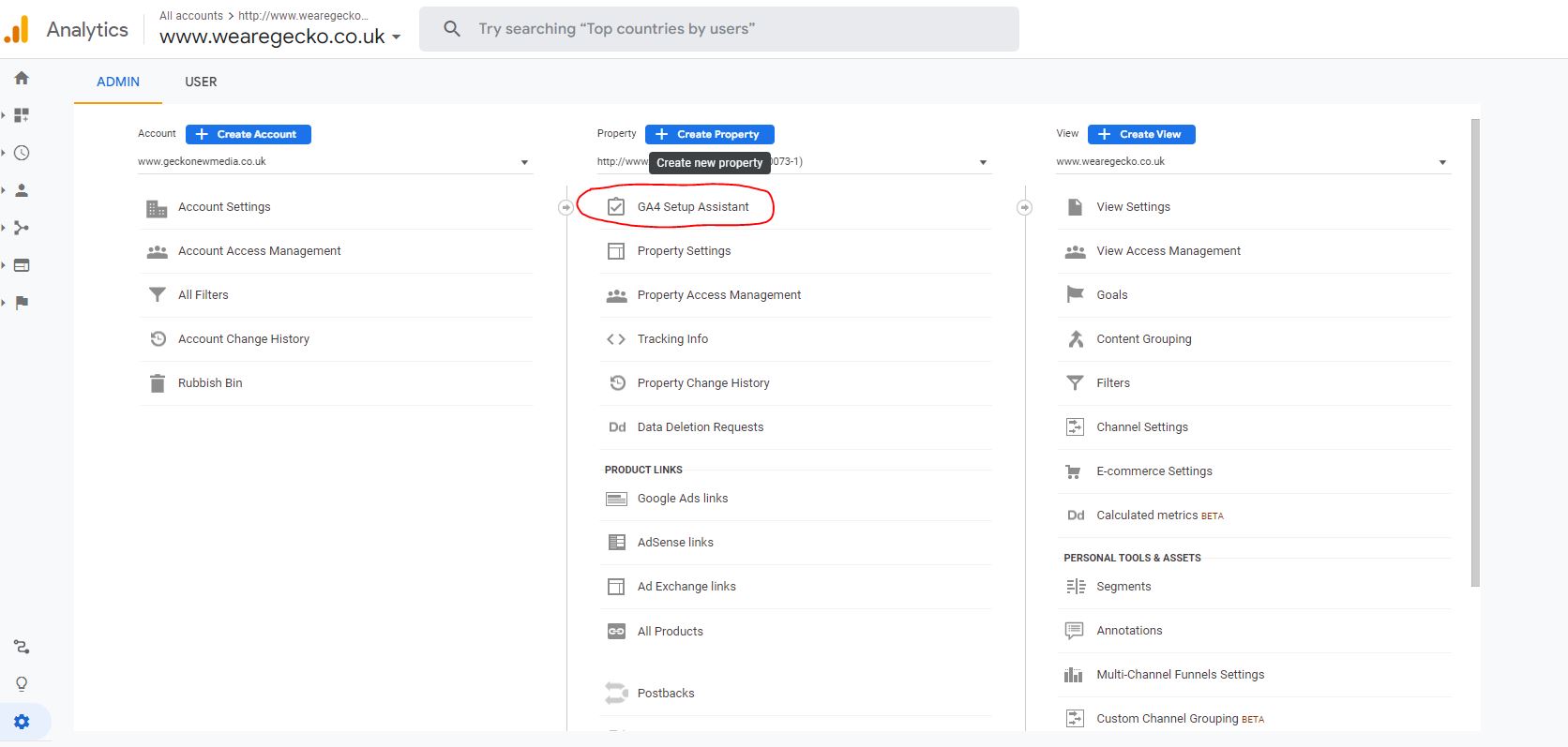 If you already have an analytics account, you want to go to the admin area, and in the property column, select the GA4 Setup assistant. Once you have selected this, you will be prompted to either create a new GA4 property or connect to the existing one. Because we are talking about upgrading to GA4 for the first time, select the Create new property option.

From here, follow the steps to create your new property. As part of this, some basics settings from Universal Analytics will be reused and Enhanced Measurement will be enabled.
If your Universal Analytics account uses the gtag.js code to track your website, you will be able to automatically start collecting data to the new GA4 property from that tag. However, if your tracking code is installed via Google Tag Manager, you will need to install a new tracking code on Tag Manager. This guide from Google explains how to set up a new tag in Tag Manager for GA4.
If you have any questions about making the most of your Google Analytics, we're always open for a chat - so don't hesitate to get in touch!