For many smaller businesses in particular, establishing a comprehensive set of brand guidelines can sometimes feel like overkill. However, we are here to show you why they are a necessity, not a luxury.
Your brand should be your most important asset. In years past, a logo design was about the extent of 'branding' for some businesses. However, it isn't enough anymore to just have a logo and slap it on everything. Developing your brand identity is how you show your business personality to your customers and is vital in ensuring that all marketing materials adhere to the consistent look, feel, tone of voice, and message across all platforms.
But what exactly are brand guidelines?
Brand guidelines are the basic principles that dictate how your brand is seen in the marketplace. Every company needs these rules to help them stay on message and maintain consistency across all marketing channels. Whether it be on social media, the website or even in person, these guidelines can help you stay consistent with who you are as a company. They can also provide an outline for what content is appropriate to share and will help define what type of language should be used when communicating with customers. By establishing brand guidelines early on within your marketing strategy, you can avoid any confusion later down the line with how you market your business.
What's included in brand guidelines?
The answer to this question when we are asked it by clients is often - how long is a piece of string? Guidelines can vary between company and we have created guidelines for clients ranging from a few pages to hundreds of pages long. It all depends on how consistent you want your brand to appear and what the business needs are. However, most brand guidelines will always include:
Your logo: We wrote a previous blog on the importance of a well-designed logo. How that logo should be used in different formats is one of the fundamental elements of your guidelines. This could include size restrictions, whether it can be used on overlays and the different colours that can be used.
Colour Palette: Establishing your colour palette is important and detailing it in your guidelines will ensure the correct colour shades are used every time. The guide will cover values such as CMYK (for print), RGB (for digital) and the HTML Hex Reference (for web).
Typography: Brand guidelines will include your brand typeface (including variations), font sizes, and how they should be used in different settings.
Tone of Voice: It is extremely important that everyone in the company communicates using your defined tone of voice. From marketing materials, website copy to internal and external communications, your tone of voice is what makes you, you!
Brand guidelines can also include elements such as image overlays, iconography use, web page layout, social media branding and other marketing materials such as letterheads, business cards, email signatures and slide decks.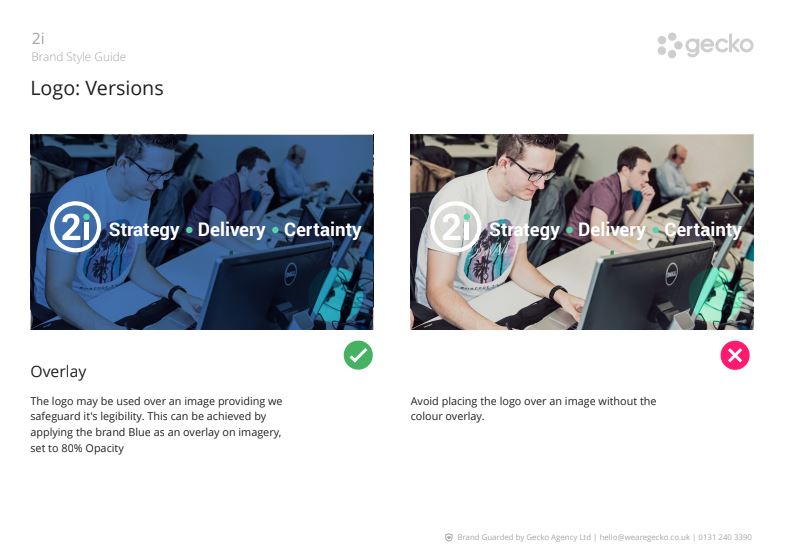 Why are brand guidelines so important?
Now that you know what is covered with brand guidelines, here are just a few reasons why they are such an important tool for your business.
Keeping the Consistency
The main reason why brand guidelines are so important is it helps your brand stay consistent! It is important that your customers or clients can recognise you, which in turn shows reliability.
Perceived Value
When a brand is cohesive and is consistent across all areas of the business, it increases the perceived value to both clients and customers. Brand guidelines ensure this value is maintained.
Avoids Confusion
When a business is in its infancy, it is much easier to stay on top of your brand assets and make sure they are all being used correctly. However, over time, as businesses scale and new staff join, it can be much harder to make sure everyone is up to speed with how the brand should be presented.
Having an up to date set of guidelines can ensure any new staff are fully aware of how to use the brand whilst also making it easier to find all your brand resources in one place.
Setting Standards
One often overlooked benefit of brand guidelines is the positive benchmark it sets for your organisation from a staff perspective. When a thorough set of guidelines is set for a business, it encourages staff to take value and pride in the brand and, in turn, helps develop a positive culture.
Don't fall foul of brand inconsistencies
As big advocates of brand guidelines, it's no surprise that we enjoy putting them together for our clients. If your business could do with a set of brand guidelines, or if you have questions about your branding in general, drop us a message and let's have a chat.