The process of how to get ranked highly on Google has changed a lot over the years, but there are still plenty of SEO cowboys out there ready to lasso unsuspecting customers.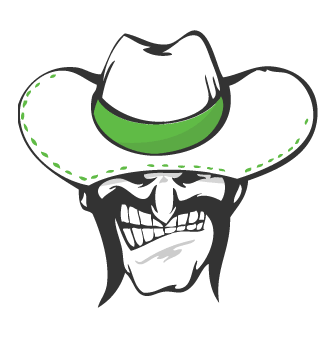 In this article we'll share five useful tips to make sure you don't fall foul of an unshaven, hat-wearing, lasso-wielding, self-proclaimed Google 'expert'.
Don't hand the keys to your business over to someone you don't know
Some people seem to be less cautious when it comes to online marketing and who they should trust. If you had a High Street shop selling clothes and someone came in saying they could get you more customers if you gave them the keys, would you do it? Sounds ridiculous doesn't it? But that's exactly what people do everyday with their websites.
We've heard many horror stories first-hand where people have agreed to an ongoing SEO deal from a total cowboy on the strength of one sales call.
Beware of the following sales pitches
The same old scams have been operating for years now. Variations of the following are still being used today:
"I'm calling from Google and we can help you get your website to number 1". Google does not offer SEO services.
"We can get a lot more traffic to your website". Sounds great right? Anyone can do that but is the traffic going to be relevant?
"We will improve your rankings for 20 keywords related to your business". This is often trotted out before the person on the other end of the phone has even asked you any questions about what you actually do or gets access to your Google Analytics.
"We will get you 200 links from other websites for £X amount per month". What this usually means is you'll get hundreds of spammy links from dodgy directories which will probably get you penalised by Google at some point in the future.
There's a lot more SEO b.s.(or should that be cowpat?) being spouted, but the morale of the tale is to not enter into a conversation with an SEO company when they cold call you. If you do want to speak to someone, ask to ring them back once you've followed the last point in this article.
If you don't understand something, ask for a proper explanation
Because SEO is a poorly understood industry that's changing all the time, it's easy for SEO cowboys to ring up business owners and bamboozle them with a bit of technical chat.
If they start to talk about things such as the Penguin, Panda and Hummingbird updates to Google's algorithm without explaining them, don't be afraid to quiz the person on the phone. You'll often find they can't give you a clear and simple explanation. If that's the case, why on earth would you do business with them?
Always meet in person before agreeing to anything
A lot of people get caught in the grip of a lasso because they agree to an SEO 'package' over the phone. Don't ever give your card details to anyone who cold calls you, no matter how convincing or persistent they are.
From our experience, a lot of these unethical SEO cowboys set up companies, hammer the phones, then disappear having done absolutely no online marketing work worth its salt. By the time you realise you've probably signed up for a six month deal and had no extra business as a result.
If someone cold calls you about SEO services and then makes excuses why they can't meet you in person, what does that say about how much they care about your business?
We spoke to one person recently who unfortunately got lassoed. Once we had the details of the SEO company concerned, a quick Google search revealed dozens of other people had experienced the same problems in paying for a SEO service they never received.
If it's a Limited Company you've been approached by, you can look at sites such as www.companycheck.co.uk to see how long the company has been trading and who the Directors are. You can also see if the company has changed its name in the past.
Rather than considering a company that relies on cold calling for its lead generation, ask other local business owners if they can recommend an SEO company nearby you can go and have a meeting with.
Summary
The best advice we can give you it to approach an SEO company on your own terms. Don't be swayed by cold call promises and think long and hard before handing the keys over to your online business.
We've cleaned up after SEO cowboys before and it sure ain't pretty!
Get in touch with us for straight-talking, transparent SEO services. You won't hear a "Howdy Partner" or "Yeehaw" here.