During the last week of October, Google rolled out a new component of their search algorithm, which they've named BERT (which is much less of a mouthful than Bidirectional Encoder Representations from Transformers…).
For those of us how have been involved in search engine marketing for a long time, Google updates are nothing new. Just like you constantly update your website or the products and services you sell, so does Google. Returning search results for a particular query is a difficult business – sets of results constantly change as websites add or remove content and the technology that delivers the results is always evolving.
You might not notice it, but Google rolls out updates all the time – some are pretty small and go unnoticed as they only affect small sets of search results and others are broad "core" updates that tweak the essence of how Google ranks sites. The latter tend to be impactful and the effects can often be seen through overnight improvements (or declines) in Organic search traffic in the Google Analytics reports of affected sites.
There is however, another flavour of update – these are essentially evolutionary leaps for Google – entirely new ways of handling certain components of search.
These tend to be given names (usually originating from their project codenames within Google), which is a reflection of their significance. BERT is one such update, but before we dive into that, let's look at other "named" updates that have come before BERT.
Google Hummingbird
Back in 2013, Google rolled out "Hummingbird", which was named to reflect that the change helped Google return results in a more "precise and fast" manner.
Hummingbird was essentially an "engine overhaul" for Google's core search algorithm which allowed Google to better understand the context of more conversational queries.
Consider that in 2013, voice search was in its infancy (Amazon were already working on the Echo, with Alexa to come a year or two later), but in general the search market was evolving. People were beginning to assume a degree of intelligence behind technology and an understanding that certain queries can better meet their needs, so the way they searched also changed.
For example, rather than searching for "restaurants", someone might search for "restaurants near me". Previously, Google would have some difficulty understand that context ("near me"), and that actually led to some SEOs optimising for the literal words "near me"!
Hummingbird is the infrastructure that allows Google to better understand the context of words together, rather than blindly trying to match keywords with content. So, restaurants may now rank for the second query if they are actually close to the user who is searching. In this case, Hummingbird will understand data from traditional search (on page copy for example), but also data from other areas (i.e. the user's location) to give the query context.
This is a great shift in search quality as it means users are more likely to get a relevant result (which is Google's goal). But it was really just the start of Google striving to better understand the meaning of queries and has led on to other key areas being explored.
Google RankBrain
While Hummingbird was a broad, fundamental change to how Google returns results, RankBrain was a new, additional component. Google rolled out RankBrain in 2015, describing it as the machine-learning AI that allows Google to better interpret queries.
While Hummingbird is the delivery system (the part that actually returns results) – RankBrain is one of many sources of information that Hummingbird uses to select results (there are hundreds of sources – such as on-page content, links to your site, location and so on – RankBrain was just a big new one).
RankBrain basically uses AI to better interpret queries that might have different meanings depending on context. For example, searching for "football" in the UK and then in the US should return very different results.
Another interesting example is a search for "pet toy".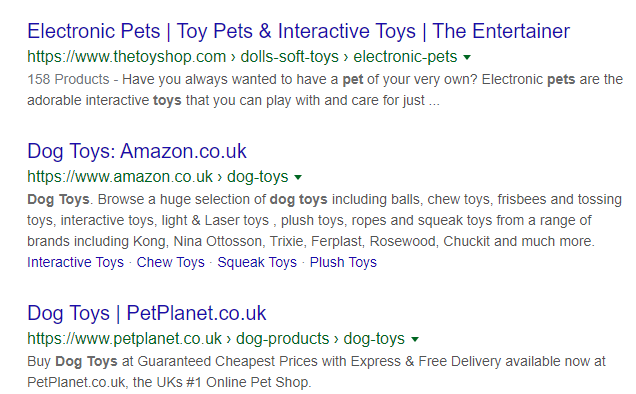 Granted, not many people will search for "pet toy", as it's too vague. But the results are mainly "dog toy" focused, despite the fact those sites all have separate "pet toy" optimised pages. So why is Google favouring a differently optimised page over one that would traditionally be deemed to be more relevant?
I'd guess that this is RankBrain at play (caveat – it's just a guess!). It's likely that dog owners are more likely to be searching for toys than cat owners (there are more dog owners in the UK, and every one of them will agree that dogs tear through toys pretty fast!). Check out the Google Trends data from the past 12 months:


So, at some point in the Google algorithm's decision-making process it has concluded that this particular query is best served by delivering results for dog owners.
Another example is a (UK) search for "Boris". The results are filled with content for Boris Johnston. This is RankBrain at play – the understanding that UK users searching for "Boris" are likely to be looking for information or news about the Prime Minister.
Google BERT
This brings us up to 2019 – Google rolled out BERT at the end of October. While it isn't as fundamental as Hummingbird or as impactful as RankBrain, it is still significant.
BERT essentially gives further context and meaning to queries – essentially a continuation of the route that previous updates have been taking. Google estimates that this will impact around 10% of queries in total.
Here's an example shared by Google: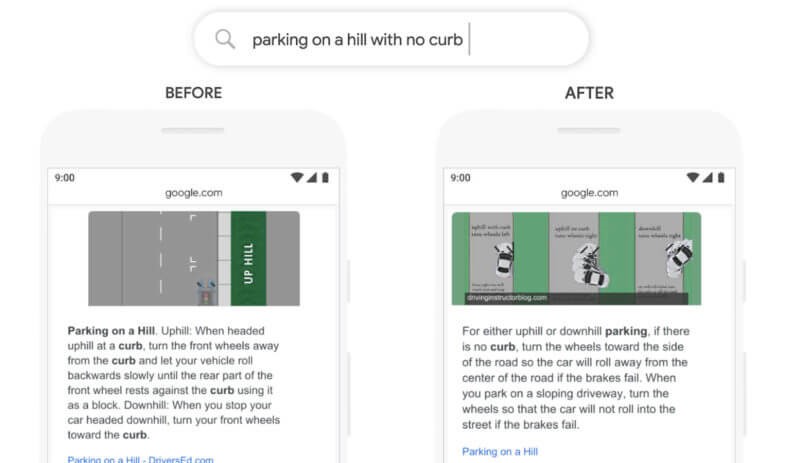 What's happening here is that old Google on the left had some trouble understanding the meaning of the search query. Google has traditionally ignored certain common words ("stop words" such as "the", "to", "no" which are too common so search engines ignore them) and focused more on the topical words (in this example, "parking", "hill", "curb").
While this works fine in a lot of queries, in examples like this one it returns a poor result because in this case, the word "no" changes the context of the other words. With the addition of BERT, Google is now better able to understand this contextual nuance and deliver a better result.
What does this mean for your business?
Well, Google says that there's "nothing to optimise for BERT", but they do say that about most things!
What we can take away from BERT and previous updates is that search is increasingly moving towards better understanding conversational language and the more precise intent and context behind queries.
This is partly fuelled by changing consumer behaviour (people using search in different ways, places and times) and evolving technology more able to adapt to these behaviours.
The good news is that this means Google is getting better at delivering the right results to the right people, which is better for your business.
While Google says "BERT can't be optimised for", I disagree. The example about parking on a hill illustrates that it can be beneficial to explore more specific topics for blog posts, FAQs and guides. Previously some more granular topics may have had too low a search volume to warrant spending time and resource creating content for. BERT could change this.
I believe as Google gets better at returning relevant results for more obscure queries, the more confidence some searchers will have in Google and they'll begin to evolve their search behaviour as a result. Over time, this could see a shift in the type and volume of "long tail queries" that are being searched for. Google famously says that around 15% of searches each day are new (phrases that have never been searched for before). It's the new stuff that Google might have had trouble processing in the past (it's more difficult to determine context without historical or associated data), but BERT might just be the way Google handles a lot of these new queries. It's these edge case searchers that may not have been served too well by Google in the past, that are now more likely to get the results they wanted.
They could very well be potential new customers finding their way to your business.
For now, the advice is the same as it always is. Write naturally and speak to your visitors as you would in person. Google is getting better at understanding natural language and how people are searching – you can use your content to ensure your business is the one that is served as a result.
As always, if you want to chat about search marketing for your business, get in touch with our team and we can help you out.