For those who are new to Google Analytics or who are unfamiliar with it, it can seem like an overly complex tool and many people often don't appreciate the benefits it can bring to your business. However, when used properly it can provide valuable insights that can shape the success strategy of your business.
It doesn't matter what industry you operate in or whether you are a service-based or product-based company. If you have a website, you need to be making the most of Google Analytics. It's that simple. Now, we could just leave it there, but then that wouldn't make for a very informative blog!
By taking a little bit of time to learn the basics, you will begin to draw valuable insights that will help you to improve your marketing, better serve your target audience, and most importantly, reach and convert more customers.
Below we list some of the benefits and reasons why you need to be using Google Analytics.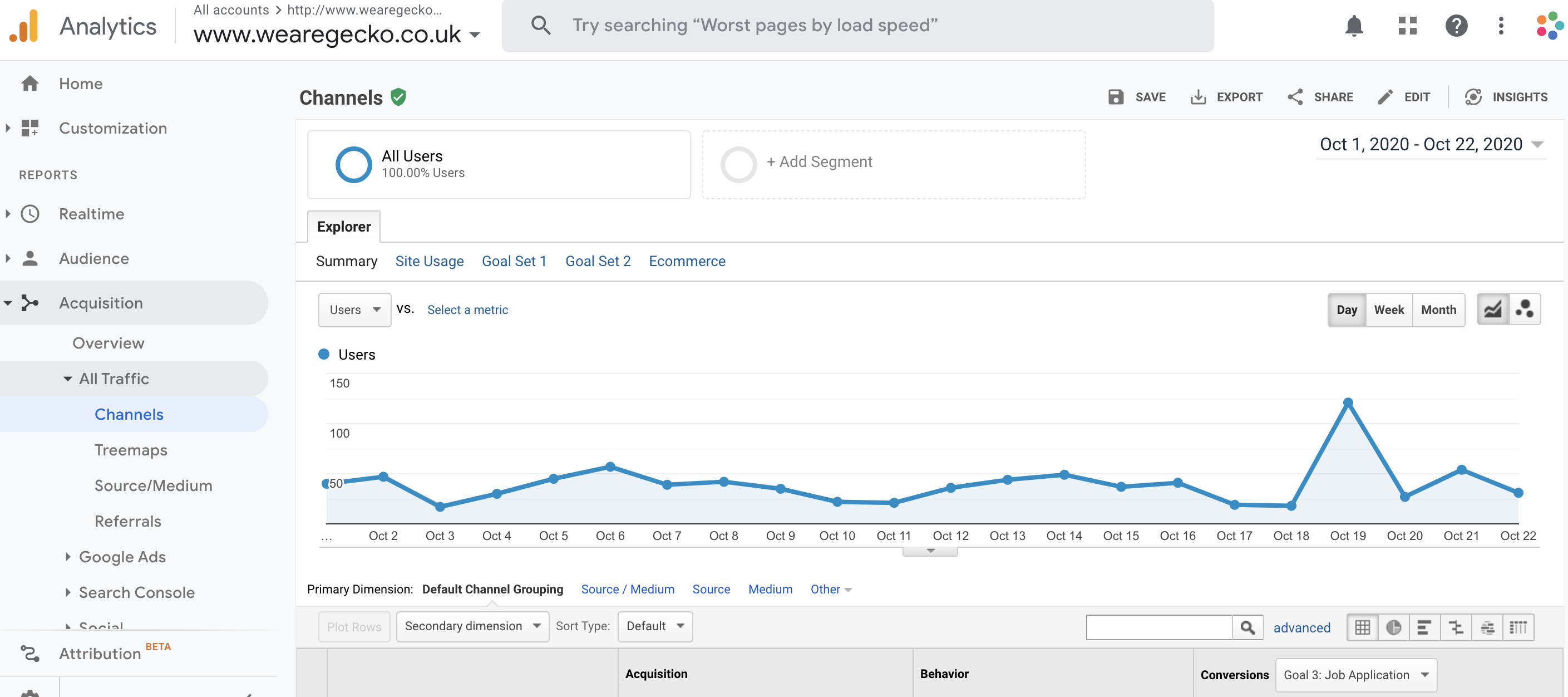 1. It's Free!
Now it may not be the most important reasons but it is certainly the most obvious reason to use Google Analytics. It costs nothing. Zero. Nada! You don't need to sign up for any subscriptions or provide card details to use analytics. All that you need to do is sign up for an account and install a piece tracking code on your website, which will be used to track and record all of the wonderful data that will help you improve your digital efforts.
2. It Collects Data Automatically
As we mentioned in the previous point, all that is required once you have set up a Google Analytics account is to install a small piece of tracking code to begin recording a wide range of data.
From that point, you don't need to do anything to start collecting valuable data that will give you a better understanding of your target audience and how they are interacting with your website.
We set up reports for our clients to provide them with monthly updates, however, you can check-in at any time and view the data as you wish.
3. Customisable Reports
Another great benefit to Google Analytics is the ability to create custom reports which will allow you to view Below is an example of a custom report we have set up, which allows us to see at a glance, the key pieces of data.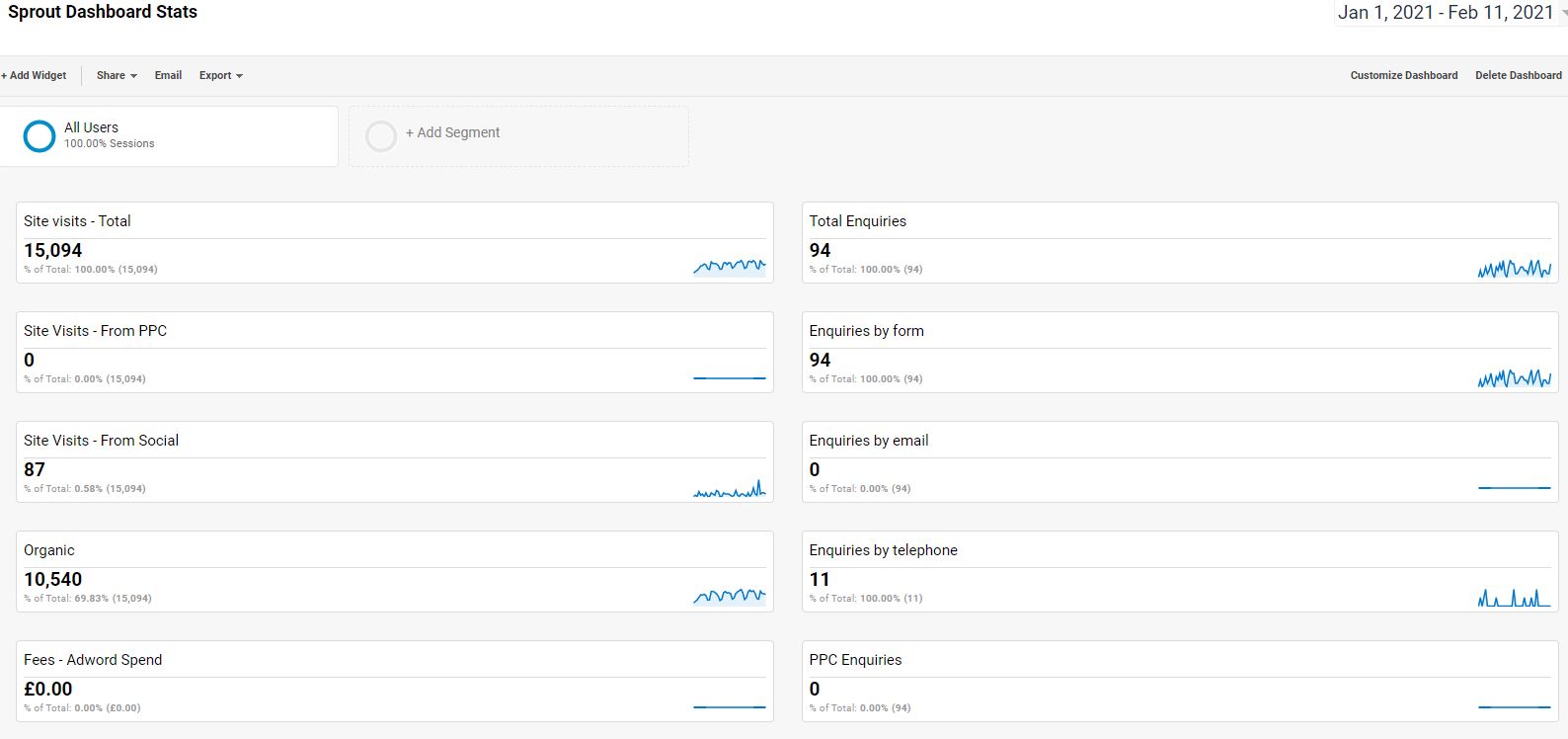 Above is an example of a custom report we have set up for all of our clients, which allows us to see things such as how many visitors are coming to the website, how many enquiries have come in, as well as Google Ad spend (if applicable). For more information on how to set up a custom report and dashboard, check out Google's guide here.
4. Simple integration with other applications
One of the great things about Google Analytics is its ability to integrate with other platforms and provide As you could see from our custom report above, we have included Google Ad spend and PPC enquiries into the report, should our clients be running these types of campaigns.
Plus you are not limited to logging on to a desktop to see how your website is performing. You can download the app and access your account on your smartphone or tablet and still retain all the same features.
5. Find out what content is working and what isn't
There is no point in spending time and money creating content for your website if it turns out that your audience isn't interested in seeing it. If you want to know what is your best content and what people engage with most on your website, then Google Analytics can tell you. If you select the behaviour tab, followed by site content and then pages, you will be able to see how much traffic each page is getting.
The insights from this section will guide you on creating content that keeps the visitors on the website the longest and wants to continue watching on other pages on the website. You also want to be looking at the pages with the lowest bounce rate and a higher number of pages per session.
At the same time, you'll see what content is performing poorly in comparison and you can ensure your resources are not being wasted on something that isn't generating results.
6. Discover your audience
Yet another reason as to why you should be using Google Analytics is so that you can get a better understanding of your user audience. This section offers you the chance to discover a lot of information about the people who visit your website. For example, their age, gender, interests, devices, and location. Understanding your audience is also useful if you are looking to implement local SEO strategies.

7. To see if you're achieving your goals
The final point on our list is all to do with goals/conversions. You can use analytics reporting to create goals that you want to achieve with your marketing efforts.
There is a whole range of goals that can be set up (e.g. making a purchase, completing a contact form, subscribing to newsletters, downloading a pdf). The biggest benefit to setting up goals within your Google Analytics is having the ability to prove that digital marketing investments are paying off. At the end of the day, you need to know whatever you are investing in is bringing in a return.
Summary
Google Analytics is a great tool for increasing the effectiveness of your online presence, regardless of the size or nature of your business. For something free and relatively straightforward to set up, it has the ability to transform how your website performs for your business.
If you've yet to use Google Analytics to its fullest potential and want some advice on making the most of it, why not get in touch for a chat and we'd be happy to help you out!