In the ever-evolving landscape of digital marketing, Search Engine Optimisation (SEO) remains a steadfast cornerstone. But what's the real goal behind your SEO efforts? It's not just about driving traffic; it's about conversion. This blog will delve into the pivotal connection between SEO and the sales funnel, guiding you on a journey from clicks to conversions.
Understanding the Sales Funnel
Before diving into the world of SEO, it's crucial to understand the sales funnel. Imagine it as a pathway that potential customers take on their journey from initial awareness to becoming loyal advocates. The funnel typically consists of three main stages:
Top of the Funnel (ToFu): This is the awareness stage where prospects first encounter your brand or product.
Middle of the Funnel (MOFu): At this stage, potential customers are evaluating your offerings and considering a purchase.
Bottom of the Funnel (BoFu):

The final stage where leads become paying customers.
Now, let's explore how SEO aligns with each stage of the funnel.
SEO at the Top of the Funnel (ToFu)
At the awareness stage, prospects are usually at the start of their buying journey. They are searching for answers, solutions, or information and trying to define what they are looking for. Top of the Funnel keywords are often written as questions, for example, "what is…?" or "how do…??". Their search intent is informational.This is your chance to establish brand visibility. Here's how SEO plays a role:
Keyword Research:

Identify the keywords and phrases your target audience uses when searching. Optimise your content around these keywords.

Content Creation:

Craft informative, engaging, and shareable content that addresses the questions and needs of your audience.

Blogging:

Maintain an active blog to continually provide valuable content. This helps you appear in more search results.
SEO at the Middle of the Funnel (MoFu)
Customers at the middle of the funnel need to be convinced that they want to buy something before they actually make a purchase. They are comparing suppliers, looking for the best one, and finding the best solution. They're moving toward a transaction, but they need more information before deciding. Their intent is commercial.
On-Page Optimisation:

Ensure your product or service pages are optimised for relevant keywords and provide detailed information.

Content Variety:

Apart from blog posts, include case studies, whitepapers, and eBooks that highlight the value of your offerings.

Lead Generation:

Use SEO to drive traffic to landing pages with lead capture forms, allowing you to nurture leads through email marketing.
SEO at the Bottom of the Funnel (BoFu)
At the bottom of the funnel, customers are generally ready to buy, but they may need a final nudge. As prospects move down through the sales funnel, the competition for search terms increases. These customers are considering factors such as price, quality, value and relevant experience so the key is in showing them why they should choose you. Their intent is transactional, you will also find navigational searches at the bottom of the funnel.
Local SEO:

If applicable, optimise for local searches as prospects near a purchase are likely looking for nearby options.

Product Reviews:

Encourage satisfied customers to leave reviews, as positive ratings can greatly influence decision-making.

CTAs and Urgency:

Implement compelling Calls to Action (CTAs) and a sense of urgency to prompt users to take action immediately.
SEO isn't just about driving traffic; it's about guiding that traffic through the sales funnel to conversion. By understanding your audience's search intent at each funnel stage and tailoring your SEO efforts accordingly, you can optimise your website to meet their needs, boost engagement, and ultimately drive conversions. One of the essential aspects of an effective SEO strategy is keyword research, which not only involves identifying relevant keywords but also categorising them based on user intent. 
Understanding User Intent
User intent refers to the reason behind a particular search query. By categorising keywords based on user intent, you can better align your content and optimisation efforts with what users are seeking. There are three primary, SEO focused, categories of user intent:
Informational Intent:

Users with informational intent are seeking knowledge. Their search queries are typically question-based or aim to gather information on a specific topic. For example, "How does SEO work?" falls under this category. To target users with informational intent, your content should provide informative and educational resources.

Commercial Intent:

Users with commercial intent are in the research phase, contemplating various products or services before making a purchase decision. Their queries often include terms like "best," "reviews," or "compare." For instance, "best smartphones 2023" indicates commercial intent. Tailor your content to provide detailed comparisons, reviews, or product/service information.

Transactional Intent:

Users with transactional intent are ready to take action, such as making a purchase or signing up for a service. Their queries are action-oriented and might include terms like "buy," "order," or "subscribe." For instance, "buy iPhone 13 online" reflects transactional intent. Ensure that your content includes clear calls-to-action for users with transactional intent.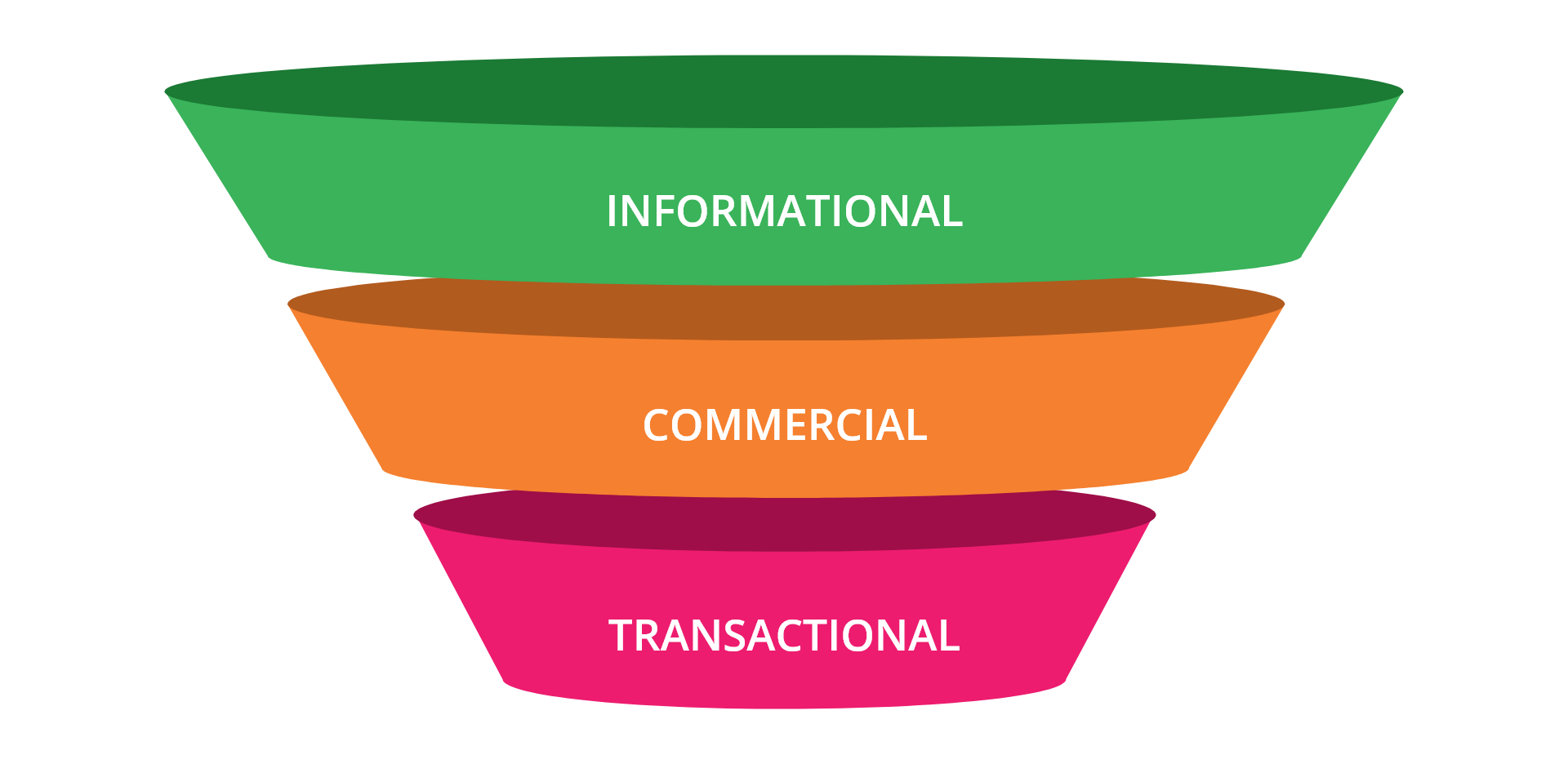 Incorporating Keyword Categorisation
Now that we understand the categories of user intent, let's discuss how to incorporate keyword categorisation into your SEO strategy:
Comprehensive Keyword Research:

Begin by conducting thorough keyword research to identify a range of relevant keywords related to your business, products, or services.

Group Keywords:

Organise your list of keywords into the three SEO focused categories: Informational, Commercial and Transactional.

Content Optimisation:

Tailor your website's content to address each category of user intent. Create informative articles and blog posts for users seeking information, detailed product/service pages for those with commercial intent, and transactional pages for users ready to convert.

Optimise Meta Tags:

Craft meta titles and descriptions that align with the intent of each keyword category. This helps improve click-through rates in search engine results pages (SERPs).

Monitor Performance:

Regularly analyse the performance of your categorised keywords. Are they driving the desired actions, such as higher rankings, increased traffic, or conversions? Adjust your strategy accordingly.
SEO's essence lies in understanding the user's journey through the sales funnel, aligning your content with their intent, and categorising keywords strategically. By mastering this synergy, you'll not only enhance your online presence but also transform it into a powerful conversion engine. Need assistance? Our digital marketing team is here to help!