Which campaigns are shining online?
If like me you are in need of a big break from the close to home politics of in-out-in-out-shake-it-all-about (and the dreaded 'B' word), then why not take a look at what's going on further afield over the pond. Believe it or not, the 45th President of the U.S.A has been in post for well over half a term, so the campaign wheels are well and truly in motion to try to be POTUS number 46.
Let's have a quick look at a few of the contenders and how they are presenting themselves in the digital space, with a particular eye on the quality of design.
This campaign triggered the idea to write this post, or rather another website connected to it did. The 'Pete for America' campaign is backed up by a very well put together Design Toolkit that really shows a value being placed on effective and consistent visual communication. The toolkit provides a lot of easy visual resources for a whole host of campaign scenarios.
I quite like the Places section of the toolkit, where each US state and a few of the cities have been given their own little brand identity, each one lovingly hand-lettered by different contributors. The presence of a toolkit like this suggests a smart and modern approach to building grassroots support.
Moving from the toolkit, the campaign site itself is well designed as you would expect. I especially like the colour palette, a nice departure from the more obvious reds, whites and blues. It's also heavy on content, especially in the 'Issues' section - where the colour eventually gives way to the nitty-gritty of policy ideas.
As is always the case with political campaign websites, it is very egocentric from a photographic point of view, with every image featuring the candidate. There is at least a little more diversity and less of the obviously staged situations.
Score: 8/10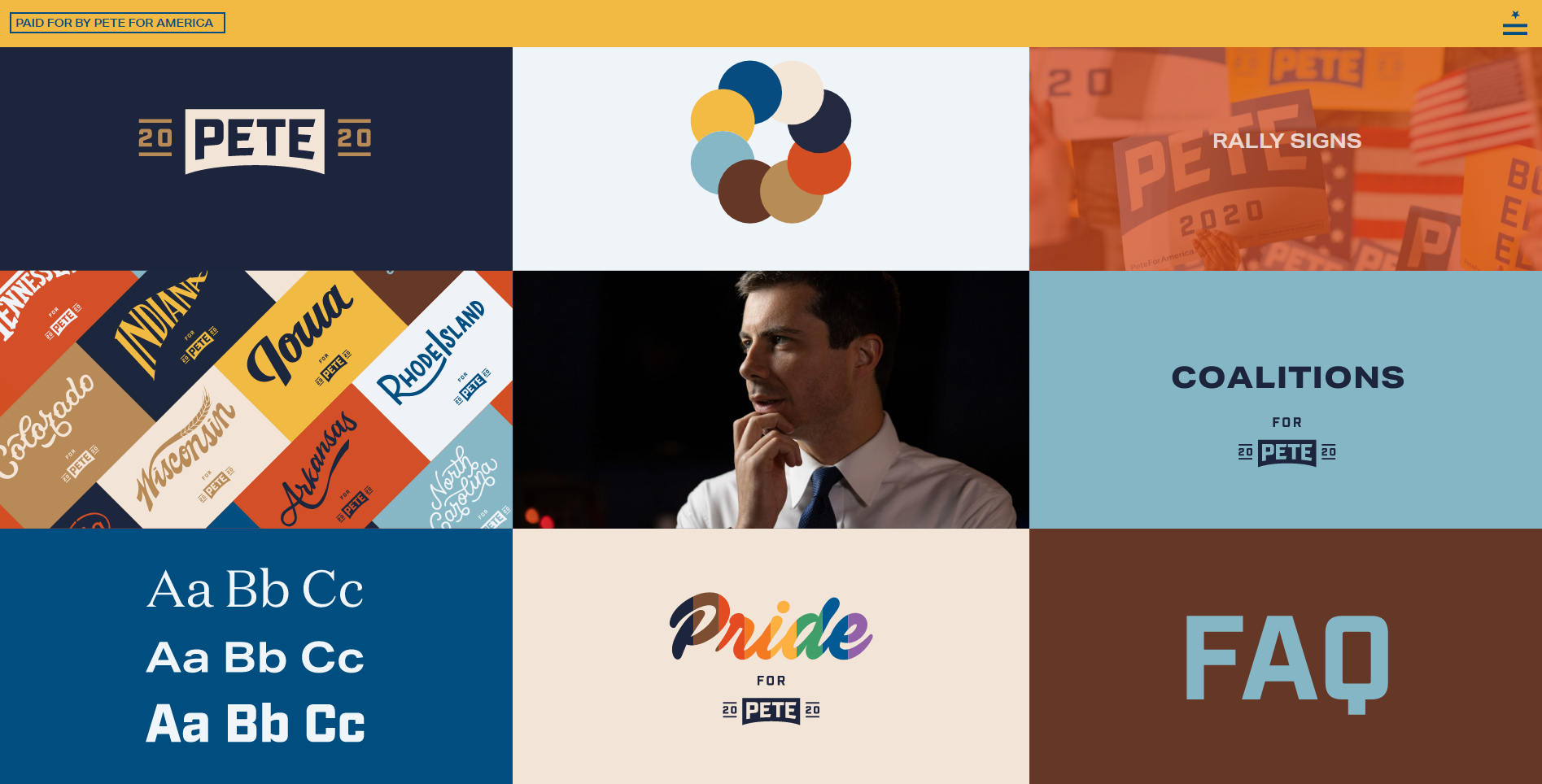 Most of the campaign websites I've looked at tend to lead with bold typography and big headlines. This one does seem particularly serious and corporate in its visual tone though. Maybe that was entirely the intention, wanting to avoid being seen as a fluffy 'soft on this, soft on that' kind of politician, I don't know.
It starts off with a rather dark and almost sinister-looking home page. There is some video playing in the background that I think shows the candidate meeting and greeting and probably being very neighbourly, but it's a little too dark to really make it out. Overlaying the video is a series of upbeat messages proclaiming that 'WE WILL SAVE OUR DEMOCRACY' amongst other things. It concludes with the firm headline 'WILL YOU JOIN OUR FIGHT IN YOUR NEIGHBORHOOD?' that somehow feels more intimidating than inspiring to me.
Thankfully things start to lighten up as you scroll and I like the variety of presentation, with some horizontal and vertical scrolling, and good use of available screen space
The Meet Elizabeth page does a reasonable job of introducing us to Warren the person rather than the politician, but it just seems to tail off in its visual engagement, leaving you with a block of text that only the more enthusiastic will likely read.
Score: 7/10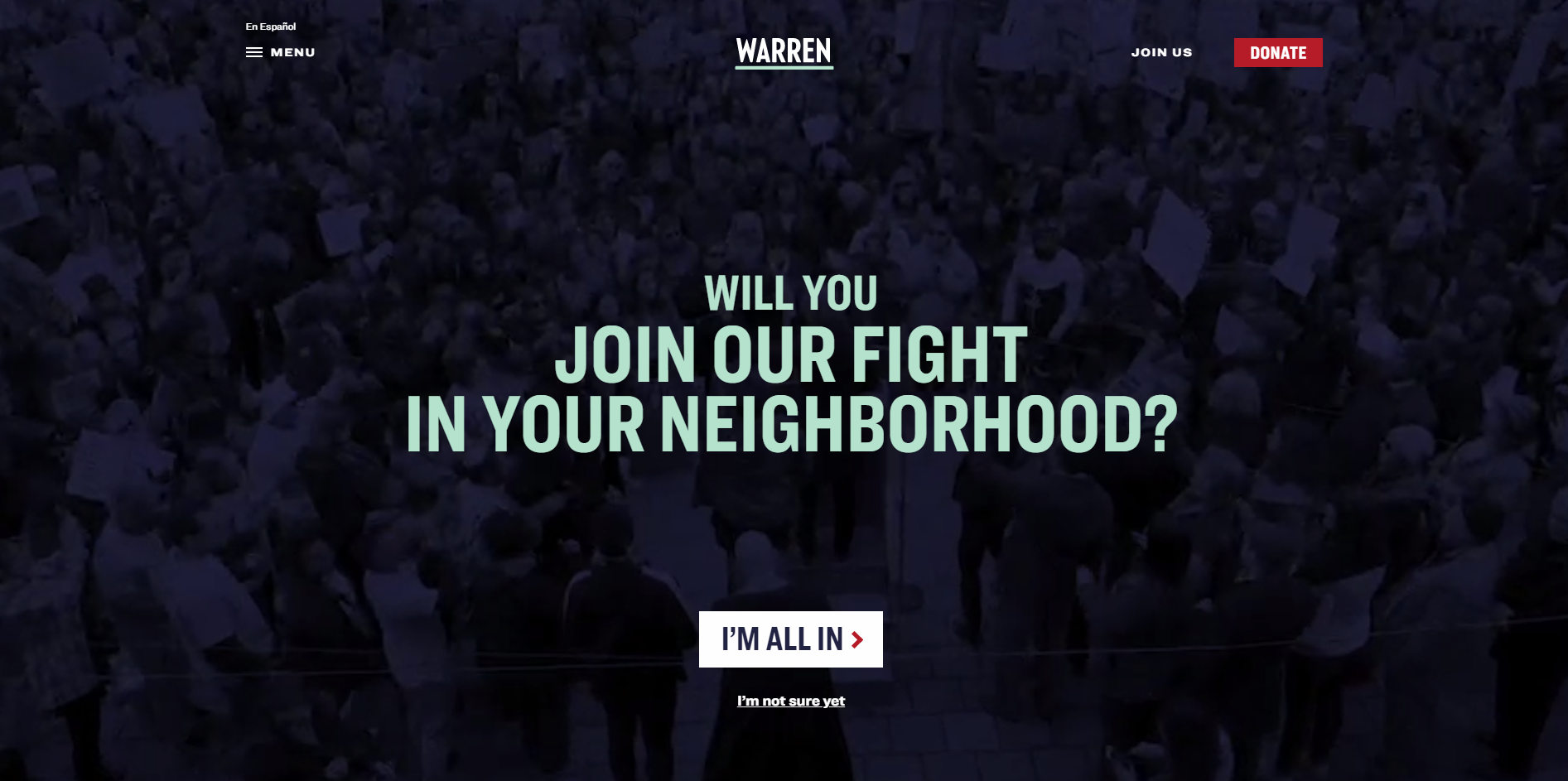 There's something just a little more cuddly and approachable about Bernie somehow. We can actually see him in the video montage for starters. The campaign has a very nice and recognisable brand logo too, possibly familiar because Bernie ran a fairly long and nearly successful campaign last time.
Beyond the great logo, lovely headline typography and nice home page, not a lot of design effort has gone into the campaign website, but perhaps that fits with the whole ethos of not wasting money and resources, and not being funded by billionaires.
Score: 6/10
Barack Obama's old partner is one of the frontrunners to challenge Donald Trump. Very interestingly though, when I google 'Joe Biden 2020', then it is a very slick, and darkly critical parody website that sits near the top of the results, not the official campaign website. I found the real thing via Wikipedia. It's a super slick and crisply patriotic affair. The design is full of sharp typographical lines, generous space, and confident use of (you guessed it) red, white and blue.
The Joe's Story page is quite compelling and heartwarming, kind of an easy reading timeline of events in a long political life. I'm not quite sure of the significance of the train travelling down the tracks as you scroll down the page, but I applaud the designers for at least trying something a little different.
Score: 8/10
https://joebiden.info/ for the creepily good parody website.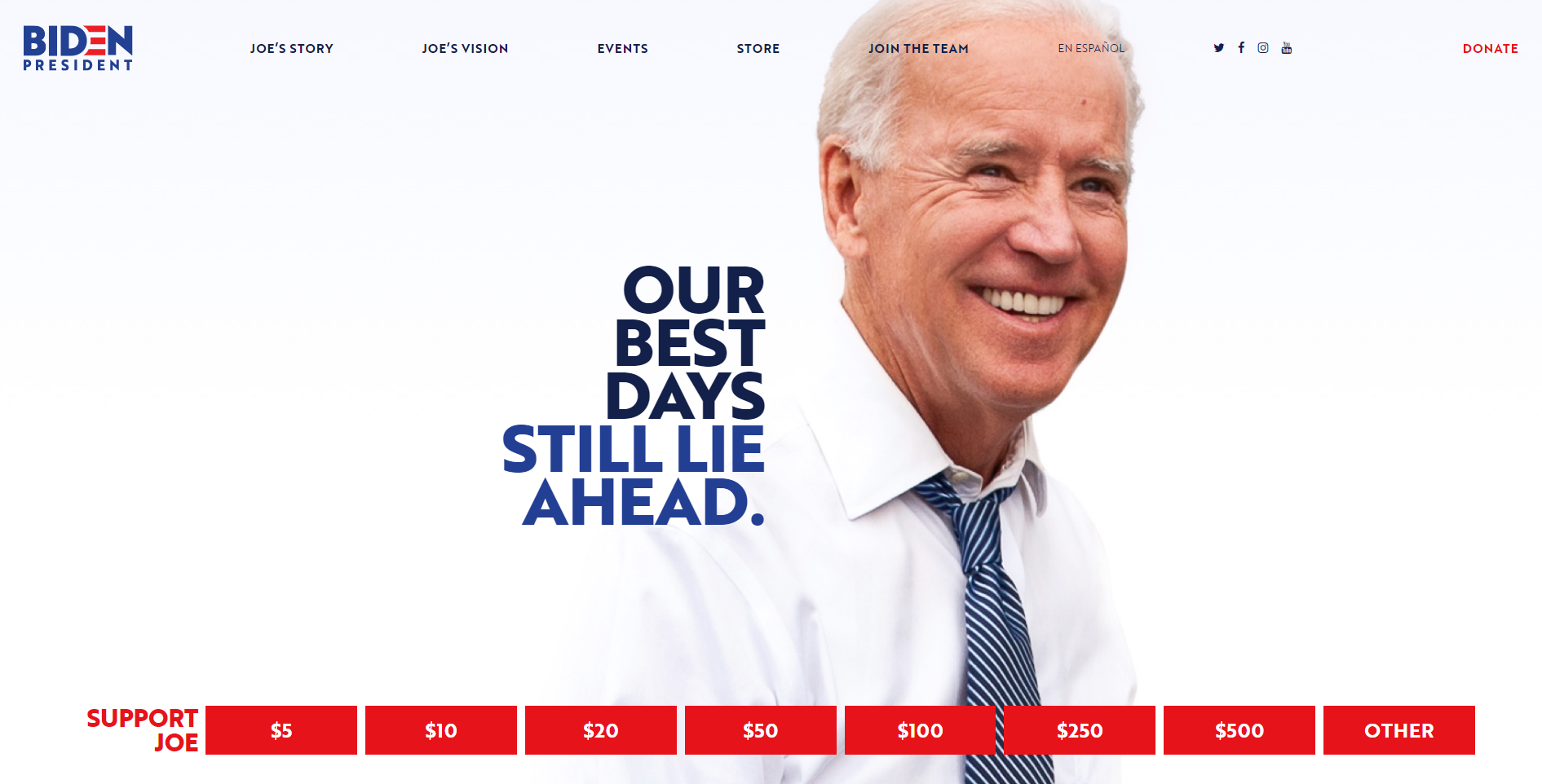 I included this in the interests of fairness (i.e. not just listing Democrat contenders), and at the time of writing Weld seems to be the only one challenging the incumbent on the Republican side. It's all very uninspiring from a design point of view though. Maybe this campaign is just testing the water at the moment, but it really doesn't have any fire in its belly.
Score: 2/10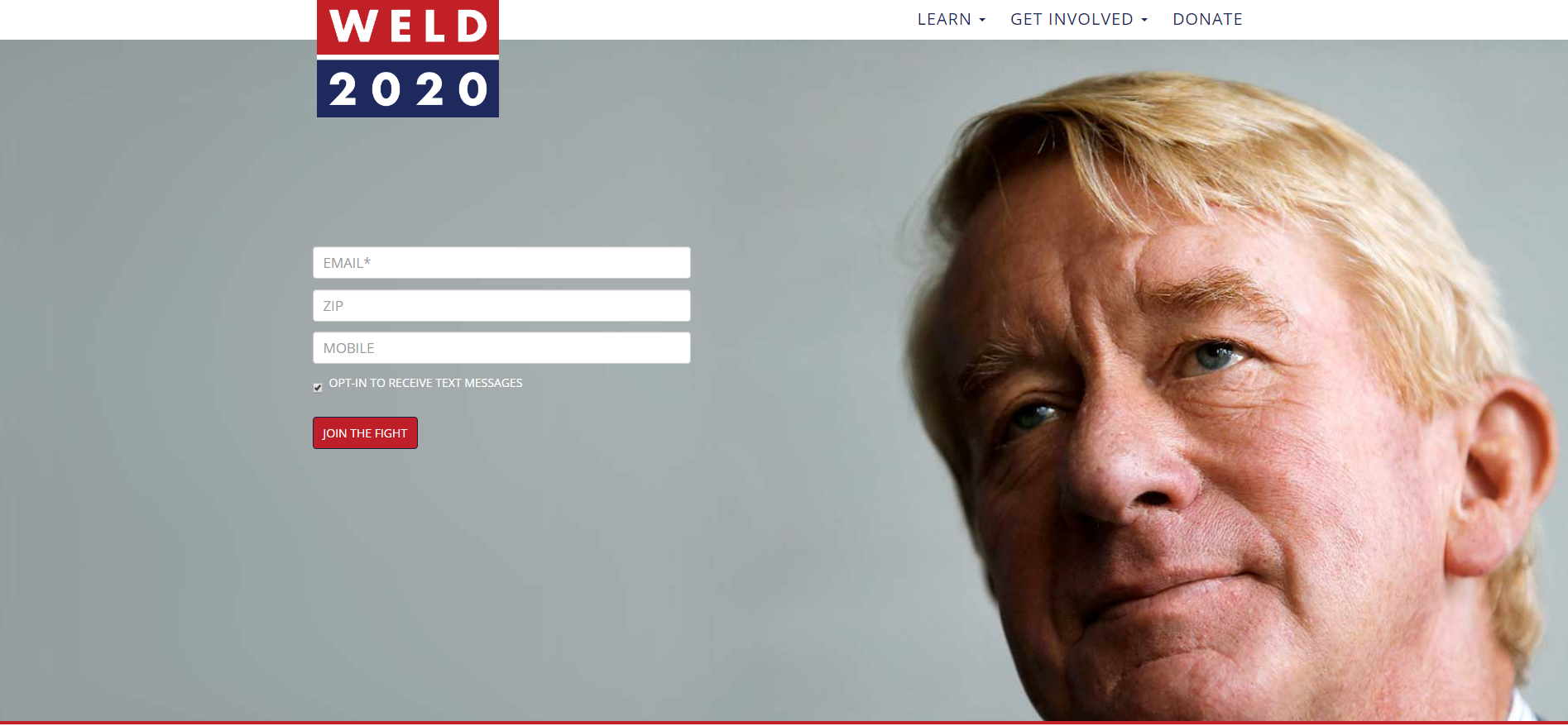 And what about the Donald you cry? Well, though many still find it remarkable, yes he actually is the commander in chief rather than just having designs on the job, so that's my excuse for leaving him out of this piece.
Summary
It should go without saying that the potential of someone to be a good political leader does not depend on aspects such as branding, typography and the design of their online communication.
That said, the Obama campaign of 2008 set a new standard in terms of effective and inspiring online campaigning, and the branding and visual design played a strong part in that - from the sun rising logo to the iconic Hope poster image.
None of the 2020 hopefuls are quite in that league yet. It's still fairly early in the long haul to November 2020 though, and there is time yet for the kind of design that leaves a lasting impression.