You know you should be using social media for your business, but you're not sure why.
So, you ask around the office to ask if anyone uses Facebook or Twitter outside of work. That person then becomes the 'social media guru' by default and all is well...or is it?
Here are five important questions to consider before assigning the social media for your business to any member of staff.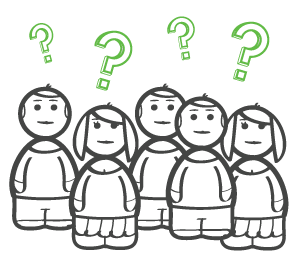 How much do you really know about social media?
Posting updates about holidays on Facebook to friends and family is different to running a business account. The same applies to Twitter - some people use Twitter to follow celebrities or find news on their favourite football teams. These things don't necessarily make them a prime candidate for running your business social media though.
If the person you're giving responsibility to genuinely doesn't have the knowledge or experience needed, then you might want to invest in some training for them before handing over the reins.
How much time per day do you think it will take to do properly?
An update a day doesn't really cut the mustard on social media. It's about building relationships and speaking to people more than blowing your own trumpet (ooh matron!).
If you're asking someone to take on this extra work, it's important to make sure they have enough time in their day to actually engage with people on social media rather than just post token updates once per day.
Can we discuss what we're looking to get out of it as a company?
Social media for the sake of it is pointless. Some kind of plan or strategy needs to be put in place at the start. Why are you using it - for brand awareness? to drive more website enquiries? to get more email subscribers? increase your online orders?
If you don't know what you're doing on Twitter, Facebook, Pinterest or Google+ at the beginning or why you're doing it, then it's going to be impossible to properly measure how well it's working.
How are you going to track your efforts?
Moving seamlessly on from the last point, does the person you've entrusted with being social on behalf of your business know how to track what they've been doing? Using social media for pleasure is one thing, but most people won't track how many retweets, mentions or post likes they've had in a given period of time from their Auntie Susan.
There are lots of useful social media reporting tools out there - choosing the right one for your business can take a bit of time to research first and also mean paying a monthly subscription fee.
Who's going to look after 'the social' when you're not here?
I know of one organisation that invested a lot of time and money training up just one person to do their social media for them. That person turned out to be very good at it and decided to go and work for an online marketing agency doing social media full time.
The company in question (no names) were then left with nobody to pick up where the other person had left off. While that scenario may be extreme, if there is only one person who knows what they're doing, what happens when they're off sick or on holiday for two weeks - do you just not bother updating your social media accounts until they get back?
If you're thinking of asking for an employee to volunteer to run your social media accounts, hopefully these questions will make you think again.
Of course, we could do it for you if you'd like? Check out our social media services