Google's "Campaign URL Tool" is a simple, free tool for building a tracking URL specific to a particular campaign. These tracking URLs include additional information that will be sent to your Google Analytics account. This allows you to report on and analyse how successful your marketing campaigns were.
Google's Campaign URL Builder has been around since the early days of AdWords. It was originally designed as an alternative to using the 'Custom Links' feature in AdWords. However, over time it became clear that the tool could be used to build more complex links than just custom links.
Recently, we have had a couple of clients who have been producing more and more blog content to share across their social channels and were keen to understand how each platform was performing in driving new visitors to their website through their blog content.
We thought for this post we would take a look at Google's URL builder in more detail, exploring its features, the different elements, any limitations as well as how to use the tool.
So, what is Google's URL Builder?
I know we touched on it in the introduction, but in Google's own words, "this tool allows you to easily add campaign parameters to URLs so you can track Custom Campaigns in Google Analytics".
Google's URL Builder is a free service from Google that lets you build custom tracking URLs that can be used in order to gain deeper insights into how specific campaigns are performing.
Understanding the source of your traffic is useful, but what is more useful is knowing exactly what information they were reading when they took the step to visit your website. It is good to know LinkedIn sent 100 visitors, but it is much more useful to know whether they came via the company page or the latest blog that was posted.
URL Builder can give us the insight to understand which campaigns are performing well and which ones are performing poorly. Understanding what drives our visitors helps us to shape our marketing efforts going forward.
A breakdown of the key components
Within the URL builder, there are a number of parameters to complete, which are added as tags at the end of your URLs. These include:
Campaign Source: This tracks where your visitors to your site are coming from. Common examples include Google, Twitter and LinkedIn.
Campaign Medium: This parameter relates to the type of medium that the traffic is clicking on to get to your site. For example, an email, a Tweet, or a post.
Campaign Name: This should be specific to the name of your campaign. E.g. campaign_url_builder_blog
Campaign Term: This is not a compulsory field, and this can be used if your campaign is a paid ad. It relates to the paid keyword for your ad.
Campaign Content: Again this isn't a compulsory field and is used for paid ads. It is used to differentiate between certain ads.
Below you can see an example of how I would fill in the URL builder for tracking the performance of this blog post on Twitter.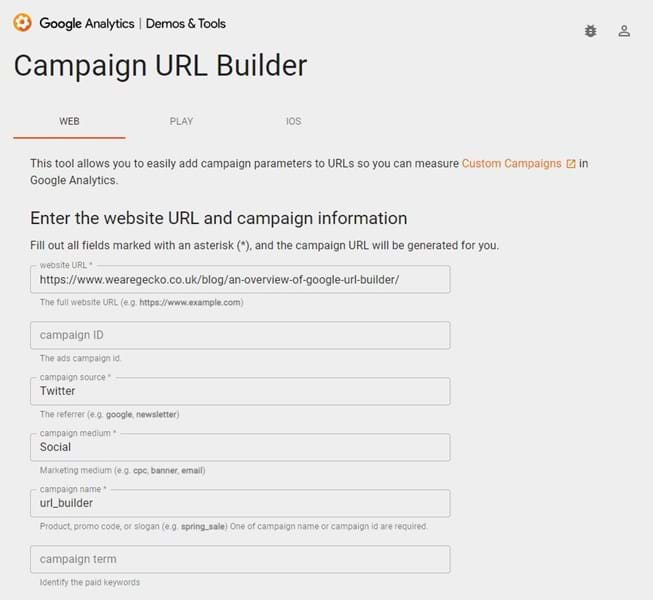 The URL builder is automatically generated as you fill in each of these fields, which can be then copied from the generated URL field, just like the example below.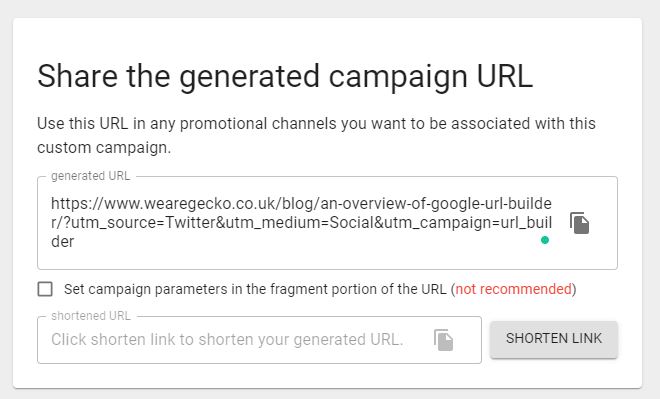 As you can see, there is an option to generate a shortened, 'prettier' version of the URL, which will mean you don't need to share long-winded URL's when you share it.
Once you have inserted the generated URL into your campaigns, you will then be able to track these in Google Analytics. To do this, log in to your analytics account, select Acquisition and then choose Campaigns.
Are there any limitations?
Whilst the tool is extremely useful, it is important to touch upon any drawbacks.
With Google's URL Bilder, you need to enter the data manually in order to generate the URL. You also generate one URL at a time and then have to copy and paste it into your campaign. Whilst not necessarily an issue for smaller businesses or those who are running a small number of campaigns, the same could not be said for businesses who are running a large number of campaigns, becoming a very time-heavy activity.
However, given that one of the biggest benefits of using the URL builder tool is the ability to determine how efficient your campaigns are, allowing you to discover areas that need improvement, it is certainly a tool worth utilising.
Keeping Campaigns Simple
The Google Analytics URL builder is a great tool that allows you to track what's going on with your website, including how visitors arrive at your site. The URL Builder allows us to segment our data and see which campaigns are performing well. It's free, easy to use and is something you should be utilising when delivering your marketing campaigns.
If you need help using the URL builder tool or want to explore some more of our digital marketing services, then why not drop us a message and let's start a conversation.