The Problem for Law Firms...



It's no surprise that one of the best ways to drive clients to your law firm is via search engines. Over 90% of people looking for legal advice start with a Google search. The problem is that every law firm understands this and therefore invests a substantial amount of time and money in SEO and their website. This makes the legal space extremely competitive.
So how do you go about ensuring your law firm is not missing out on potential new business?
In this post, we will take a look at the anatomy of the Google results page and what actions you can take to power up your Search engine results performance.
The Anatomy of a Google's Results Page
The Google Search Results Page has three core components. It's not only important to understand how they work individually, but also how they can influence each other.
The three key channels that you need to know about are:
Organic listings

 

(SEO channel)
Local listings

 

(Local SEO channel)
Paid adverts

 

(PPC Marketing channel)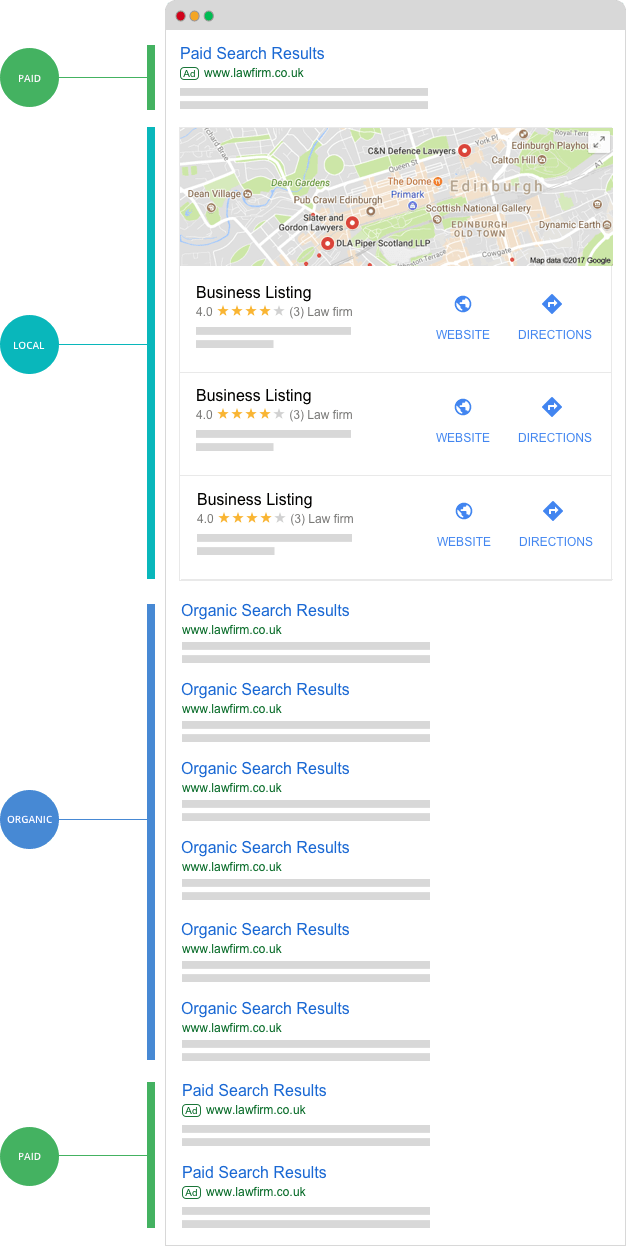 Organic search results
For most websites, the majority of their visitors come via organic results, which traditionally was the main focus of search engine optimisation (SEO).
Most search results pages will have 10 organic results, which feature after paid and local listings:
Organic results fluctuate every day as websites add new pages and others drop out. On top of this, the algorithm Google uses to determine the order of the 10 items can change over time too.
This constant evolution of how Google rates and ranks pages of a website is not dissimilar to how the legal industry evolves. Each new precedent or law can have a ripple effect on how your firm operates and if left unchecked, your firm can quickly fall behind your competitors.
Organic search engine optimisation can take longer to reap results than other channels, but when the results are achieved they can offer a steady flow of visitors and potential clients.
Local maps in search results (Local SEO)
When a user searches for something that potentially has a local relevance (like a local business or location), Google will automatically display map results as shown in the above diagram.
These are generated separately to organic results - being number one organically doesn't automatically mean you'll feature on the map results. It only displays actual businesses (and not other results such as directories or news items).
It can be very important to be featured on the map results as those listings sit above organic listings and are very prominent - searchers are much more likely to click on these listings than others on the page. In addition, as people are searching using local terms (e.g. "Edinburgh solicitors"), it's likely they're actively looking to purchase your services.
Pay Per Click (PPC)
PPC is one of the most measurable marketing channels available to businesses today.
PPC allows you to pay to have your advert displayed in search results for specific search terms. This gives you control over who sees your advert and how much you spend. This is a fantastic tool as it allows you to easily test the water with different campaigns, and gives you great insight into what's working and what's not.