When I was little I always dreamt that one day I would be able to write about lipsticks and pigs in an article about website redesign (not really, but here I am doing it anyway!).
I'll get to a picture of a pig wearing lipstick in a minute (look below now if you can't wait).
If you're thinking it's time to refresh your underperforming website, are you wasting money by just putting lipstick on the pig? What do I mean by that? If your current site is a pig in terms of meeting your online goals, is a redesign (or a bit of lipstick to make it look nicer) really the answer? (it's not).
Let's take a look at a fictional example below (feel free to look at the pig again first).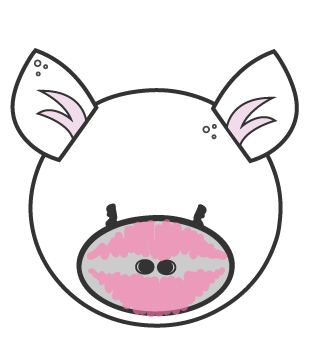 Jeff had a great idea three years ago to start selling retro football shirts online. In all the time he's been trading he's only sold a small number of items through his website, but he knows his competitors are doing much better. He felt his website was starting to look a bit dated so decided to get some quotes for redesigning it. In Jeff's opinion, it was how the site looked that was causing the problem with lack of orders.
The devil's in the detail
Unfortunately Jeff invested all his budget into making the website look great, but still the orders didn't come. He was ranking well in the search engines for relevant keywords and phrases and was growing increasingly frustrated at the lack of online orders.
After a chance meeting at a networking event, he was offered a free website review. The consultant came back the next day and told Jeff his checkout process was the problem, and had been all along.
There were eight different stages for people to go through in order to make a purchase. Jeff had never looked at his Google Analytics and seen that the cart abandonment rate was very high. In other words people were intending to make a purchase but didn't want to go through such a long-winded process.
A pig's still a pig no matter how you dress it up
The appearance of the site was never an issue. The checkout process was not only lengthy but also had a few bugs that meant it didn't take people to the next stage immediately. Quite often they'd have to refresh the page and enter their details again (most people didn't bother)
Everyone loves a happy ending
Jeff had never taken a step back and looked at his website from a customer's perspective. The money he'd invested in the site redesign should have been spent on streamlining his checkout process.
Once the work on his checkout process had been carried out, he immediately saw a large and sustained rise in his online orders.
Jeff was guilty of putting lipstick on the pig. Silly old Jeff!
The moral of this story is not to assume you know what's wrong with your website. Making aesthetic changes for the sake of it could be a waste of your money.
The real problem could be something technical you'd never even thought about, just like Jeff's.
Pigs don't really suit lipstick. We can help you turn your pig into an awesome unicorn.
Contact us to discuss a review of your website.