Hey everyone!
I thought it would be nice to start a little monthly update series where I tell you what I have been learning and working on each month as an Apprentice Digital Marketing Manager at Gecko. This will allow me to share my progress with you and hopefully gain some feedback to help me improve and be the Digital Marketing guru I hope to someday be!
So, I have been here at Gecko for just over a month now...
As I said in my intro post - I am almost settled! For a complete marketing newbie, there has been a lot to get my head around - and there still is.
But for now, I can tell you I've pretty much learned the basics of digital marketing - what the different channels are, what they are used for and the basics on how to use some of them.
Firstly… I can write and schedule social media content…
Using our social media management software, I write and schedule social media content for Gecko and our clients on a Monday morning for the week ahead.
Scheduling your social media posts is a much more efficient and easier way of sharing your content than doing it manually as it ensures you are definitely getting content out there despite how busy you are. It also makes sure you reach your target audience at optimal times of the day which is a must to increase your brand awareness and sales.
I can create blog posts…
Duh! This is obviously pretty self-explanatory. This is the third blog post I have written so far. Apart from personal blogs like this one, I have to research and plan the topics I am writing about. I've already come to terms that it is tough writing blogs on topics you don't know much about but it's one of those things that you just need to do thorough research, plan and get something down on paper. You'll soon get somewhere!
The research process is one of the most important aspects of marketing. You need to make sure you are doing as much research as possible to provide creative content, find solutions to problems and understand the needs of your clients.
I have created a content plan of blog ideas to ensure there is regular content getting out there and allows me to follow some sort of structure.
Ahead of publishing, I have been able to get some practice using Umbraco - the CMS we use to create and manage websites. If you are unfamiliar with Umbraco, it is similar to Wordpress but has a lot more functionality. It is pretty straightforward to use.
I can manage our clients' phone calls...
I listen to one of our client's calls every month using a call tracking service. I then mark the phone calls into different categories including general enquiry, new sales enquiry, existing sales enquiry and wrong number/spam. Listening to our client's phone calls gives me an insight into their business and allows me to find out the wants and needs of their customers, and what products are the most popular. Measuring the number of conversions each month is effective to continuously improve performance and sales.
I can use Google Adwords… (Sort of)
I have recently been helping a charity client who has a Google Grant. Using Google Adwords, I have created a number of campaigns based on some of the services they offer.
I can use Google Analytics… (Sort of)
I can measure Gecko and our clients' activity and performance on Google Analytics.
Using analytics, I am able to find out how our visitors locate our website whether it is through SERPs, social media, referral or direct entry.
I can find out what pages on our site get the most views. Since I started, we have been working on 3 blog posts.
At present, my intro post has received 68 page views from visiting the landing page. We can see below that most of the traffic has come from social media.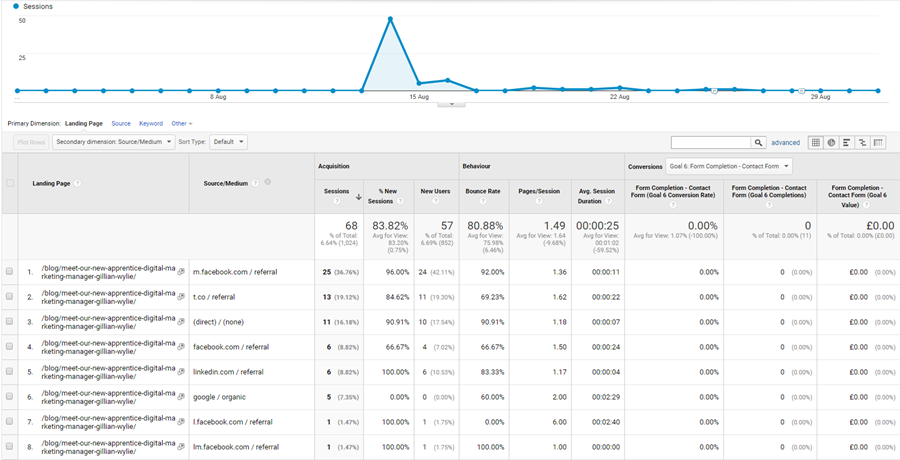 My second post, 14 Ways to Get more Twitter Followers didn't do very well. It has had 10 views. Due to the low page views, we can't really determine where most of the traffic came from, but Google has got the highest results at 3.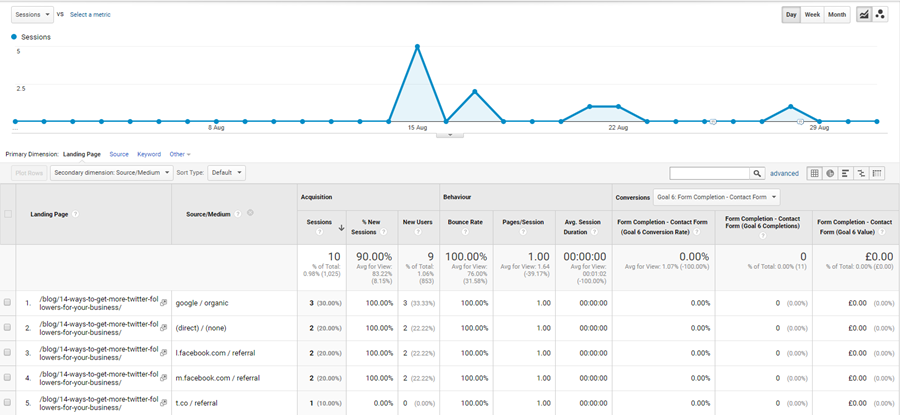 We came to a conclusion that this post wasn't successful as it was too generic. Most people, especially marketers already know how to increase your Twitter followers and instead want more niche topics to read and share like "How to get the most out of your Ads on Twitter," for example.
And finally, we recently revamped an old popular blog of ours, 11 Great Ways to Finish Off your Blog Posts by adding more information and using AdWords to find new, relevant keywords. This was effective as we can see that the number of visitors to this landing page has increased. It has 164 views at present. We can see that a large amount of traffic has come from Google and not social media.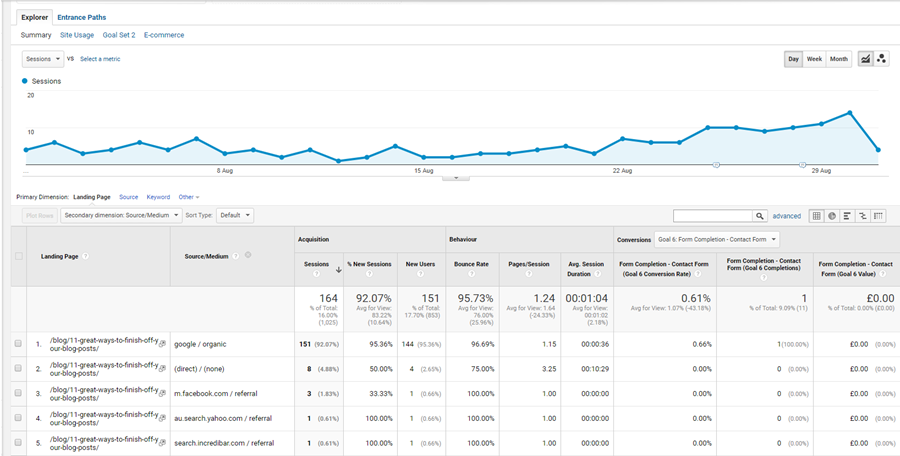 It is worth looking through your old blog posts and seeing what you can do to improve them. Who knows you could be sitting on an untapped goldmine!
So, in my first month at Gecko, I've learned how to:
Write and schedule social media content
Create blog posts
Manage client's phone calls
Use Google Adwords to set up campaigns and find keywords
Use Google Analytics to measure performance
(Woop Woop!)
Make sure you keep an eye out next month to see what exciting things I've been up to!
Tweet me at @wearegecko for any marketing tips or if you just want a wee chat!