Facebook ads are a great way to get your message out there, but they can be tricky to navigate. However, with over 50 million Facebook users in the UK as of June 2021, it is certainly a platform that businesses and marketers should consider putting some of their digital marketing spend towards.
This blog post will explore some of the benefits you might experience when implementing Facebook Ads into your marketing efforts from increasing customer acquisition and retention to targeting customers in specific demographics and interests.
Wide Range of Ad Types to Choose From
One of the best things about Facebook Ads is the wide range of ad types you can choose from, some of which are not available from other paid marketing channels. Not only are there different types of ads, but you can also choose where they are shown, either on Facebook, Instagram, Messenger or Audience Network.
Photo - A simple photo ad with a clean caption is a great format when wanting to raise awareness of a product or drive traffic to your site.

Video - These can be used in-stream, in feeds and in stories.

Stories - Using the whole screen, these ads are a great way to increases customer interest. They can be found on Facebook, Instagram & Messenger.

Messenger - These ads help get your customers into conversations with your business and appear on the Facebook Messenger App.

Carousel - This format allows you to add ten images or videos within a single ad, each with its own link, that the user can scroll through.

Slideshow - This is a video-like ad that uses motion, sound and text to show your story. Perfect for those short on time and on a modest budget.

Collection - This format helps the user move from discovery to purchase, by showing multiple products in a single ad.

Playables - This ad is an interactive preview before they download an app.
An example of one of our clients Video Facebook Ads. 
You can learn more about the different ad types here.
Low Cost and Easy to Manage Budget
Based on the Pay-Per-Click model of advertising, Facebook Ads can be controlled by daily or total budget costs. Plus you only pay for the specific action of someone interacting with your ad - you don't need to pay a single thing to use the Facebook Ads platform.
Because of the low costs associated with them, they are one of the best advertising platforms in terms of your return on investment (ROI).
Super Targeted Audiences
As we mentioned earlier, there are over 50 million Facebook users in the UK, and the data made available to you from these users is extremely detailed.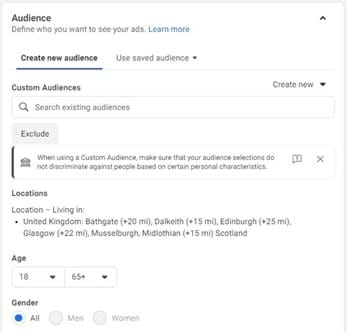 From the classic demographic indicators such as gender, age and location, to more in-depth information such as income, job title, political affiliations and major life events, you are able to target your ads to really specific audiences.
Speedy Set up to Speedy Results
In the world of digital marketing, we are used to playing the long game. Strategies such as SEO, content creation and social media marketing take time to build and see the results from.
However, PPC strategies such as Facebook Ads are able to provide you with conversions and results as soon as the ad goes live. Plus, they are extremely easy to set up. Everything can be managed from the Facebook Ads Manager, allowing you to set your campaign goals and select specific audiences, allocate budgets and create the actual assets all from one place.
Start seeing the benefits
Facebook ads have exploded in popularity and are now an important part of many businesses' digital marketing strategies. Whether you want to target a specific demographic or geographic location, or you need to see results quickly, there is a Facebook ad that will work for your business goals!
If you need help understanding how this all works and implementing Facebook ads into your social media strategy, get in touch today!