There is no denying that the coronavirus has had a huge impact on the world of marketing. According to Econsultancy's 'Stats roundup', UK ad spend is expected to have dropped by 39% year-on-year during Q2, whilst 64% of businesses surveyed in the IPA Bellwether report stated they had recorded a decrease in marketing spend between April and June.
It has been a tough time for businesses across a whole range of industries and many have had to adapt and get creative in order to reach their customers during these last few months.
A couple of months ago we wrote about the importance of continuing to market and engage with customers during the height of lockdown. The coronavirus pandemic caused a shift in how businesses communicate with their customers, which has resulted in some very effective and creative campaigns being produced.
In this blog post we take a look at and share some of the best campaigns that have been created during the last few months.
The term 'new normal' has become somewhat of a buzzword during the coronavirus pandemic, and Coca-Cola's latest marketing campaign is based around this concept. Launched on 1st August, the campaign titled 'Open Like Never Before', aims to encourage people to live by those exact words, be 'open, like never before', keeping hold of those new good habits whilst remembering to to appreciate what you have.
The film stars George the Poet as he delivers a moving poem, calling on the public to take stock on what matters most and to look at the world in a different light.
"The campaign is a statement about a moment. I like to say something I can stand by and the sentiment of 'Open like never before' is something that I can stand by. As long as there are human beings capable of empathy and hope, the world will get better." - George the Poet
What we liked about this campaign in particular was the continuation of the empathetic message that has been so prevalent during the early stages of lockdown and tackling the virus. It also highlights the importance of supporting local businesses as they now begin to reopen their doors.
It is also worth noting that during the first few months of the pandemic, Coca-Cola paused its marketing spend and used that money to support relief efforts in the fight against the disease. One instance of this was Coca-Cola providing two million healthy meals and more than one million drinks to those in need in across the UK.
Another of the big hitters in the world of advertising, Nike's first coronavirus pandemic ad campaign focused on the 'stay home' messaging that was so important during those early stages of the pandemic.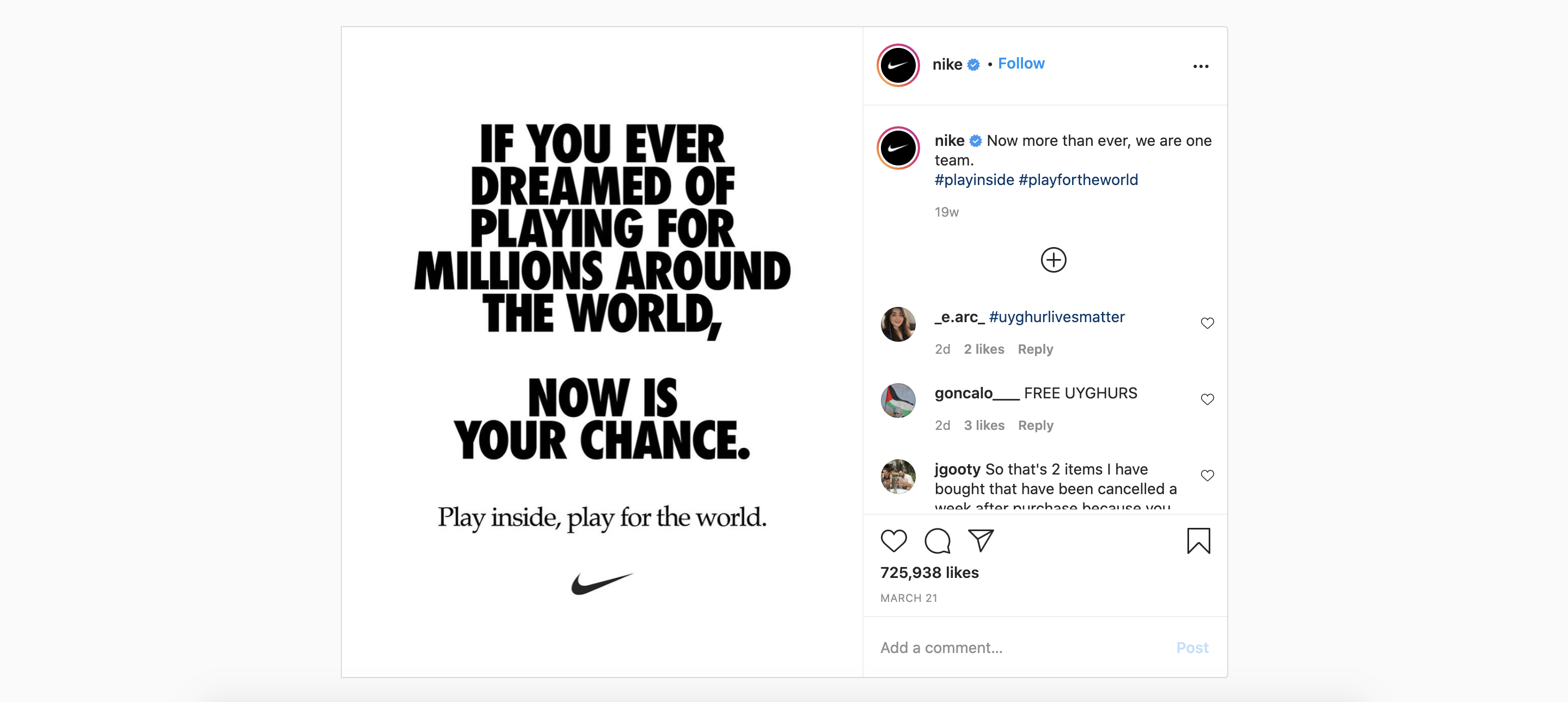 The campaign was delivered through their social media platforms, reaching millions of consumers worldwide. The message was based on being one team and doing your part for your community.
The message "if you ever dreamed of playing for millions around the world, now is your chance. Play inside, play for the world", was echoed by their many sport superstars, such as Cristiano Ronaldo, Tiger Woods and Serena Williams among others.
Similar to Coca-Cola's advert, its success in its simplicity. It didn't try to be clever or make light of the situation, instead using its platform and influencers to communicate an important message to its customers around the world.
They have continued to develop chord-striking adverts throughout the pandemic, with their latest campaign "You Can't Stop Us" addressing social injustices across the world and showing athletes pushing forward and using their platforms to help create change.
Guinness: A St. Patrick's Day Message
With a strong Irish contingent within team Gecko, it was no real surprise when Guinness's St. Patrick's Day campaign was mentioned as a particular favourite!
Like the ads listed before, the message from Guinness was one of safety and community spirit, encouraging people to avoid gatherings and parades and adhere to social distancing guidelines.
The ad was designed for the US market following the cancellation of many St. Patrick's Day parades, but the nostalgic message conveys a powerful sense of identity and resilience that delivered on a global scale.
IKEA UK - #ikeaatmine
IKEA stores across the UK were one of the first businesses to close during the coronavirus crisis and their 'IKEA at mine' social media campaign was another that struck the right balance in what was an extremely challenging situation.
Through their Instagram Stories, store staff members recorded a series of videos to help people whilst they were indoors and social distancing.
Themes included 'how to' guides for creating home office spaces, ideas for projects to do with the family and videos on exercises to do to take care of your well-being. What we loved about this campaign was that it wasn't a big production advert, using fancy shots and actors. All the footage was shot by store employees on their phone, with themselves being one of the face's of the campaign.
Historically, that probably would have caused palpitations for agencies and marketing departments, but now this type of campaign is seen as completely acceptable. It will be interesting to see whether advertising is approached differently in the future when people can be in a studio. Will companies be less worried about 'polish' and more focused on the message?
Brewdog - Brewgel 'Punk Sanitiser' Campaign
At the start of the pandemic, Brewdog's production of beer was stopped due to pubs and bars closing down. However, not one for sitting idly by and wanting to use their in-house machinery for good, they decided to repurpose production lines to produce hand sanitiser.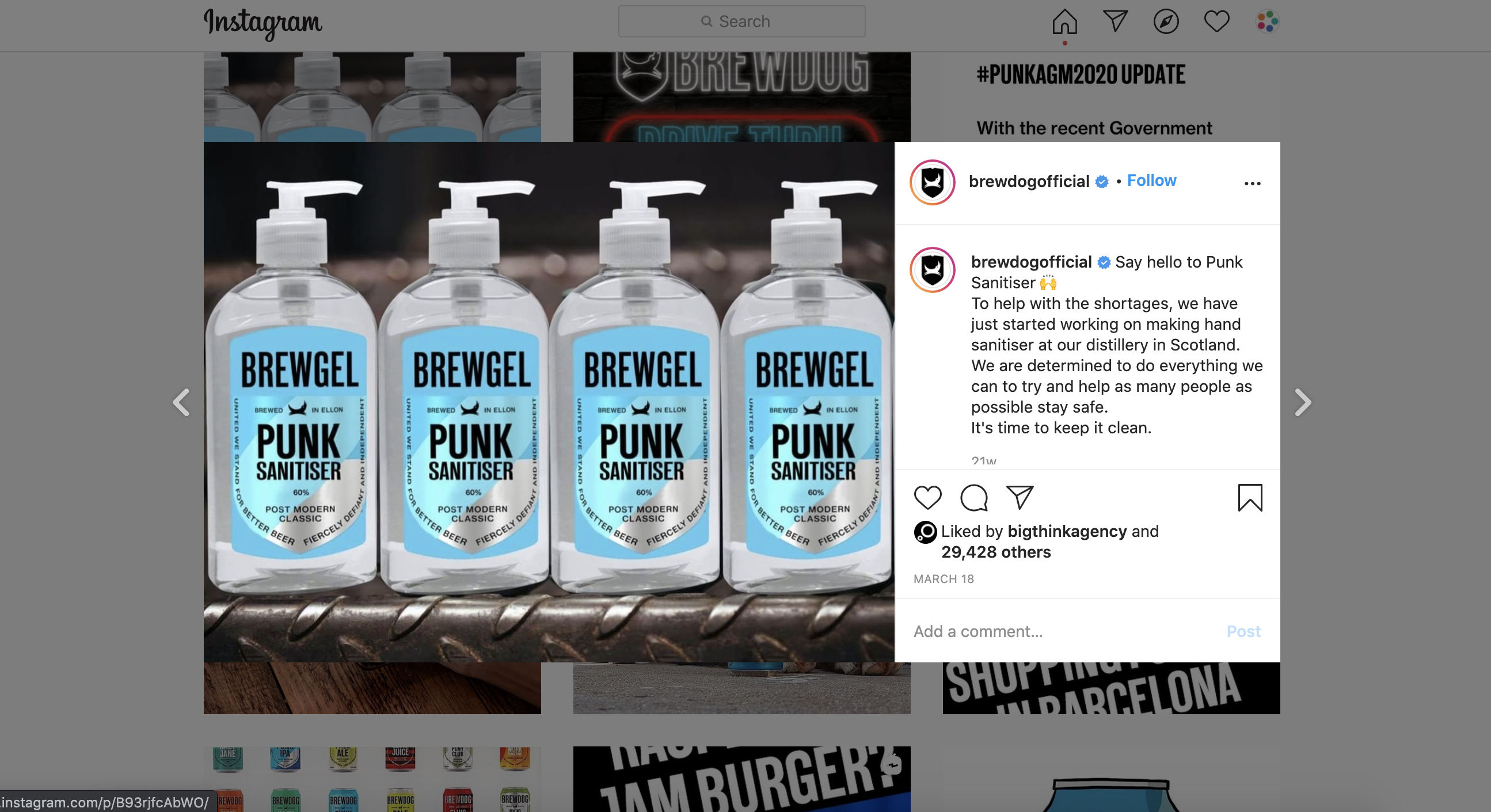 This was a product that was low in stock but high in demand across the world at the height of the crisis, and it was a great idea by Brewdog to pivot and adapt their business to the circumstances. 
They offered the product free of charge to hospitals and other key workers, which generated a huge amount of positive PR. They received national coverage from television reports as well as numerous online articles. They promoted the products on their social media channels, receiving just under 30,000 links on their instagram post alone!
It's all about tone
A common feature of all the ad campaigns that we have listed above is their ability to strike the right tone with customers. There is a difference between strategic marketing and exploitation and these brands recognised that it was important to focus on community and empathy, not play on people's fears, or run tone-deaf campaigns that ignore what's going on around us.
Going forward it will be interesting to see how brands develop their marketing campaigns as the uncertainty regarding the coronavirus continues.
What marketing campaigns have you been impressed with? Get in touch and let us know.