Bill Gates once said that "if your business is not on the internet, then your business will be out of business". And of course, he was right. In today's digital world, making sure your business has an online presence is a must.
When we talk about establishing an online presence, we don't mean you need to start selling your products online. But just because you don't sell online, it doesn't mean potential customers aren't expecting to see you online. If they don't see you when they search for something that you sell, you lose out on the opportunity to gain a new customer, whilst offering your competitors a free shot at winning that business.
In this blog, we share a few tips for those who need to improve their online presence, as well as looking at some examples of local businesses that have had to quickly develop their online presence in the current climate.
So, why should we make the move online?
The current Coronavirus situation has definitely seen businesses embrace online more readily. But let's forget about Coronavirus for a second. According to Google, 97% of consumers use the web to search for local businesses. And if the vast majority of your potential customers are online, you should be, too. 
More shoppers and their habits are being influenced by the online world. From using search to find local businesses to developing loyalty with brands through social media, the importance of developing a strategy to introduce an online element to your business has been there for some time. 
When we talk about online business, people often assume it means selling something online. Obviously, in the current climate, the ability to sell goods online if your physical store is seeing a downturn clearly has benefits. But there is more to online business than having an e-commerce function.
Below are some of the different elements that go into establishing an online presence.
1. List on local online directories
Local listings are one of the first things you should be doing when getting your business online. You don't even need a website to do it - although, we think you should always have a website! As we mentioned earlier, 97% of consumers search the web to find local businesses. If people can't find your business or track you down via the internet, then how can you expect them to know what you're selling? 
The first listing we would recommend creating is on Google, via Google My Business. It is a free and easy tool that lets you manage how your business or organisation appears on Google search and maps.
By creating an account, verifying and completing key details about your company, you can help customers find and learn about what you have to offer. Check out our in-depth guide on how to set up your Google account and get your business listed.
You can also submit your business on other online business directories such as Bing Places, Yell and Thompson Local. 
2. Get social!
Interacting with consumers on social media is an important marketing strategy for local businesses. Used properly, it helps you to build brand awareness, connect with your existing customers as well as increase your opportunity of attracting new customers.
Small, local businesses often don't utilise social media because they feel they don't have time to create content and post regular updates. However, you don't need to be posting every day on every platform available. In fact, being active on a couple of relevant platforms is better than trying to be spread across all channels and not doing them right!
Doing a bit of research to find out what social platforms your customers and potential customers use the most will help you when deciding where your social media marketing efforts should be focused on. 
3.  Explore e-commerce
When we look at exploring the e-commerce options for your business, we are not suggesting that local businesses should forget about their bricks-and-mortar shops to solely focus on online selling.
For some, developing an online store as part of your business may not be feasible. But there are a number of benefits it can bring if you are able to stretch your services to include online retailing.
You can overcome geographical limitations that come with only selling through your store, you're not limited by set store hours, plus you can gain access to a much wider range of potential customers.
Examples of local businesses improving their online presence
We mentioned before that all businesses should have an online presence, regardless of the Coronavirus or not. However, the fact that high streets are closed and people are being advised to social distance, ensuring your business is visible online is now more important than ever.
Here are a couple of examples of businesses that have adapted and improved their digital efforts on the back of the Coronavirus spreading.
Grow Urban are a local plant shop based in Edinburgh, who also serve locally-roasted coffee and cakes to the many green-fingered customers who religiously visit their shop.
Before the Coronavirus outbreak, Grow Urban already had a well-optimised website and had already listed their business through Google My Business and other directories, helping them to appear on the first page of search results. They also have a well-performing Instagram account that has a dedicated and engaged community following. However, they didn't have the option to purchase online.
When non-essential shops were forced to close due to the coronavirus pandemic, Grow Urban acted quickly to ensure they could minimise the impact that closing the shop would have.>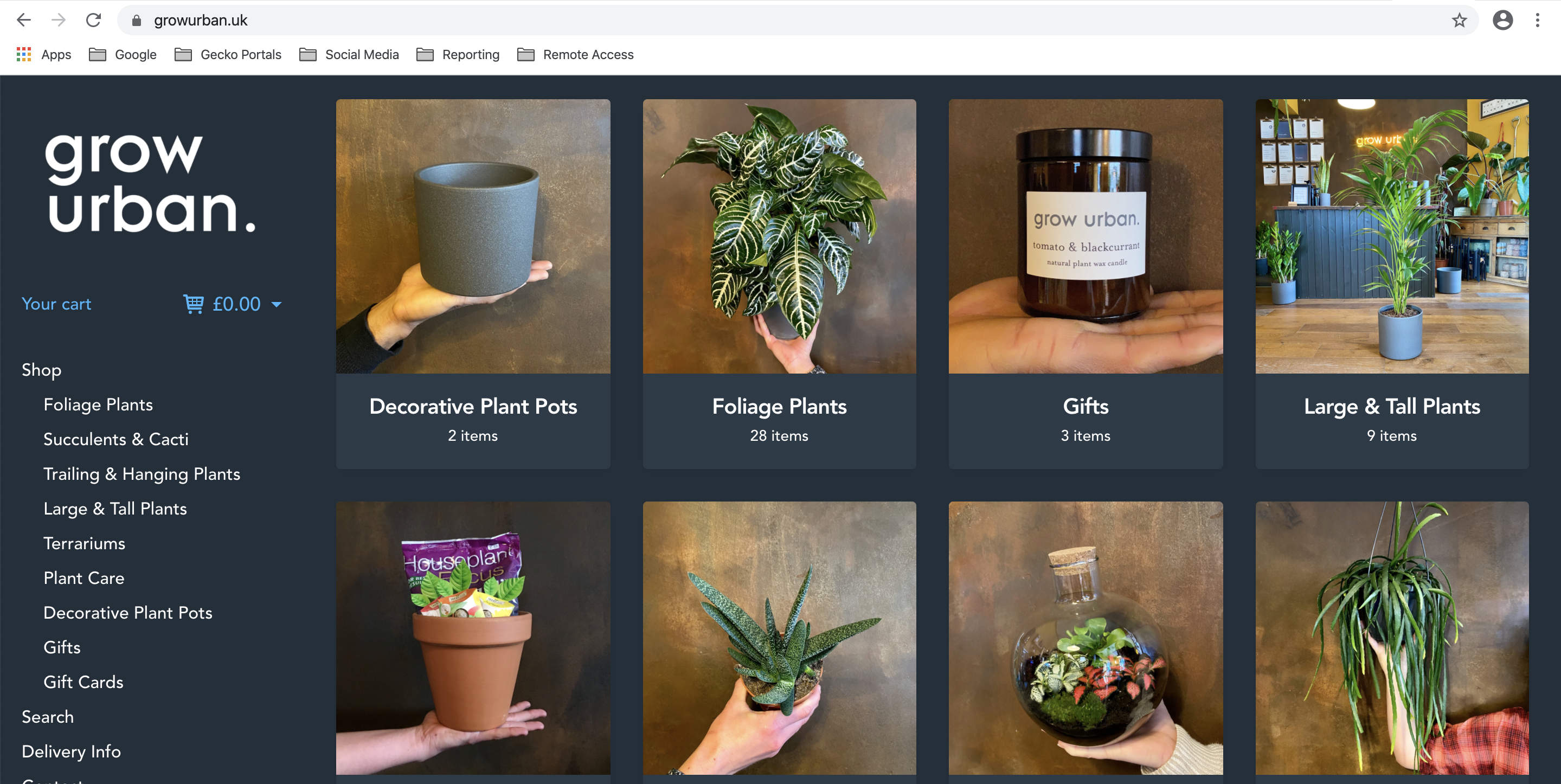 In the space of a couple of weeks, they launched an e-commerce platform on their website, allowing customers in the local area to shop and have plants and accessories delivered to their homes.
The popular pub in Leith has increased their usage of social media channels and continue to engage with customers even though they have had to close. The brilliant thing about the content they are producing is that the focus is not on sales, but instead on encouraging active engagement with followers.
They have used the channel to promote virtual quiz nights as well as encouraging followers to take part in polls, offering freebies for when the pub reopens. It's a great example of using social media to increase brand awareness during the lockdown and keep connected to customers.
Pilot, a local brewery in Leith are another example of a business that has been able to introduce an e-commerce function to their website in order to continue selling during the enforced lockdown.
Prior to the lockdown, all sales were offline and the website was only used as a promotional tool. However the introduction of the online shop has not only seen regular customers continued to be served, but it has given new customers from further afield the opportunity to purchase products.
Okay, so this isn't local to us, but it was too good not to share with you. Like most museums and public places across the world, the National Cowboy & Western Heritage Museum has been closed due to the spread of the virus. 
Whilst people cannot visit the museum, they have continued to use their social media accounts to connect and engage with existing and potential customers. And they have done this spectacularly well.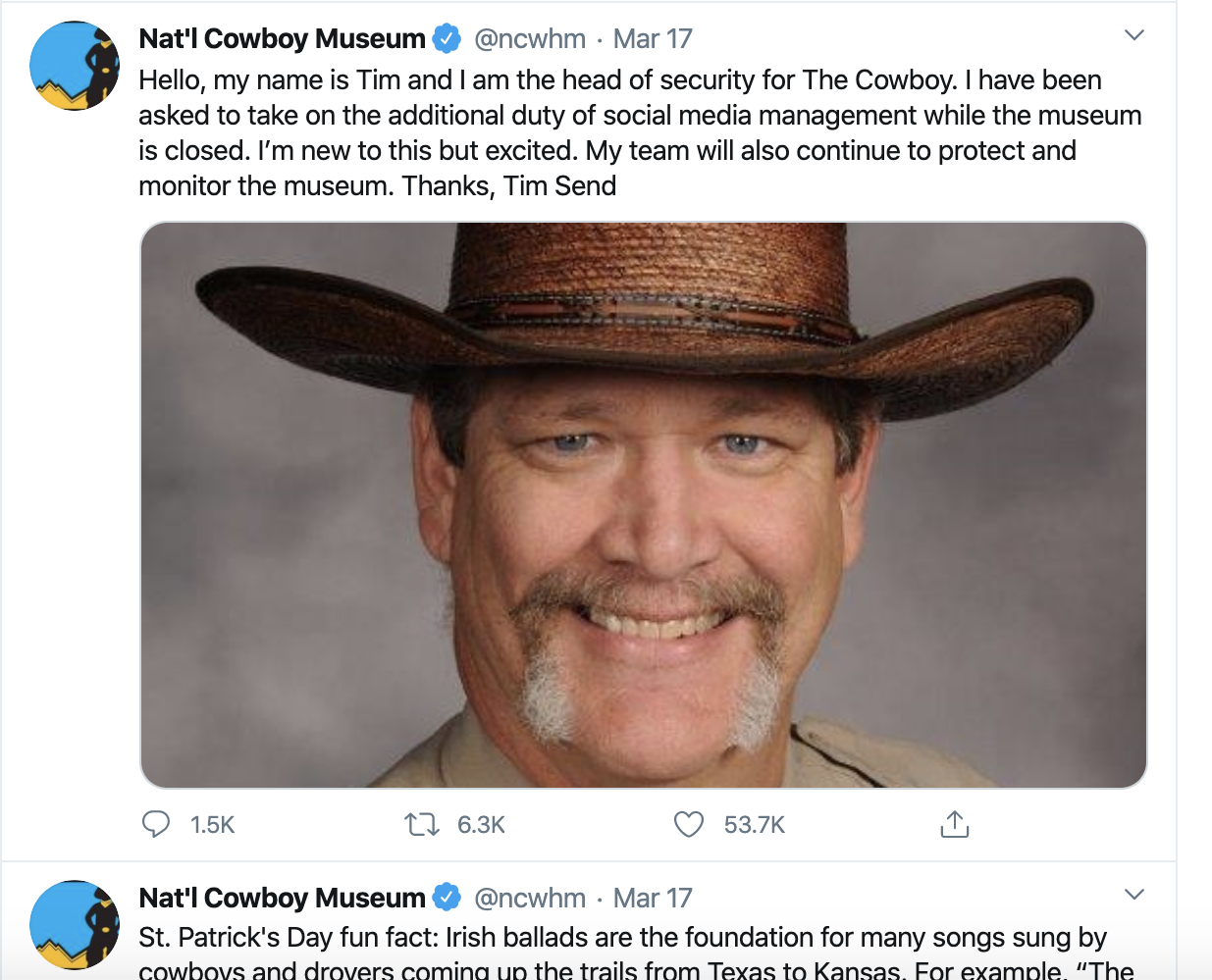 Tim, the museum's director of security and operations services, has taken over the museum's official Twitter feed whilst it is shut and his tweets have gone viral. His authentic and wholesome Twitter tours of the museum have seen the museum's follower numbers jump from around 9,000 to 300,000 in the last 4 weeks!
This is a great example of how social media can be used positively to enhance your business and attract new customers. And after their latest social media efforts, you can almost guarantee they will see a surge in numbers when they reopen.
Summary
Whilst it may seem far off just now, normal service will resume when the Coronavirus crisis is under control. Restrictions will be lifted and local shops and businesses will reopen.
However, it is important for businesses to remember that they don't need an excuse or 'crisis' in order to establish an online presence. More shoppers and their habits are being influenced by the online world, so now is the time to take your business online.
If you have any questions or want to chat about developing an online strategy, we are here to help.