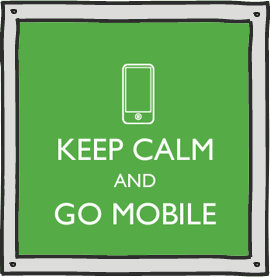 This month Google is making a big change to its search results on mobile devices.
From the 21st of April they will be giving priority to sites that are mobile-friendly when someone uses their phone to search for something online.
What does this mean?
An example would be that you're currently ranking 1st on page 1 for "accountant Edinburgh" regardless of what device someone is using to perform their search.
After the 21st April, if your website isn't mobile-friendly, you'll no longer be in 1st place when someone searches for "accountant Edinburgh" from a smartphone.
Why Google, why?
The reason for this change is simple. Google wants its users to get the most relevant results based on the device they're searching from. Currently when people search from phones, they may be faced with websites which aren't compatible, giving them a poor experience.
The change may not take place overnight for every keyword, but it's coming. Here's the news straight from the horse's mouth.
Time is clearly of the essence. We're already busy making mobile versions of websites for many of our clients.
Here are some mobile-friendly sites we prepared earlier:

Why bother?
This is a significant change to how Google works. And it's here to stay.
Here are a few good reasons to make sure your site is mobile-friendly:
UK mobile internet usage is up by 69% to 23.2% (to 2014)*

Nearly half of consumers say they won't return to a website if it doesn't load properly on their mobile devices˄

Growth in mobile data traffic between 2013 and 2019 will grow at a CAGR (compound annual growth rate) of 45%. With these calculations in mind, it's estimated there will be 10 times the amount of total mobile data traffic by 2019 +
* http://gs.statcounter.com/press/mobile-internet-usage-soars-by-67-perc
˄http://www.business2community.com/mobile-apps/21-vital-mobile-marketing-facts-statistics-2014-0850425#xwpFQw9R3oEYGawj.99
+http://www.ericsson.com/res/docs/2013/ericsson-mobility-report-november-2013.pdf