It's time to meet another Gecko. This week it's the turn of Peter Doyle. Read all about him below.
How did you get into web development?
I studied computer game development in Ireland so there was very little chance of me getting work there with that education. So, being the problem solver I am I looked at new career paths that I could transfer my skills to. Web development seemed like a great fit and it hasn't steered me wrong in the past three years.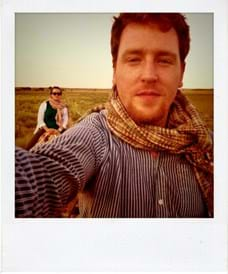 What gets you out of bed in the morning?
Solving problems. I spend at least 80% of my time in Gecko solving problems for different websites and web apps. When I say solving problems I mean technical and code problems. This is the reason I love working on interesting projects and doing stuff that we have never done before.
Would you rather fight a horse-sized duck or 100 duck-sized horses?
That's a hard question to answer. I think having one large goal, or in this case one large duck, can be daunting and I really wouldn't know where to start. I would have to go for the 100 duck-sized horses as I can tackle them one at a time and feel like I am making progress. Bite sized chunks, that's how I handle most things.
Ideally I would rather not be in a situation where I have to fight any fictional animals but you don't always get what you want do you?
What's your proudest achievement?
Building and releasing my own game. There is nothing better than thinking of a concept, developing that concept and then releasing it into the world. I was so happy with the reaction to the game too. I was getting nearly 200 downloads a day at one point. It was amazing.
What are you listening to at the moment?
I am happy to listen to most stuff really. I do like to search a random word such as "lake" on Spotify and just listen to what comes back. It's fun but I never really remember what I listened to.
I do often just listen to movie soundtracks when working at home. They keep me motivated and also don't distract me with lyrics and the like.
If you could spend a day with any celebrity living or dead, who would it be and why?
I don't think I would like to spend a day with a celebrity at all. I mean they would be a total stranger to me. I feel uncomfortable even spending twenty minutes with a stranger let alone a whole day. Nah, I'd rather have a day alone.
When you're not developing the web, how do you spend your time?
Developing games. I like to come up with ideas for fun gameplay mechanics and try to implement them. They are not always fun and sometimes the size of the game is too large for me to take further, but developing the idea and seeing it working is great. I also enjoy playing games and cycling.
Since you're here, there's someone else we'd like you to meet