LinkedIn is without a doubt the number one social media platform for B2B marketers.
The network, which is built for business and professional networking, works exceptionally well for B2B lead generation, content marketing, establishing thought leadership, conducting market research, gaining insights and improving business reputation.
With 575 million professionals using the platform and 4/5 users driving business decisions, LinkedIn is a must in your online marketing strategy.
Create a Personal LinkedIn Profile
Firstly, create your own LinkedIn profile page, ensuring you have filled out all the relevant information, e.g. profile photo, header image, profile summary, job experience, education, skills and accomplishments.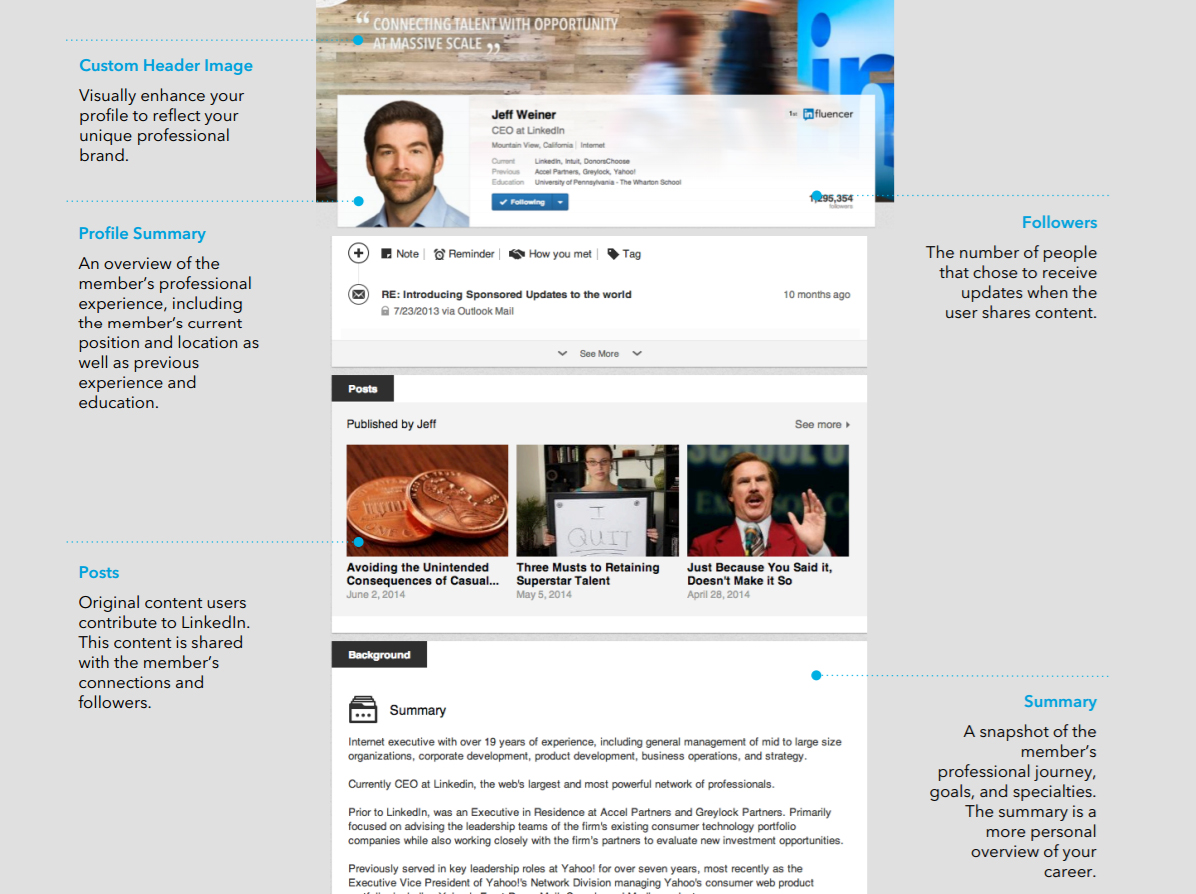 LinkedIn Marketing Solutions
Create a Company Profile
Logo and Header Image
Companies with logo images receive six times more traffic to their pages.
Upload your logo to your company LinkedIn profile in a square ratio of 300 x 300 pixels. Your logo will appear on your employees' LinkedIn profiles.
Choose or create a header image that compliments your business. This image should be 1536 x 768 pixels.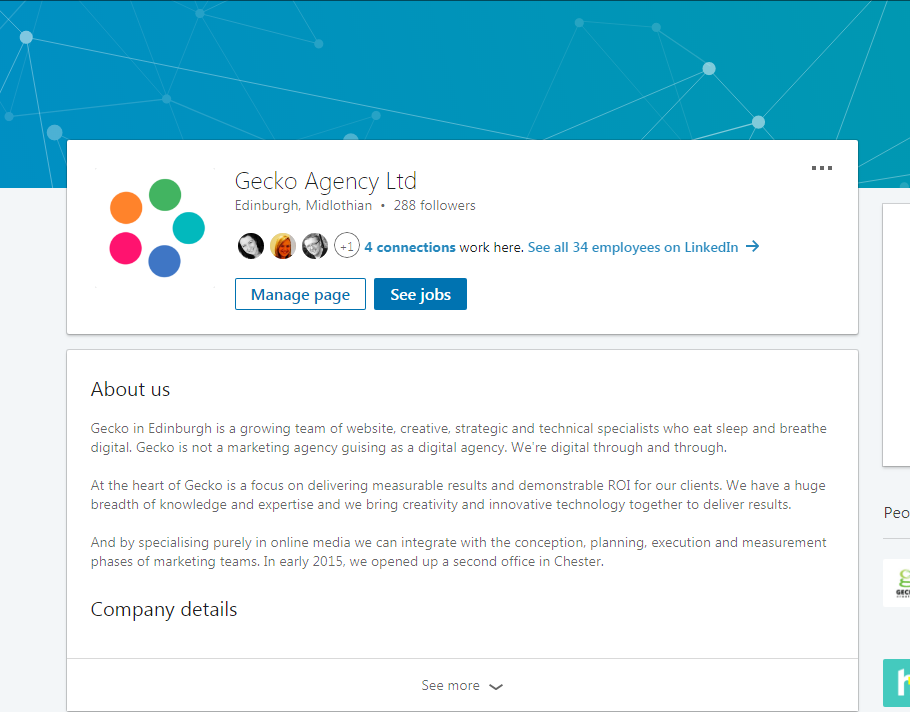 Create a Company Description
You have 2,000 characters to describe what you do and sell your company. Talk about when and how you started, your key products and/or services, what makes you different from your competitors and ultimately how you will benefit potential customers.
The first 156 characters are particularly important as that's what will appear in the Google preview of your company page so make sure you include a summary of everything you want your audience to know in the first paragraph.
Ensure you also fill out the specialities section of your page. These are the key areas or services that relate to your company's offerings. They act as tags or keywords that help users find the products and services they're looking for.

Add Page Administrators
Add employees to your page who you want to have access to administer your page.
This can be done by visiting the page you manage and clicking the Admin Tools button in the top right, followed by Page Admins. You can then add your colleagues by name. You must have connected with your team members to add them as a page admin.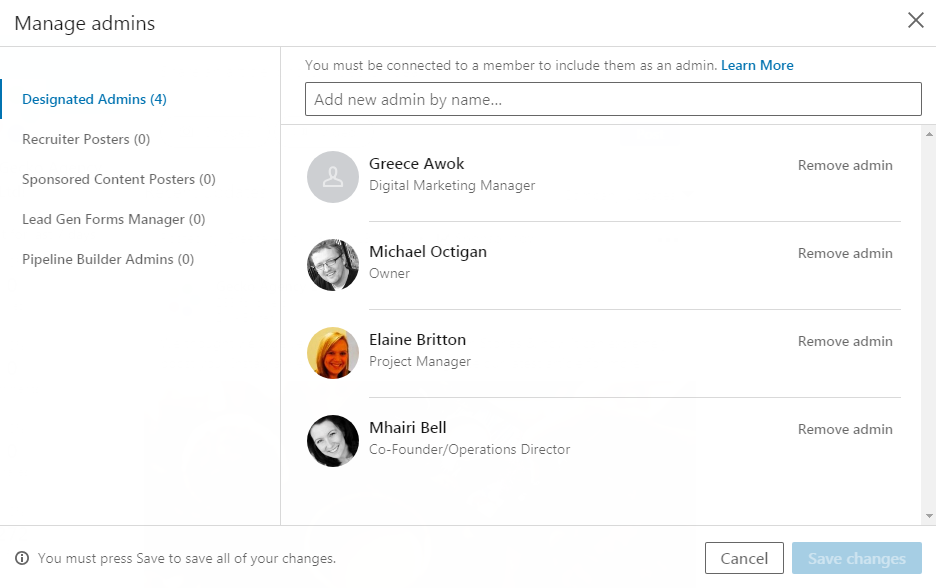 Create Showcase Pages
Showcase pages are pages that segment your company's offerings; products and services. They act like subpages of your company page, allowing you to showcase the key elements of your business.
LinkedIn users can choose to follow your showcase pages by visiting your company profile. They might have a particular interest in an aspect of your company, e.g. digital design or digital marketing.
A showcase page can be created by clicking Admin Tools at the top right then select Create a Showcase Page.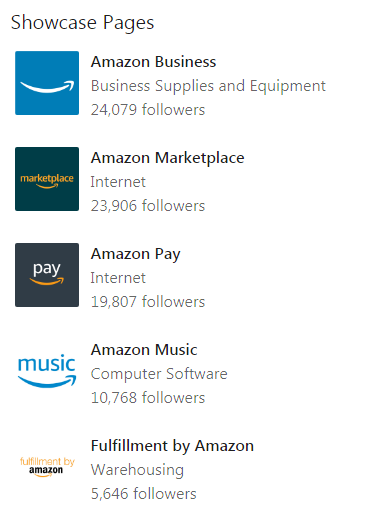 Amazon has a wide range of showcase pages for all their products and services with some with over 20,000 followers.
Go global with 20+ languages
Do you have customers in countries where English is not the primary language? Go global with LinkedIn's multi-language tool and create custom company descriptions in over 20 languages.
Depending on the LinkedIn user's language settings, the company description will appear in the particular language chosen.
You can also publish content in different languages so that your followers in other countries will be able to read and engage with you. This is effective in building relationships with your customers worldwide.
Valuable Content
Valuable content is the key to LinkedIn marketing.
Produce valuable content by:
Creating SMART goals
Locating your target audience
Competitor research
Developing a content strategy
Data analysis
Valuable content is likely to be your key products and services - something that will value your audience and your business. Ensure you share a range of content types such as images, videos and articles. Posts with images receive 200% more engagement than those without.
Users that post videos directly to LinkedIn receive better engagement to users that post from third-party sites, e.g. YouTube.
LinkedIn Publishing Platform
You can share articles directly to LinkedIn.
At the top of the homepage (as if you were going to write a status), click the pencil within a square icon.
You'll then get directed to a page which looks similar to a content management system (see below). You can add a headline, cover image and your body text where you can edit to suit your preferences.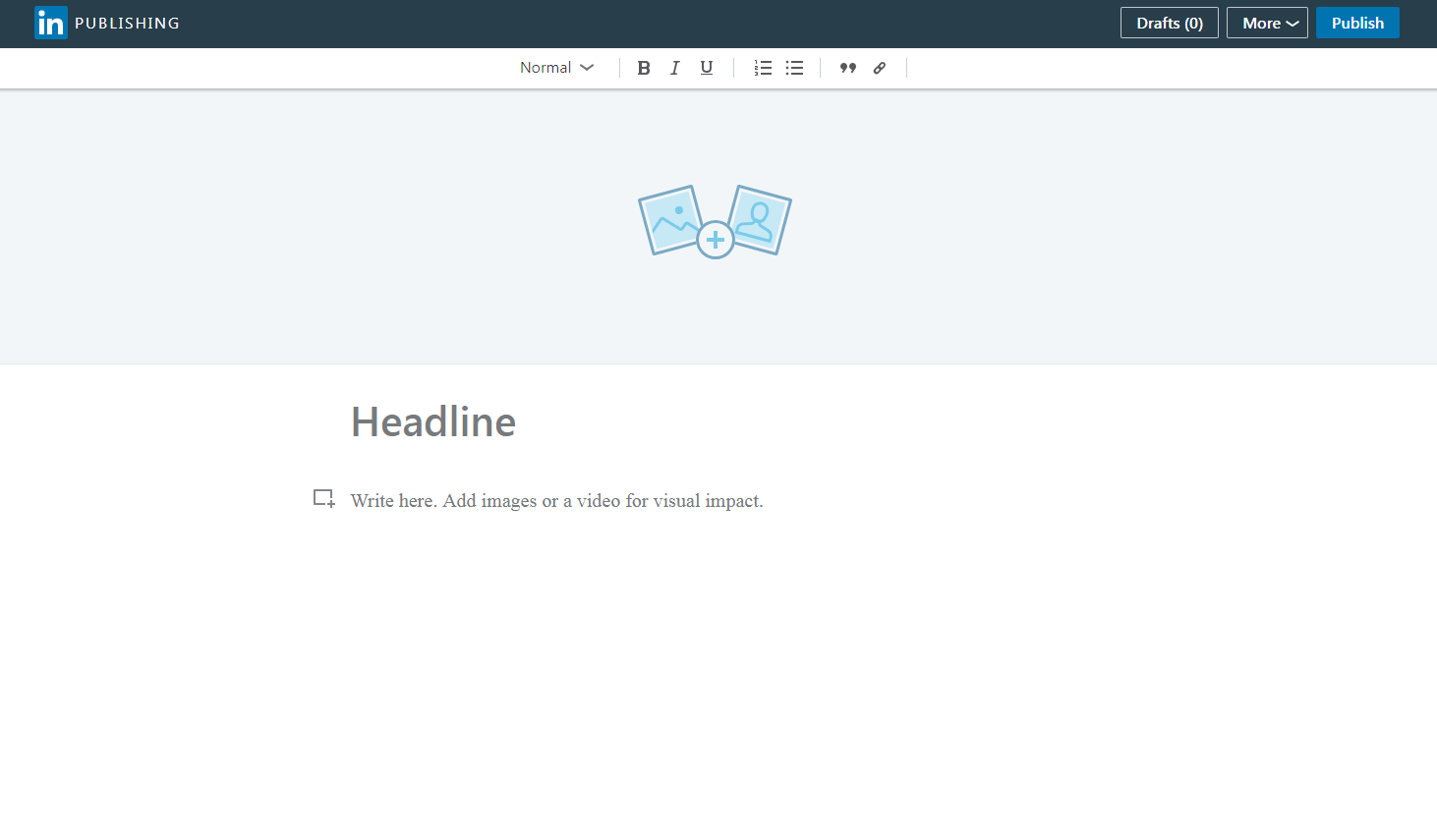 LinkedIn Publishing is effective as you can share your old content on the LinkedIn platform, allowing you to receive additional exposure and engagement. They are also indexed on Google and appear on organic results, and may even rank number one as opposed to your website.
LinkedIn Groups
Joining and participating in LinkedIn Groups is very effective in broadening your reach individually and as a company.
Discover groups by using the LinkedIn search bar at the top of your homepage. There may be multiple groups for the same interest or organisation - you can request to join as many as you want.
You can also browse groups recommended to you by LinkedIn by clicking work on the top right of the homepage and selecting groups. LinkedIn will find groups related to your organisation and connections where you can request to join if you wish.
Once you're a group member, share your articles, findings, opinions, upcoming events or anything that may be of interest to other group members. LinkedIn Groups can be used as a lead generation tool, helping you find potential employees and building your brand as thought leaders.
LinkedIn Advertising
As discussed in the introduction, LinkedIn works exceptionally well for B2B marketers.
Marketing on LinkedIn helps you engage with industry like businesses and professionals, helping you build your business needs and driving relevant actions to success.
There are 5 types of LinkedIn advertising to help you reach your goals. These are:
Sponsored Content
Sponsored Content are native ads across mobile and desktop allowing you to advertise your products and services to targeted professionals and customers.
Sponsored InMail
Sponsored InMail allows you to send personalised ads to users via InMail.
Text Ads
Text ads are LinkedIn's PPC advertising platform. You can set your own budget and drive traffic to your company website. You will only pay for the ads that get noticed or clicked on.
Dynamic Ads
Dynamic ads allow you to personalise your experience for your audience by displaying each professional's profile data such as profile photo, company, job title etc.
Programmatic Display Ads
Display ads are ads in the format of banners or other formats made of images, flash, video and audio. Retarget website visitors to encourage them to return to your site.
LinkedIn Analytics
LinkedIn Analytics allows you to delve into the world of your audience. You can find out how often they visit, what content they enjoy and where they came from.

Click Me at the top right of your homepage and click on the page you manage. Click the Analytics tab and choose Visitors, Updates or Followers.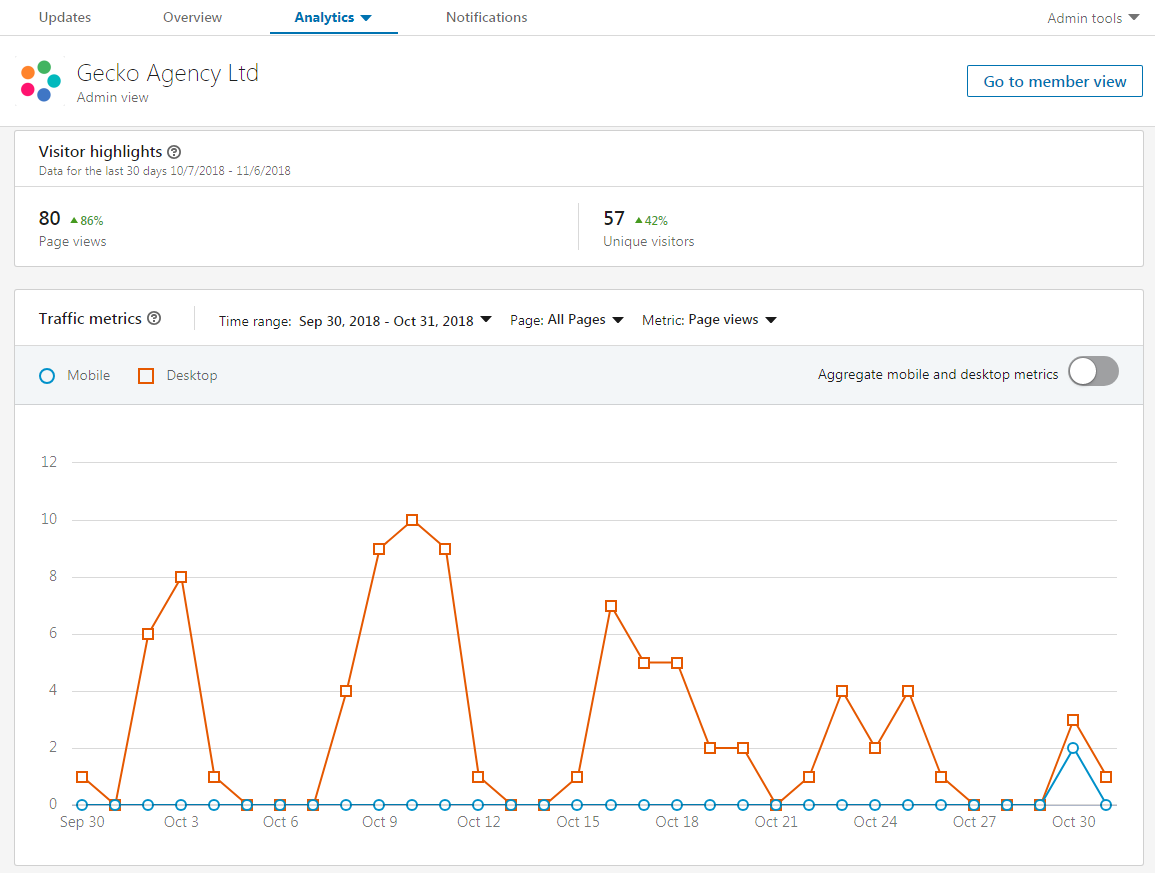 Check your analytics regularly to see how well you are performing and what could be done to improve your goals. This could be changing the days or time you post or altering your content to increase your engagement.
And that's pretty much all you need to know to when creating a LinkedIn profile and business page! Are you a LinkedIn guru? What helps you gain sustainable growth? Tweet us, @wearegecko!
- Gillian