As I sat down to plan this blog over the course of the Christmas holidays, I started by revisiting a similar post from 12 months ago where I explored some of the expected trends of 2021. In it, we looked at how the trends ahead would no doubt be influenced by the pandemic, such as the importance of local marketing and the longevity of virtual events.
Fast forward to the present day and once again we are continuing to battle with Coronavirus, and it will be interesting to see how the first few months of 2022 shape the world of digital marketing across the year.
As we near the end of the first month of 2022, we decided to explore some of the digital marketing trends that we're set to see across the rest of the year.
1. Cookie-less marketing
This trend is going to be a surprise to absolutely nobody, but we couldn't write this blog without starting with the impact of cookie-less marketing in relation to privacy and data protection!
When Google announced they were delaying the blocking of third-party cookies in Chrome until 2023, marketers and businesses had a reprieve. However, browsers such as Safari and Firefox browsers already block third-party cookies by default and with Google confirming this move, albeit slightly later than planned, businesses need to be prepared.
In 2022, digital marketers need to be preparing for the tighter privacy restrictions that will impact the way they can track their users' behaviour, having a direct effect on their tracking and advertising. However, don't view this as a negative, but as a positive instead. Businesses that use this opportunity to prioritise the collection, storage and understanding of their customer base through first-party data will be ensuring they are the ones who are going to succeed when cookieless digital marketing is the standard.
2. Video continues to boom
'Video killed the radio star' is one way, to sum up, the direction of digital marketing over the last 12 months. And that direction is expected to continue as we move through 2022. This time last year, Tiktok was on its way to becoming one of the biggest social media platforms out there, with 689 million monthly active users worldwide (DataReportal, 2021).

By 2022, online videos will make up more than 82% of all consumer internet traffic — 15 times higher than it was in 2017. The explosion of Tiktok over the last year shows us that short, video content is how audiences like to consume content in a fast-paced way, highlighting the need for simple and succinct messaging.
3.  Mobile speed will be paramount
According to Hubspot, more than half of annual online website traffic comes from mobile devices, including tablets. Not only that, 39% of smartphone users are more likely to browse or shop a company or brand's mobile app because it's easier or faster to make a purchase.
When thinking about the content you want to share with your audience, you need to be coming at it from a mobile-first perspective, ensuring content is responsive and mobile-friendly. Mobile page speed has been an important ranking factor for Google search rankings for quite some time now but with more and more people accessing their content via a mobile device, it is set to be a key element of your digital marketing efforts next year.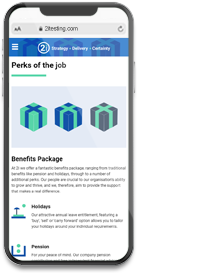 Whether through your website or application, this trend is set to continue in 2022, so businesses must ensure that they are providing first-class mobile experiences to their customers.
4. Influencer marketing is on the rise
2021 saw an increase in businesses turning to influencer marketing campaigns and incorporating it into their overall digital strategy, with it estimated that $13.8 billion would be spent on it across the year.
One of the reasons why its popularity has continued to increase is because businesses are able to tap into an audience that is already engaged, and the influencers are experts in both platform-specific content and the product or service they are promoting.
And businesses don't need to be spending big bucks to hire influencers with millions of followers. Finding local influencers who have developed a niche within your industry are more likely to connect with your audience and have a relationship with them based on trust.
5. Social responsibility will still matter
We included this trend in our blog last year, and going into 2022 we think it will still be an important factor when planning your marketing activities. When the Coronavirus pandemic first hit the world in 2020, there was a shift in customer behaviour, paying more attention to how businesses treated employees, how they kept customers safe, and what they were doing to help others in times of uncertainty.
This customer shift is not something that will die away once the world returns to some form of normality, so whilst this type of marketing won't have the biggest ROI for businesses, social responsibility needs to remain a priority.
Here's to a positive 2022!
This list is just a snapshot of some of the expected trends as we work our way through the next 12 months. However, if the last 2 years have taught us anything, perhaps the only thing we can say for certain about this year is that businesses will need to be adaptable to meet the ever-changing demands.
If you or your business is planning for the year ahead and would like a chat in the first instance of your digital activity, we'd love to have a chat!