After 18 months of dealing with multiple lockdowns and working from home, it is understandable that many businesses are focused on the day-to-day tasks and not thinking too far ahead.
Whilst Christmas may be the last thing on your mind right now, it's amazing how quickly that time of year rolls around. It's often a time where businesses become reactive rather than proactive and if you aren't careful, you may miss out on the opportunity to score off some tasks that can make a big difference to how your business is perceived by customers.
For a number of our clients, that is where we come in and in this blog post, we've put together a checklist of some of the tasks you will need to do to make sure your business is ready for that wonderful time of year.
1. Update your Google My Business listing
Pretty much every business over the Christmas holidays will have different opening hours, and it is important to communicate these to your potential customers.
88% of searches for local businesses on a mobile device either call or visit the business within 24 hours and a sure-fire way to lose that business is to have customers trying to contact you or even worse, have them visit your premises and discover it is actually closed!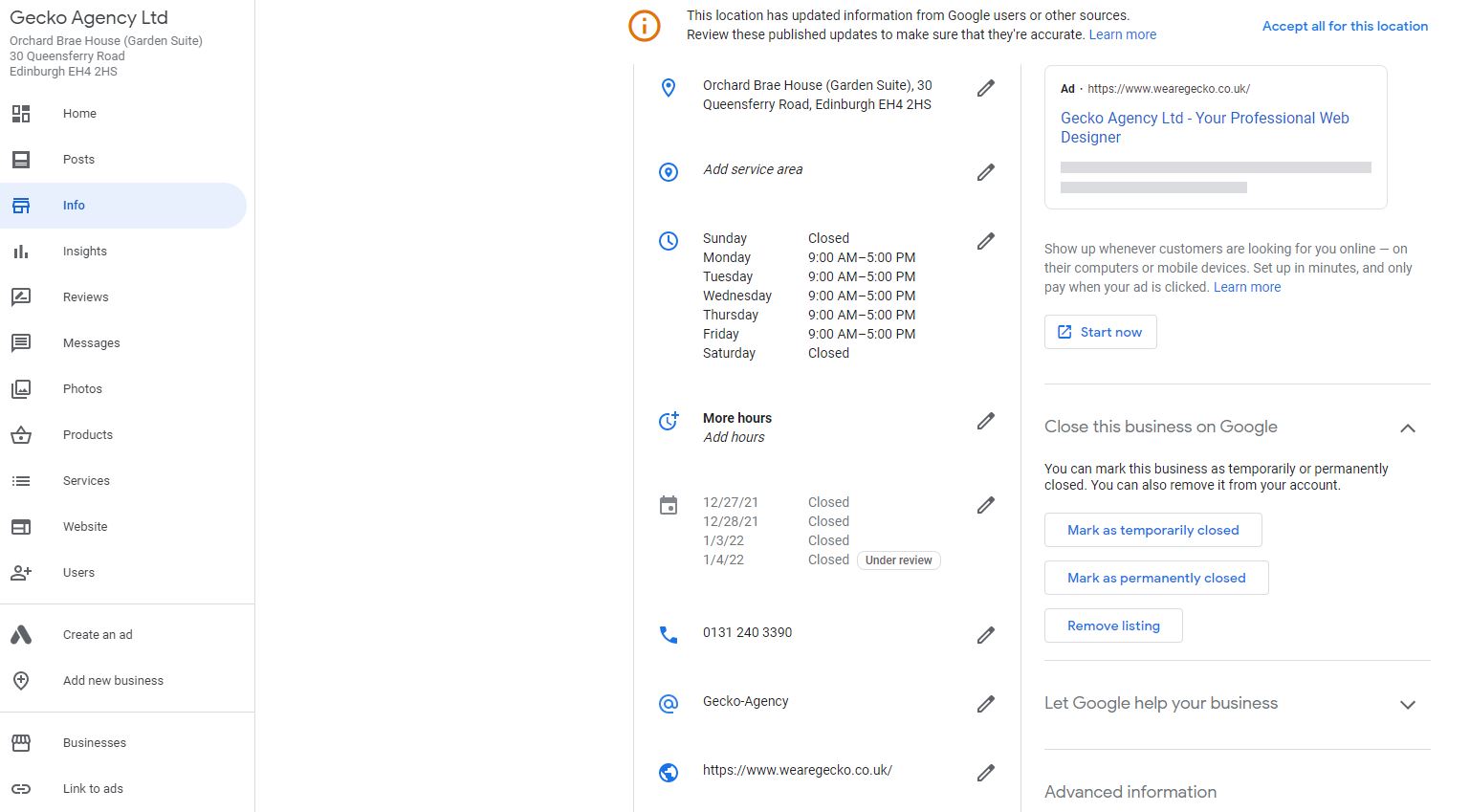 If you log in to your Google My Business account and select Info in the tab on the left, you will be able to complete the special hours' section for your Christmas period opening times. It's a very simple thing to do and you don't need to make amendments to your usual opening hours.
2. Update your social media channels
By now businesses should be aware of why having a presence on social media is non-negotiable. Nowadays, customers use social media as a way of researching products and reaching out to companies via these channels.
In today's fast-moving world, people's expectations have changed and patience is a thing of the past. Customers demand an almost immediate response to their query and social media allows them to get in touch with businesses instantly. However, if you are not going to be able to respond to such an inquiry over Christmas, the least you should do is let people know.
Creating a graphic or post to let people know your working hours over the holidays is the perfect way to update any potential visitor and will help align their expectations of when to expect a response.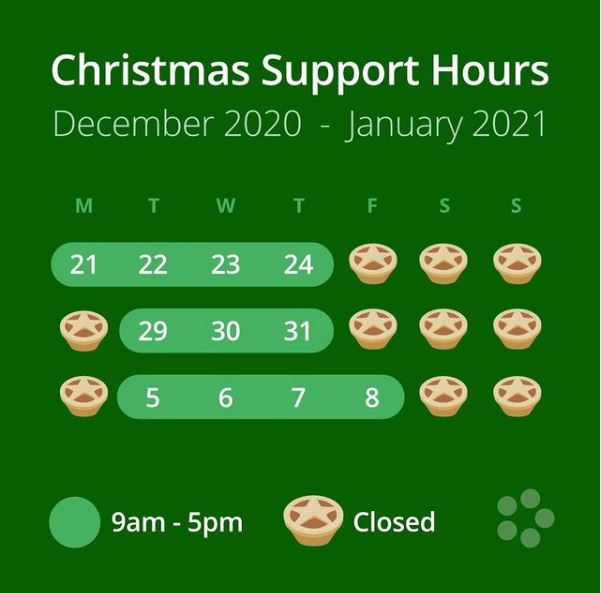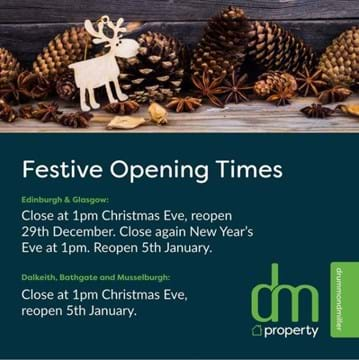 Examples of graphics we have created for Instagram
PS. It's also important to consider your posting schedule across the Christmas break. If you want to continue to provide content to your followers whilst you are closed, you can take advantage of the various social media scheduling tools that are out there to keep your feeds ticking over whilst you are on your well-earned break. But do consider the content you post! If no one is going to be monitoring replies, you don't want to be posting content that is actively encouraging people to contact you looking for a response.
3. Update your website
Just like your Google listing or your social media channels, it is important to make sure that any user visiting your website is being presented with up to date information. Your 'About' or 'Contact' page can often be one of those forgotten pages on a website but there will still be users searching during Christmas and will be coming across these pages. Make sure they are updated with your Christmas opening hours and when they will be able to get in touch with you.
4. Create a Christmas promotion
Whilst the first three on the to-do list were things you should definitely be doing, our fourth one is more an optional extra to consider if you are looking for some additional engagement in the build-up to the Christmas holidays.
We have helped clients over the years by running both organic and PPC Christmas campaigns that can help with a range of objectives including improving brand awareness and increasing visitors and conversions.
Whilst it can be tempting to solely focus on sales, campaigns that deliver real added value to your customers can really stand out amongst the usual promo code offers you see a lot of.
One example we created for a client last year focused on brand awareness and it involved partnering with and donating to a local charity. Our client asked customers to tag them in photos of their Christmas decorations and they matched the number of tags to a donation to the charity. They also provided a prize to the best-decorated tree.
December is just around the corner!
Don't forget to update your customers on what they can expect from your business over Christmas break. Use these tips from our blog post or reach out if you need some design help with creating some Christmas-themed content.