It has been less than two months since Covid-19 was first detected in the UK and less than a month since Scotland had its first reported case. But in that short time the impact on society and businesses has been immense.
With so many people now self isolating or actively taking part in social distancing, many businesses are having to change the way the operate as well as the services they are providing.
In these uncertain times, many businesses have had to park their planned marketing activities in order to cut costs and combat the drop in sales that has occurred. Many regular business activities are being paused and companies are exploring ways how they can best help their customers and the wider communities.
And this is one positive that has come out of this situation. Businesses are rallying together to help one another in these testing times.
Here are some of the best examples we've seen of businesses switching it up in light of the coronavirus pandemic and helping fight the fight in the process.
Nairn County Using Social Media to Promote Local Businesses
With the restrictions that have been put in place to slow down the spread of Covid-19, football authorities have postponed matches until April at the earliest. With no football of any kind, clubs have had very little to report on through their social media channels.
However last week, Nairn County Football Club announced on Twitter that they would be devoting their social media channels to the promotion of local businesses and encouraging people to shop locally in order to get some much needed cashflow into the local area. Players and staff at the club are also offering to run errands on Saturday's for those who are self isolating.
Two days after the club's announcement tweet was published it had received 1.5k retweets and over 6k shares, providing the club with huge exposure and raising awareness to the wider world on what can be done to help in a time of need. Of course the club weren't doing any of this for self gain but you would like to think that when normality is restored, Nairn County FC will see benefits from choosing to focus on others instead of themselves during this time.
Scottish Business's Announce Production of Sanitiser
With Covid-19 infecting over 359,000 people worldwide to date, health authorities have suggested that hand sanitiser is one of the easiest ways to prevent the disease from spreading. However this has led to mass panic-buying of the antibacterial gel and many health organisations are even running out. 
As a result, dozens of spirit manufacturers across the UK have decided to act and have started to make hand sanitisers in order to try and help with the short fall.
In Scotland, Leith Gin and BrewDog are two businesses that have suspended their distillery activities to focus on the production of hand sanitiser in a bid to help the spread of the virus.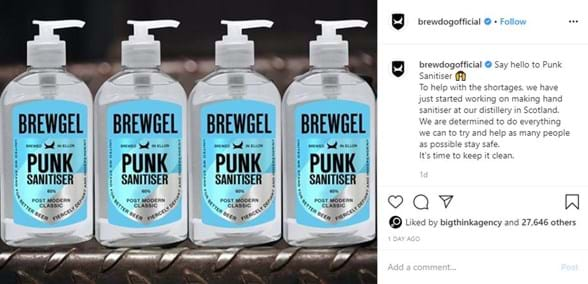 Both BrewDog and Leith Gin have stated that they are not producing the sanitiser for monetary gain and have promised to give away the products for free to those in need, which is a fantastic thing to do considering they too will be feeling the effects on their business. Similar to Nairn County FC, using social media to announce these actions has given both organisation's a huge boost in reach numbers as well as generating a number of news articles being written.
Local Convenience Store Providing Free Care Packages
Businesses all across the country are feeling the effects of the coronavirus and many have reported huge drops in sales. This though hasn't stopped one local convenience store offering care packages to the elderly.
Shopkeepers at the Day Today Express, in Stenhousemuir have been providing free 'care packages' to those over 65, which includes a facemask, antibacterial hand gel and cleaning wipes.
So far they have given away over 500 goody bags to those in need, either giving them out in store or even doing deliveries to those most vulnerable. They are now planning to give away jars of baby food for free to those who are struggling.
The short term cost of these actions should be outweighed by more customers wanting to support the local store in the long term.
Restaurants and Cafes Turn to Delivery
As of last week, the Government has acted to force the closure of restaurants, cafes and bars to help with the spread of the virus, only allowing them to offer takeout or delivery options.
In light of people staying indoors and away from the high streets, many food businesses across Scotland who were shop only businesses have began introducing non-contact delivery options as a way of still providing a service to their customers.
MILK, a cafe in Edinburgh, decided that if customers couldn't come to them, then they would go to the customers. They set up an online order site called MILK delivers, which allows customers to order healthy, house-made food either straight to their door, or available for pick up. It's a brilliant way of adapting quickly to the situation and providing a much needed service for many people are stuck in doors or who can't get out to the shops.
Simpson & Marwick's Virtual Valuations
With the Governments guidelines on social distancing and self isolation, one estate agent has come up with an ingenious way of carrying on with business whilst ensuring the health and wellbeing of both staff and clients is taken into account.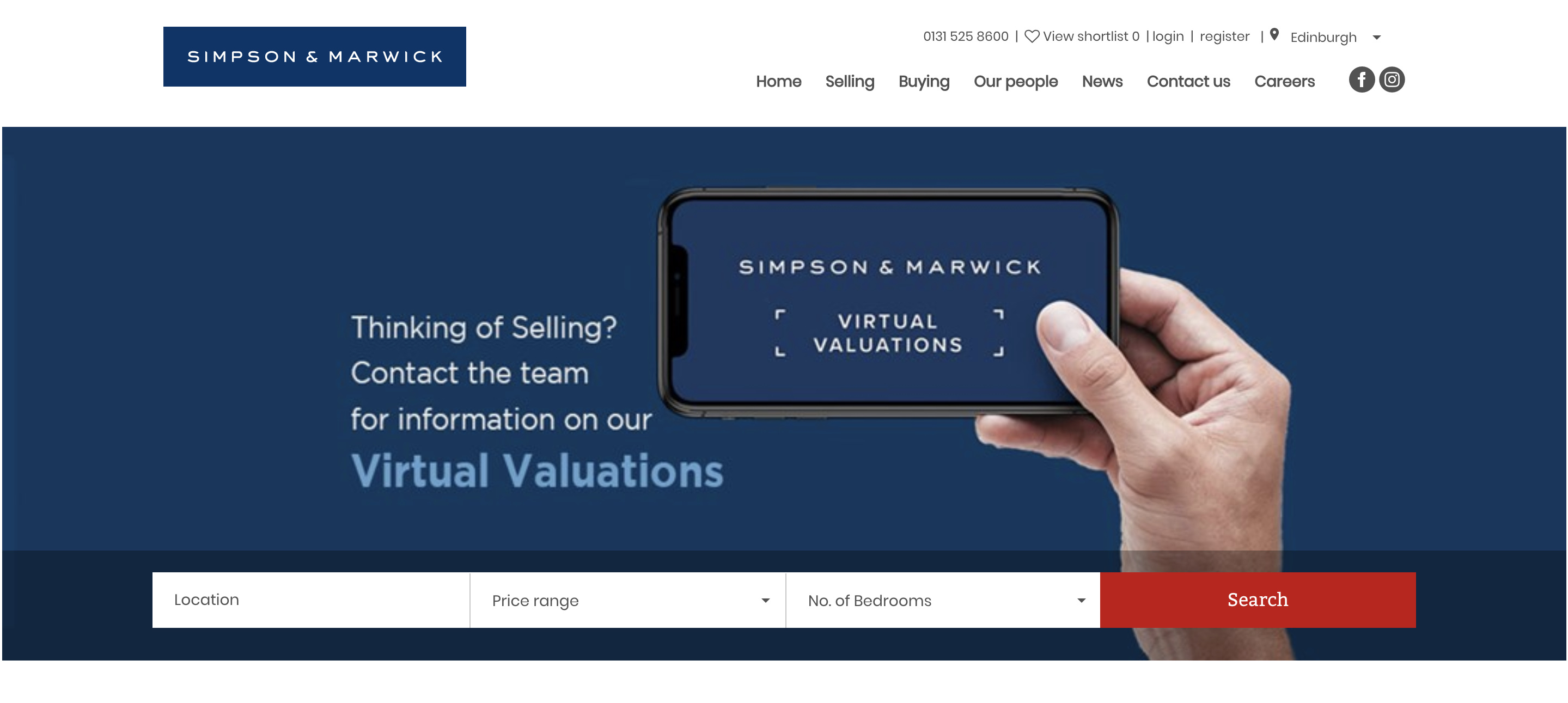 Simpson & Marwick have developed a range of simple tools which allows them to provide a free market appraisal to prospective property sellers without them leaving or anybody visiting their home.
#KindnessMidlothian Campaign
it was announced this week that a group comprised of council, emergency services, business, volunteers and military representatives have set up a #KindessMidlothian campaign.
The group of representatives that form Midlothian's Community Planning Partnership have adapted to the ever-changing situation and have created the campaign to help ensure care sector, health or emergency service workers continue to have the ability to deliver the frontline services that are desperately needed at this time. 
Midlothian Sure Start, a quality support service to families with very young children in Midlothian, are one of those getting involved with the campaign, including delivery of food parcels and activity bags to families across the region.

Whilst it goes without saying that you wish that a situation such as the one we are in had never arisen, it is brilliant to see community spirit prevailing. What's also great to see is how businesses are connecting through digital marketing and social media with meaningful conversations and coming up with new ways to survive and thrive in these difficult times.
Remote Working
Here at Gecko, we too have put plans in place to deal with the ongoing coronavirus situation. Thankfully, we are used to remote working. Whilst some of our team are in Edinburgh, we also work out of Chester, Dublin and Lisbon! However in the interest of the health and well-being of the team and those around us, all of Gecko are now working at home.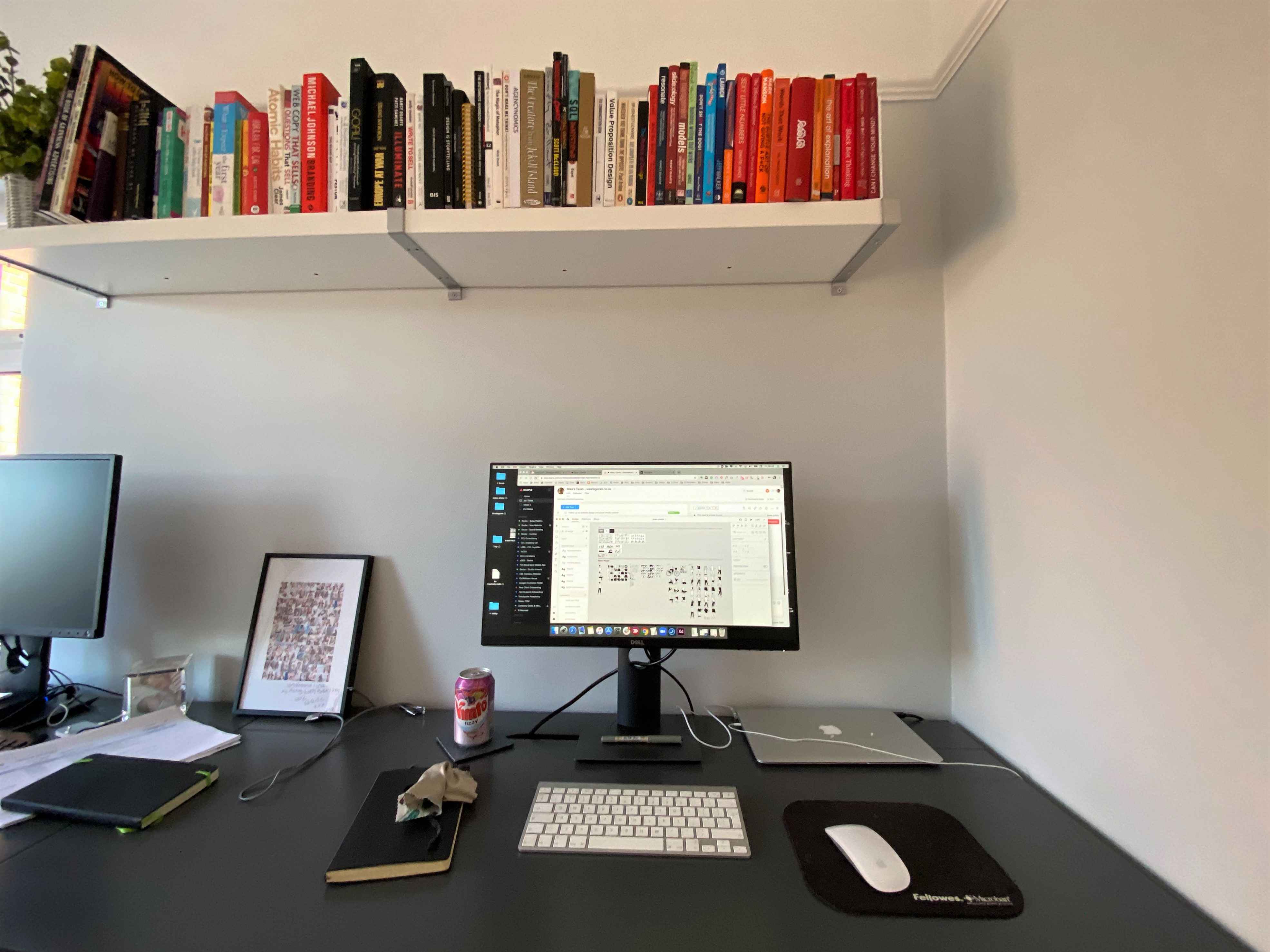 Don't worry though, it will still be business as usual! We still have access to all our servers, we have multiple communication channels in place and we will operating as normal. The only difference is that our coffee breaks will be virtual!