Does your website have what it takes to survive Black Friday? If not, you've only got a few days left to get organised!
Black Friday is the day after Thanksgiving in the US, on Friday 24th of November with deals spread over the course of the weekend through to Cyber Monday (27th of November).
Black Friday is relatively new to the UK but is already one of the busiest eCommerce days of the year having increased in popularity over the past few years.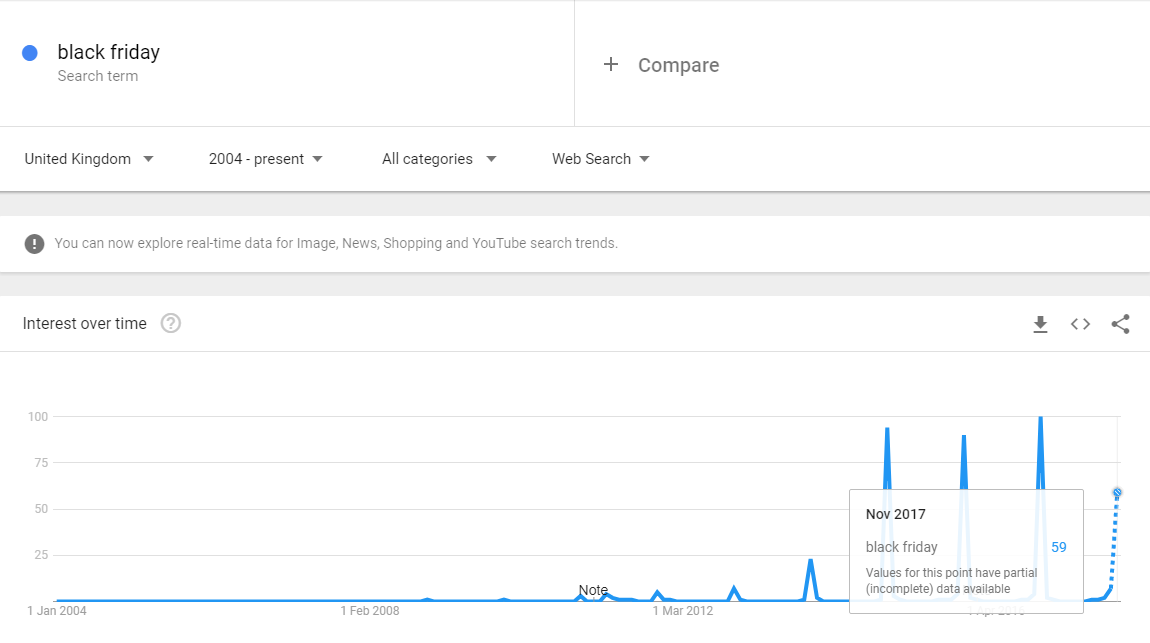 Many eCommerce sites fail to prepare their websites for the large increase in traffic - Curry's PC World, Missguided, and Macy's were a few whose sites suffered last year and left many customers angry and disappointed.
Therefore it's important to make sure your website is prepared for the Black Friday rush in order to gain as many sales as possible and keep your customers happy! We've put together a few tips to help you:
Your Website's Hosting
The average time users expect a web-page to load is 2 seconds or less, and many tend to leave a website if it hasn't loaded within 3 seconds, according to Akamai and DynaTrace.
Therefore it is extremely important for your website to be able to handle a large amount of traffic even if you don't expect it. There are a few things you can do to speed up your website by:
Compression of scripts and images.

Limit or remove unnecessary third-party contents.

Make use of a Content Delivery Network (CDN) to host content on 3rd party servers.

Turn off unnecessary plugins.
Amazon's hosting platform is famously robust because it's geared to deal with spikes of traffic during peak sale times such as Black Friday. The rest of the year, they are able to rent it out to host content for other businesses.
Mobile Friendly
Mobile eCommerce sales in the UK topped £133 billion in 2016, according to Business Insider UK. Shopping online is becoming increasingly popular, especially on smartphones and tablets as consumers can use them at any time of the day, and retail apps make it quick and easy to do so.
As Black Friday is not a public holiday in the UK, it is important to make sure your site is mobile friendly for those who will be looking to catch the best Black Friday deals on route to work, between meetings or on their lunch break.
A good tip to ensure your website is easily accessible and navigable is to test your website on mobile before going live. You will be able to preview how your site looks and address any problems if required before you start losing customers.
Black Friday Landing Page
Make your deals known ahead of Black Friday! Create a Black Friday landing page where you can advertise your best deals and offers to your customers ahead of the big day. Your visitors are then able to take note of their favourite deals or bookmark the particular landing page, making it easier for them when they return to purchase from your site.
This approach also increase the likelihood that the page will be shared on social media as people pass on great deals to their networks.
Clear Return Policy
Most shoppers like to know whether they can return an unwanted item, especially as many shoppers are purchasing items for their friends and family for Christmas. It is therefore important to have a clear returns policy that is easy to find (normally situated on the footer of website on every page) so customers can read the returns policy ahead of purchasing.
It's a good idea to lengthen your returns policy over the Christmas period so customers can purchase their Christmas presents early and return them after Christmas with no hassle or concerns.
Simplify Checkout Process
Most customers want a quick and easy purchase and can be put off before the point of sale if they get frustrated.
Simplify your checkout process by offering a "Checkout as a Guest" option. This allows new customers to save time registering and creating an account. They will be able to complete their order as quickly as possible.
Consider testing your user experience ahead of Black Friday to ensure your site is easily navigable and your checkout process runs efficiently.
Ask for customer feedback that would help you change or optimise any features or issues that would make your site more user friendly.
Safe to Shop
It is important to shoppers that their personal information is kept safe and secure. Displaying safe shopping badges or certificates you've been awarded is a good way to give customers that peace of mind that your website is safe.
SSL Certificates are another good way to tell your customers that your site is secure.
"SSL is the standard security technology for establishing an encrypted link between a web server and a browser. This link ensures that all data passed between the web server and browsers remain private and integral."
SSL can be displayed when the beginning of the URL contains HTTPS and not HTTP. Google Chrome now shows security warnings to those who display their website as HTTP so it's definitely worthwhile gaining a SSL certificate.
If you have now covered all these points then you are almost good to go!
Now you have time to focus on your social media efforts. Make your Black Friday deals known to the world! Share teasers and exclusive social media offers to excite your followers and to ensure you ramp up your sales on the big day.
Make sure you are prepared for any problems that may arise. Have a contingency plan in place to prevent your customers abandoning your site and making you trend on Twitter for the wrong reasons.
Use Google Analytics to optimise and track your performance. You can find out how many people are visiting your site, which landing pages are the most popular, which operating systems are the most used, and you are able to analyse your customer's buying habits. This will help you adjust any campaigns in the future to ensure you're prepared for next year's Black Friday weekend!
Do you have any other Black Friday tips we should know about? Send us a tweet @wearegecko! Need a hand with a campaign or your website? Get in touch and we'll see how we can help you!
- Gillian