The keyword research process is a crucial component of the SEO strategy. It allows you to find out what your audience wants, when they want it, and how best to provide it. Keyword research helps you identify which keywords are most relevant for your business and will give you valuable insights into your customers' online behaviour. This blog post will highlight why keyword research is important for SEO and the benefits keyword research provides!
What is Keyword Research?
So what is keyword research? Basically, keyword research involves analysing search volume and competition for a given keyword phrase. This tells you how difficult it will be to rank well on Google's SERPs (search engine results pages) for that keyword phrase. It should be chosen because of its popularity and relevance to the content being created.
In other words, keyword research will help you determine what your audience wants when they search for it. It ensures that people are finding your content and you can rank higher in search engine results. 
When it comes to adding your chosen keywords, you should look to add them to:
the title tag of your blog post
the meta description on a web page
the content itself
There are a number of benefits to carrying out keyword research, including creating an SEO friendly website, increased customer coverage and improved conversions rates. It can also help you identify gaps in the market for potential new products or services.
Why is Keyword Research Important
One of the most important aspects of search engine optimisation is keyword research. This step can influence ranking positions, keyword discovery and content marketing strategy. As we touched on earlier, there are a number of benefits to keyword research that highlight its importance to your overall digital marketing strategy.
Keyword research can help you find out what topics would have a high search volume so that you can create more in-depth content about those topics.
It helps you find keywords that are most profitable to focus on in order to get higher rankings for those terms, which will bring more traffic to your website.

It can help with brand awareness by identifying keyword phrases that are popular, but not overused.

They are essential for your marketing campaigns, as it determines the audience you want to reach and what words they are using when searching online.
Popular Keyword Research Tools
There are many SEO tools available for monitoring keyword rank including Google Adwords Keyword Tool; however, some of these programs require an account or payment before using them which may not suit everyone's needs. Tools such as WordTracker and Ubersuggest offer free keyword suggestions, though without details like monthly volume and competition level ratings from other users.
Below is a list of some of the best tools that will help when it comes to planning your keywords.
Perhaps the number 1 keyword research tool, SEMrush is one of the most complete SEO tools and used by many marketers.
Searching a keyword in their keyword overview tool will provide you with vital information such as monthly search volume, the trend of whether it is increasing or decreasing in popularity, as well as the difficulty of how hard it would be for a website to rank organically in the Google top 10 for that particular keyword.
The keyword magic tool is another really useful option when planning which keywords to focus on.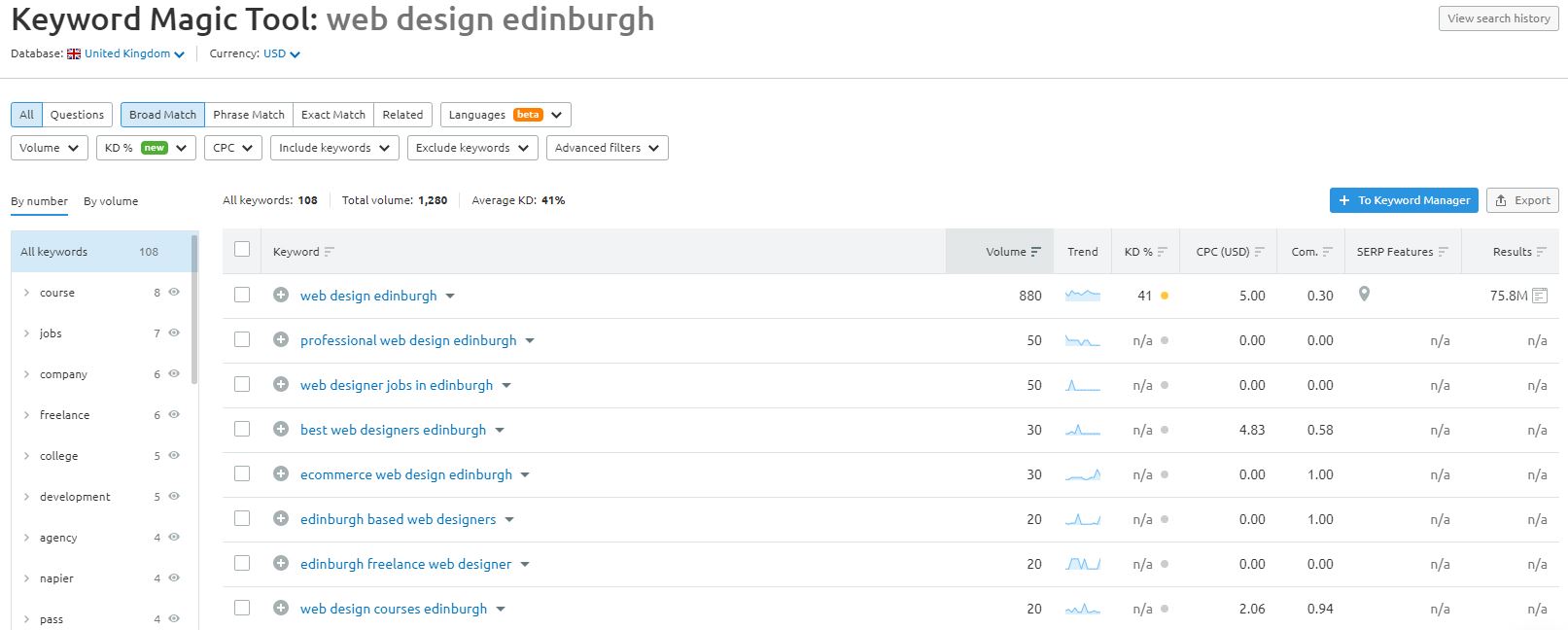 Like the overview tool, it will show search volume, the trend and the difficulty, but it will also provide you with other keyword suggestions that it thinks would be relevant to your business based on your original term.
One of the most popular tools is the Google Adwords Keyword Tool because it provides accurate results in real-time due to its large database of information about searches.
Whilst it is free to use, you will need a Google Ads account to access it. If you don't have one of these, then you'll need to create one. It will ask for payment details but be assured you don't have to create a campaign or pay for anything.
Now that you have access to the Keyword Planner through your Google Ads account, you can type in any keyword and view data such as monthly search volume and how competitive the search term is. As well as searching for individual keywords, you can also search domains.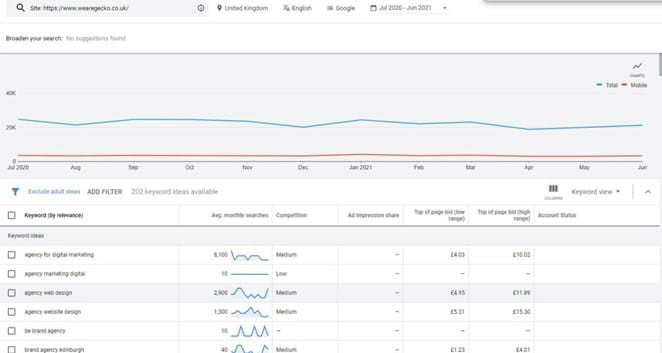 Similar to SEMrush, Ahrefs is a complete SEO tool that has excellent keyword research features. Their keyword explorer will provide you with keyword ideas based on a keyword or term you enter into the search box. You can then look through the list of suggestions to see if there are alternative or additional keywords you should be targeting in your content. Whilst you will need a plan to access Ahrefs keyword explorer, they do offer a 7-day free trial.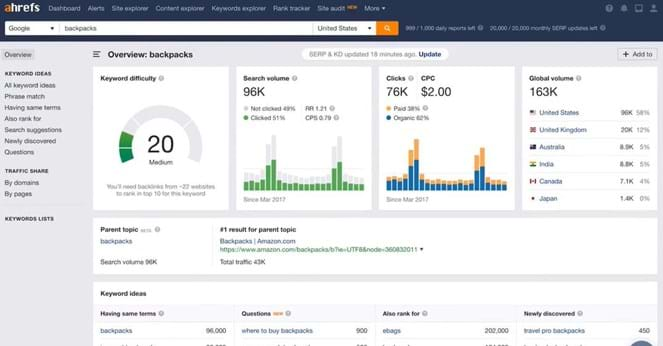 Similar to SEMrush and Ahrefs, Moz's platform provides you with a number of different tools designed for keyword research. Compared to SEMrush and Ahrefs, it won't provide you with as many different types of data, however, this may be a benefit if you are new to SEO and don't want to be overwhelmed with copious amounts of data.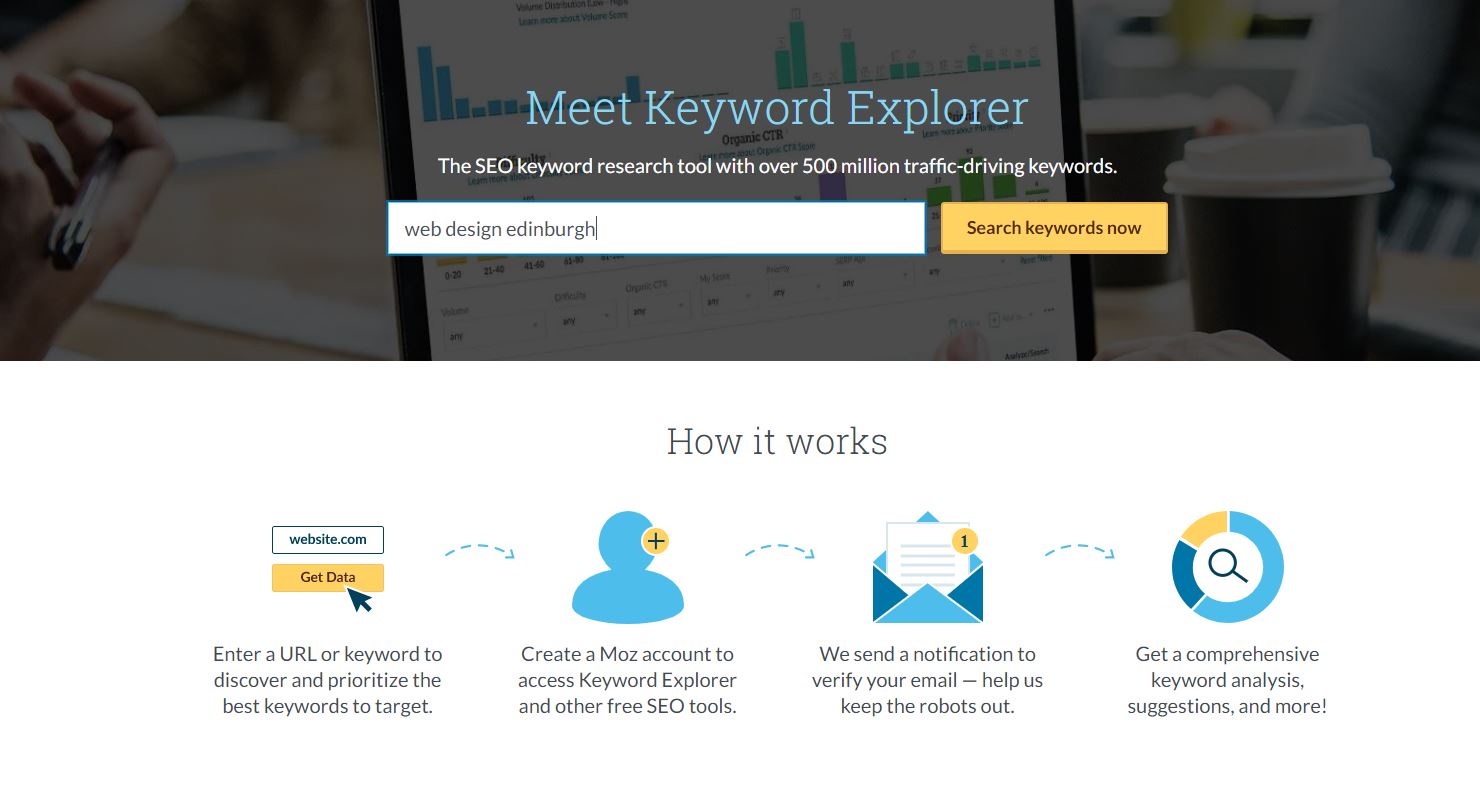 With Moz's Planner tool, you can search any keyword you choose and will still see the essential metrics such as monthly volume, difficulty, and organic clickthrough rate (CTR). By creating an account you will be able to access 10 queries per month for free. For any more than that, you will need to sign up for a paid plan.
Do your research
Keyword research is an important step for any SEO campaign because it will help you to prioritise which keywords or keyword phrases to allocate more resources towards so that they rank higher on Google's SERPs.
It is also important to remember that the keyword research phase of SEO is not a one-time thing, but something to be done continually. This will ensure that your content and website are optimised for the keywords people are searching for. Keyword research can take time and it's important to be patient with the search process.
If you need help developing your SEO strategy and would like to learn more about keyword research, we'd be more than happy to arrange an initial chat to see how we can work together.