With many businesses having to temporarily close while we try to gain control over the coronavirus, the Government is providing businesses access billions of pounds worth of funding in order to keep businesses afloat.
Unfortunately for many, accessing this funding is proving to be a difficult task. According to an article by the BBC, less than 2% of the 300,000 inquiries to the government's loan scheme are thought to have been approved so far.
This has led to companies and social enterprises turning to Crowdfunding to help support and fund businesses and local projects throughout this difficult period. Sites such as Just Giving, Crowdfunder and GoFundMe have seen massive increases in campaign launches since the coronavirus outbreak.
In a bid to help those in need, Crowdfunder has created a "paying it forward" campaign, which is 100% free. It provides customers with the option to book and pay a local business now for things such as meals, a room for the night or a ticket to an event, based on a promise to deliver in the future.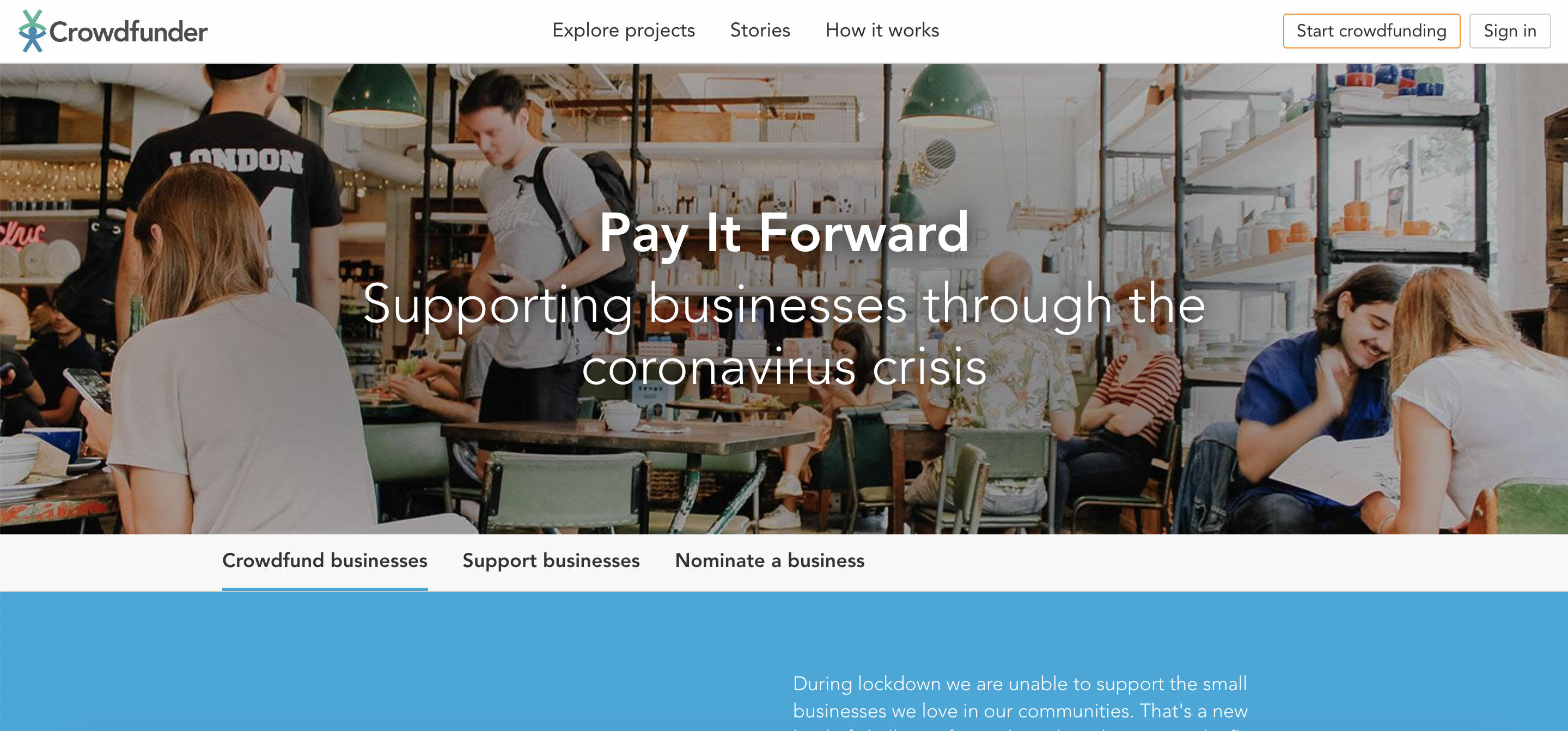 Like every digital marketing activity, successful crowdfunding projects are able to convey a story to their target audience. In this blog, we want to introduce businesses to Crowdfunder by giving you a little bit of background information, along with covering what is needed to launch an effective crowdfunding campaign during the coronavirus lockdown.
So, what is Crowdfunding?
Simply put, crowdfunding is a type of revenue generation, designed to raise funds for a project by asking a large number of people to donate money, usually in small amounts to fulfil the financial goals of the project.
This approach, focused solely on online social media and crowdfunding platforms, allows a business/charity/individual to raise money easily within a short amount of time.
What are the benefits of Crowdfunding?
There are a number of benefits to using crowdfunding as a way of funding a project or business.
Efficiency: 

Compared to seeking out traditional funding methods, setting up a successful crowdfunding campaign on Fundable or another platform is far more efficient and effective in getting your message out to the right people. 

Marketing & Media Exposure: Another benefit to crowdfunding is it provides an opportunity to 

gain huge amounts of attention, particularly on social media and within the local community. This can help you grow your business beyond what the funding alone could have done.

Loyal Customers: If people are taking the time to invest in your project and pay to help your business, that means they see value in what you offer. These people will often turn into loyal customers and they can be used to 'champion' your business.
5 Steps to Coronavirus Crowdfunding
As we mentioned earlier, many local businesses and social enterprises are turning to Crowdfunding campaigns to cope during the coronavirus-enforced lockdown. Below are 5 steps to remember if you are thinking about launching a crowdfunding campaign for your business or enterprise.
Step 1: Tell A Story
In a world that is now being driven by data and digital automation, many consumers are eager to connect with brands emotionally and rediscover the 'human' element when dealing with businesses.
And just like any other marketing strategy, the ability to tell your brand story in your crowdfunding campaign will contribute to increasing your business's visibility, profit, and social impact.
Storytelling is particularly powerful if you service a local community. Ensure you remain authentic when you communicate your story too, as a campaign with a genuine narrative will connect more with consumers compared to creating a fictitious tale - consumers will see right through that!
While not linked to a business, a great example of how a good story can transform your crowdfunding campaign is that of Captain Tom Moore, the 99-year-old who walked 100 laps of his garden before his 100th birthday, to raise money for the NHS.
His remarkable effort and story had everything; a former Captain in the Army, a milestone birthday, along with wanting to help those in the NHS who are tackling this pandemic. As more and more media began to cover his story, donations were pouring in. Over 1 million people have now donated, with Captain Tom raising over a whopping £27 million! It's a story that has captured the hearts of millions, and it highlights what a good story can do for a crowdfunding campaign.
Step 2: Offer something in return
One way to get your crowdfunding campaign to stand out is to go down the 'pay it forward' route if you are in a position to do so. In these difficult times, many businesses, organisations and charities need support, so trying to appeal for donations based purely on asking for money without giving something back in return can be challenging.
The 'pay it forward' route allows you to offer your customers the opportunity to purchase something from you now, and delivering the goods or services at a later date. This gives you access to needed money now, and they are able to use the product or service at a later date once lockdown restrictions have been lifted. This could be done with meals,
One important point to remember is to make sure that you only offer what you will be able to fulfil at a later date. By not delivering on promises made will do irreparable damage to your brand and alienate your business, particularly within your local community.
Flipside, a cocktail bar in Bristol, was one of many businesses forced to close and who turned to Crowdfunding to get them through this difficult period. However, rather than just ask for donations, they created a 'put it on my tab' campaign. They have branded their donations (£10 donation is a 'round', £5 is a drink) and for everybody who donates, they are offering them a free drink on a tab when they are allowed to reopen.
Step 3: Set an end goal
Coronavirus or not, setting an achievable and realistic end target is needed for any type of crowdfunding campaign. When setting your target, be sure to make it a realistic goal and that it will cover what is needed to keep your business going.
Remember, you cannot amend a target once a campaign has been launched so it's important to get this right. Particularly if the campaign closes as soon as you reach the set target.
Step 4: Promote your campaign effectively
Successfully making people aware of your campaign is the only way that it will be successful. With access to your customers restricted to online avenues only, your website and more importantly, social media channels are where your efforts need to be directed.
Engaging with other local businesses in your area and local media outlets will allow you to reach a bigger audience, increasing the possibility of your campaign being picked up virally. Ask customers and friends to share your post as much as possible.
However, you should also consider Paid Ads as this is the best way to increase your chances of people seeing your social media posts. There are 3 key things that you need to include:
An engaging caption
Some form of media (ideally a video)
The link to your donation page
Accompanying your crowdfunding message with a video will certainly improve your chances of people seeing it. A test between video and static content on a Facebook post revealed that the video post was seen by 25% more people when compared to the static post, whilst also receiving a whopping 480% more clicks!
Step 5: Deliver on what you outlined in your campaign
The final important step in a successful crowdfunding campaign is making sure you deliver on what you promise at the outset.
If you are embarking on a 'pay it forward' campaign, be sure to deliver on your promises and provide the goods and services that customers have paid for.
If you are purely focusing on monetary donations, be sure to keep your funders in the loop and keep them updated on what the money has allowed you to do. If the money means you have been able to keep your staff employed or you have been able to continue servicing the local community, share the news!
Social Bite, an Edinburgh based Social Business have turned their efforts to delivering over 3000 found packs and other essential items to those most in need during the Coronavirus crisis.
They have been crowdfunding for donations to help with them their efforts, and they have been using their Twitter feed to post updates and encourage people to keep donating. These daily updates are great at letting people know about the work they are doing and shows people how their donations are being used/helping. Without regular updates, it would be easy for the campaign to lose traction.
Let us know on Twitter if your business has started a crowdfunding campaign.