Email marketing is one of the most powerful ways to build positive relationships with current, future and even past customers.
Studies have shown that email marketing helps to generate a higher click-through rate and conversions even more than social media platforms which is why it is vital to use it in your marketing strategy.
Here are 10 email marketing tips to help you create effective marketing campaigns that will increase your click-through rate and conversions.
#1 Define your audience and build your subscriber list
The first step to launching your email campaign is defining your target audience and building your subscriber list.
Ask yourself why your audience would want to sign up to your mailing list or newsletter. Are they looking for discounts/offers? Competitions? eBooks? By understanding your target audience and the content they want to receive, you are able to start building your list.
To increase and maintain your email subscriber list, you can also:
Create a tailored CTA for each landing page

Ask your customers on social media to sign up

Install a scroll box on your pages

Launch a competition where the user has to sign up to enter
#2 Segment your audience
Once you have identified your target audience and built your list, you can start segmenting your audience into more tailored sub-groups.
Segmenting your list by age, gender, location and buyer personas will help you send targeted, relevant emails which in turn, will increase your click-through-rate and conversions, and help to reduce your number of unsubscribers.
#3 Send regular, consistent emails
Avoid being accused of spam by sending regular, consistent emails to your subscribers.
Sending out regular emails whether they are daily, monthly or weekly will help increase your success rate. However, it's important to not overdo it or your emails will be moved to spam or trash.
#4 Personalise every email
Personalising every email you send is effective in improving your click-through-rates, engagement rates and conversions.
In fact, according to eConsultancy, 74% of marketers say targeted personalisation increases customer engagement.
So if you have access to the first name of your email recipients then it is useful to use it in the body of your email as well as the subject line. When sending the email, sign off with your name rather than your company name to show that you are a real person.
As a business, it's important to add a personal touch to your email as it helps to create a connection between the sender and receiver, leading to an increase in your number of conversions.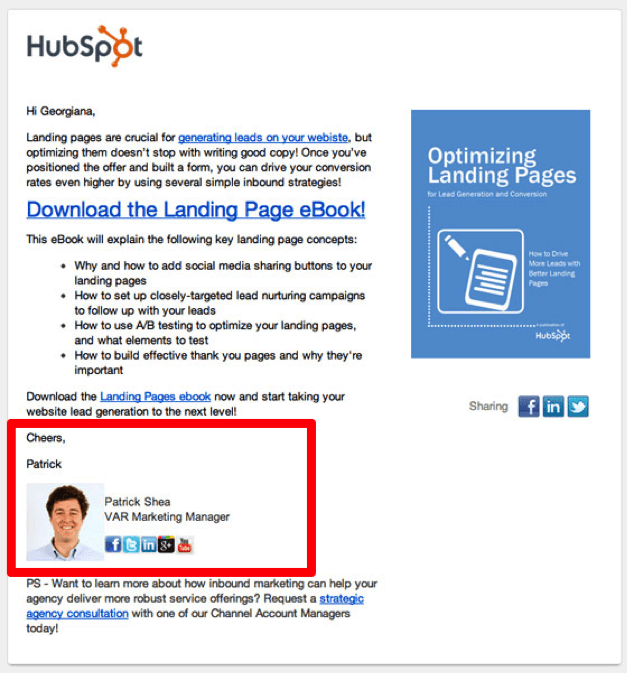 #5 Create irresistible subject lines
Your subject line is the first thing the user will look at before they decide to open your email so you've got to make it stand out.
Keep your subject line short and to the point. Use power words like "free," "sale" and "exclusive" to draw the reader in. If humour aligns with your brand then by all means, tell a joke to express your personality. Emojis are also effective in helping your email to stand out from the crowd but it's important to use them wisely.
You can test subject lines by resending them to recipients that didn't open the first time. This allows you to see what works well in helping you gain the most click-throughs and conversions.
#6 Use a CTA for each campaign
Every email you send should have a clear call-to-action that aligns perfectly with your goals.
Types of actions include reading a blog post, claiming a discount, purchasing a product or service, downloading a PDF, whatever it may be, you want your subscriber to take action.
Ensure your CTA is clear and easy to read. Use contrasting colours also helps to make your CTA stand out. Make use of emotive and persuasive language to encourage the reader to take action.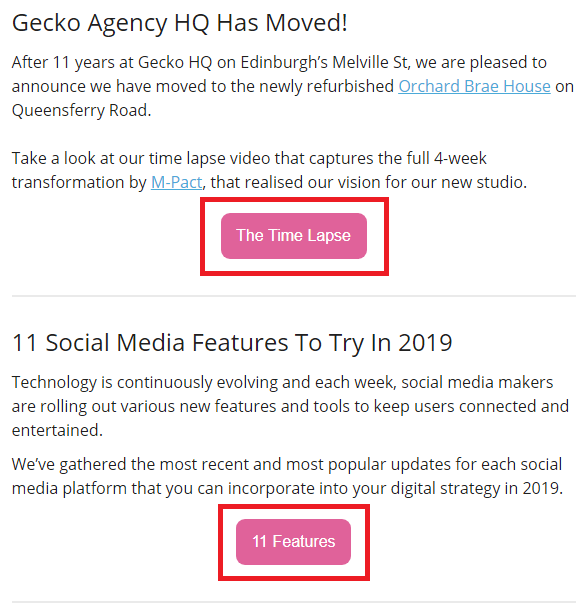 #7 Make your email scannable
Most people aren't going to read your full email so it's important to make your campaigns scannable.
Split your email into sections using headers, bullet points, and visuals to break your content up and make it easier for the recipient to read and understand.
#8 A/B test your way to success
When creating new email campaign templates, it's vital you run A/B tests to ensure you're getting the best return on investment.
Elements you might consider testing include:
Subject line

Preview text

Call to action

Headline

Body text
It's important to only test one element at one time to ensure you receive accurate results.
Once you've tested two different email campaigns, you are able to take a look at the results. You'll want to look at the open rate, click-through rate and conversion rate. If your conversion rate is low, you should review your landing page and make sure it clearly reflects your call to action.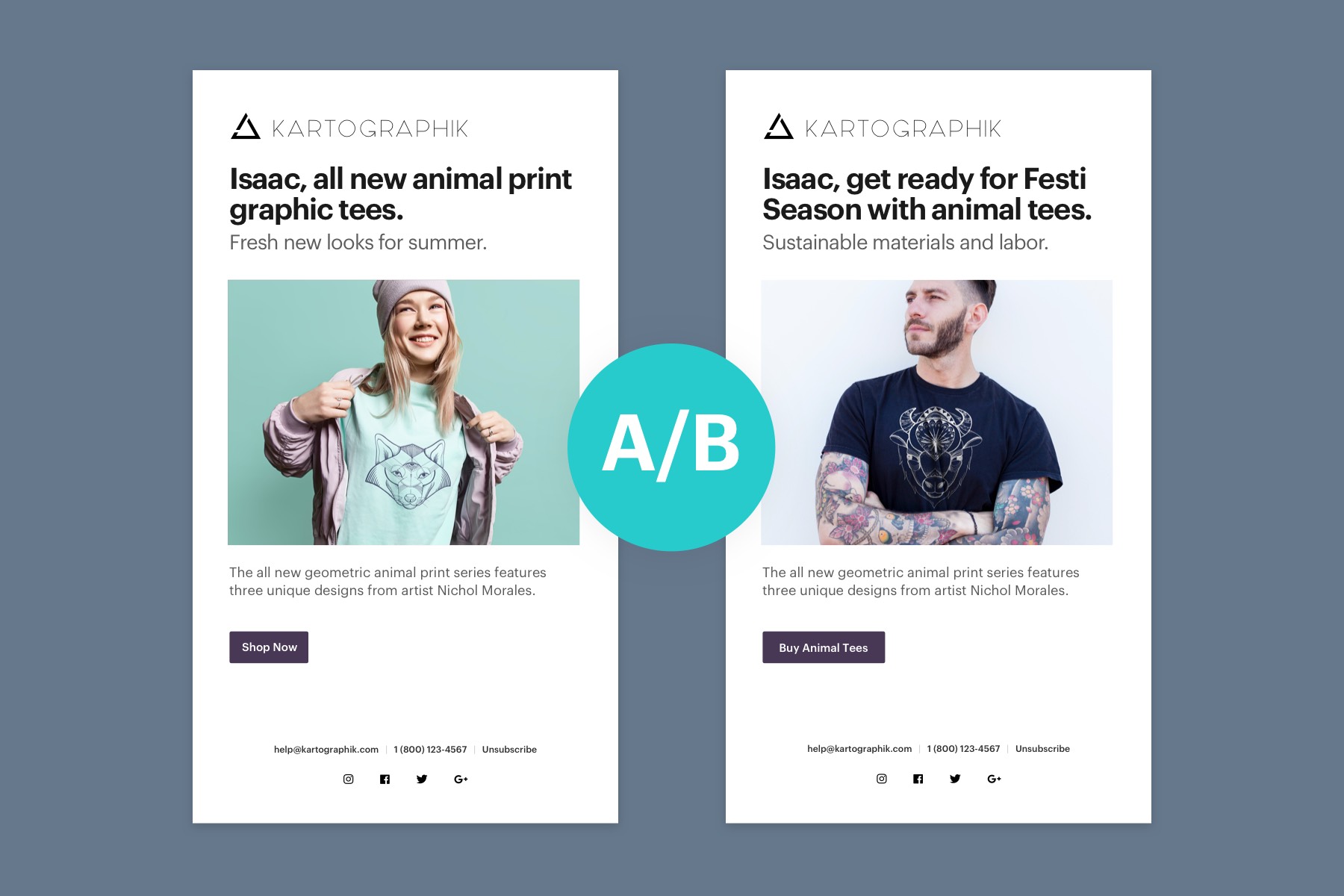 #9 Optimise for mobile
According to SafeCycle, 42% of people will delete emails that are non-optimised for mobile so it is, therefore, a must in your strategy.
To optimise for mobile it's important to use a responsive design when creating your email campaigns. Break your text up into paragraphs and don't go overboard with graphics as it may slow down the loading time on mobile phones, particularly those with weak WiFi connections.
#10 Avoid spam filters
If you want your email to be opened, read and acted upon, you've got to ensure your email doesn't end up in the spam folder.
You can do this by asking your subscribers to whitelist your emails. On Gmail, for example, select the cogwheel in the right-hand corner, select "settings" then click the "filters and blocked addresses tab." You will then be able to export or add domains of emails that you want to whitelist as safe senders, as well as block any domains that are sent as spam.
Another way you can avoid spam filters is to ask your subscribers to drag emails from Gmail's filter tabs like Social and Promotions to the Primary tab. Once your subscribers have done this, you can be assured they will always receive your emails in the Primary tab and not in spam tabs or folders.

Apply these 10 tips to your email marketing strategy and you will without a doubt, see an increase in your click-through rate and conversions.
- Gillian